Crispy Tofu and Broccoli with Sesame-Peanut Pesto
This post may contain affiliate links. Please read my disclosure policy.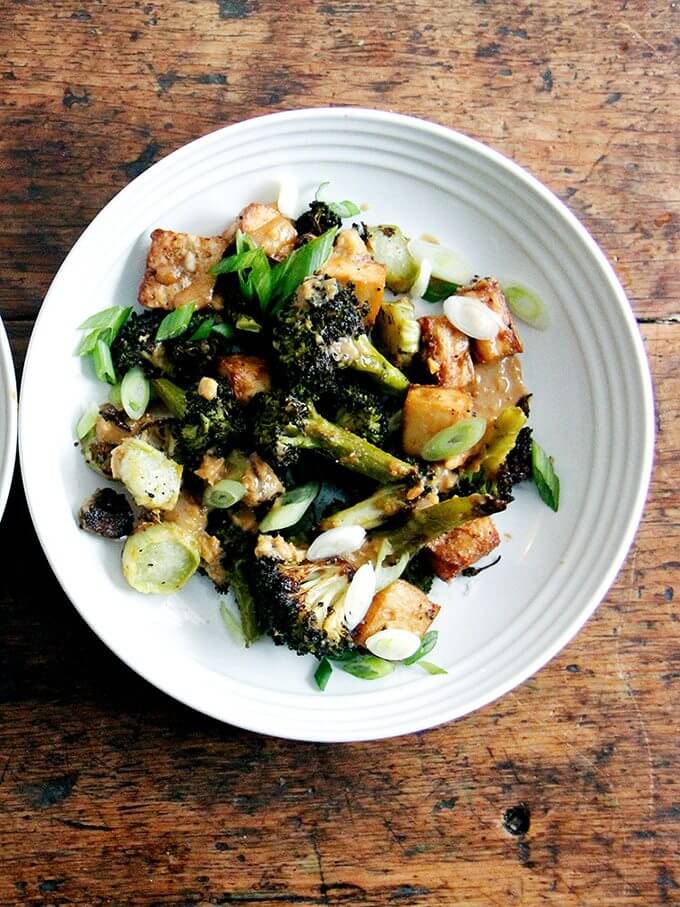 Five years ago, I published a post just after the New Year titled: Detox: Sesame-Crusted Tofu with Nuoc Cham. The sesame crust for this tofu included panko, which led one commenter to note it "wouldn't actually be part of a detox because of the panko. Detoxing excludes gluten or wheat products."
News to me. I am a hopeless detoxer. I will never give up bread or legumes or grains or any other vilified foods this time of year. I cannot imagine a January without thick slices of quinoa-flax bread toasted for breakfast and lentil soup for lunch and Marcella's stewy white beans or Cal Peternell's Moroccan chickpea soup for dinner with a hunk of bread on the side.
All of this said, this time of year, I do find myself, like many, wanting to eat more healthily. I've been craving vegetables and making a ton of them: roasted carrots with honey and almonds, the kale salad that started it all, roasted mushrooms with gremolata bread crumbs. (All of these, by the way, are from Joshua McFadden's Six Seasons — can't wait to share more!).
More than any other time of year, too, I find myself reaching for the tofu. This recipe from Deb Perelman's latest, Smitten Kitchen Every Day, satisfies all of my January proclivities: crispy tofu and broccoli with sesame-peanut pesto, a super-flavorful sauce modeled after the sauces dressing Deb's favorite "deliciously inauthentic" take-out noodles.
As you know, I don't have a kitchen (update below!), but even so, this recipe came together incredibly easily: in sum, you roast broccoli and tofu on separate sheet pans, the broccoli tossed with olive oil, salt and pepper, the tofu with oil, soy sauce, and cornstarch (which makes for an especially crispy crust); while the broccoli and tofu cook, you make a sauce with peanuts, sesame oil, ginger, garlic and a few other ingredients; to finish, you dress the roasted broccoli and tofu with the creamy-but-textured pesto and drizzle it all with hot sauce if you wish.
That's it! It's incredibly delicious and satisfying, friendly enough to make any day of the week, but perhaps best suited for curling up with on the couch on a Friday night, your latest, favorite series ready to be devoured just as quickly.
PS: More tofu: Sesame-Crusted Tofu with Nuoc Cham; Baked Tofu with Kale and Coconut; Warm Tofu with Spicy Garlic Sauce
Here's a play-by-play: Set something heavy over a block of tofu to drain out the liquid: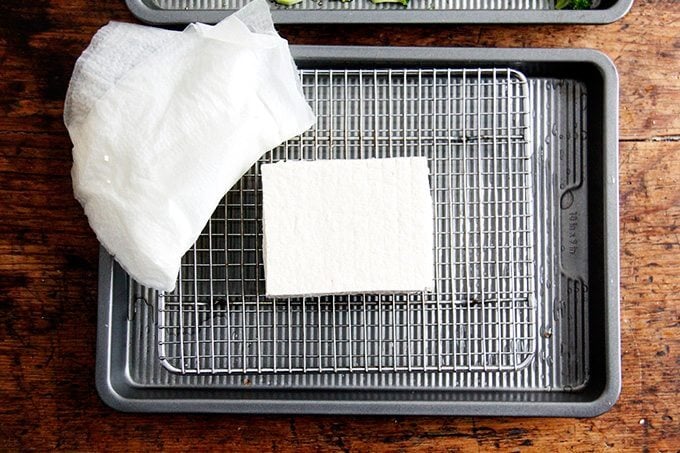 Cut the broccoli into florets; peel away the rough exterior of the stems, then cut into rounds: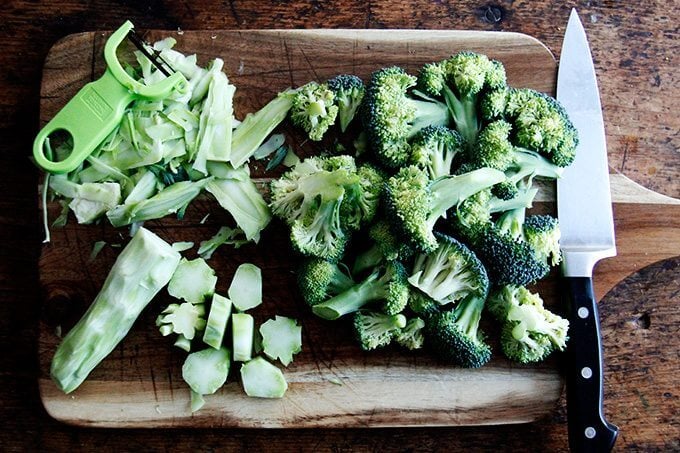 Place broccoli on one sheet pan: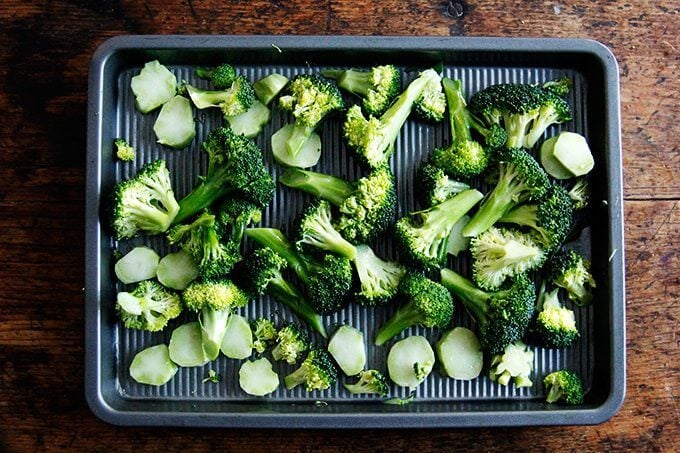 Place tofu on another: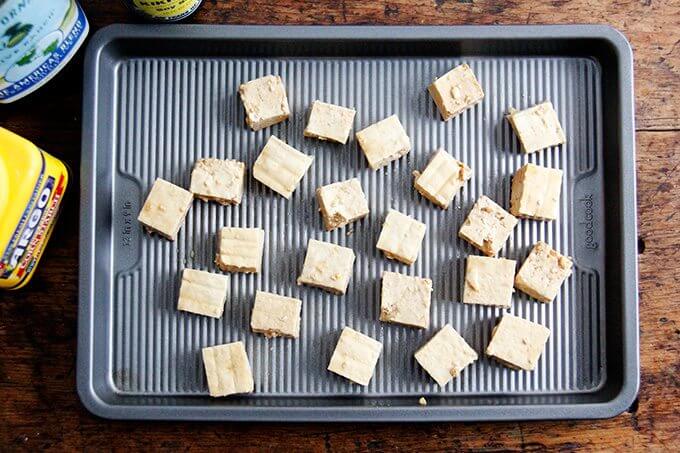 Roast at 400ºF: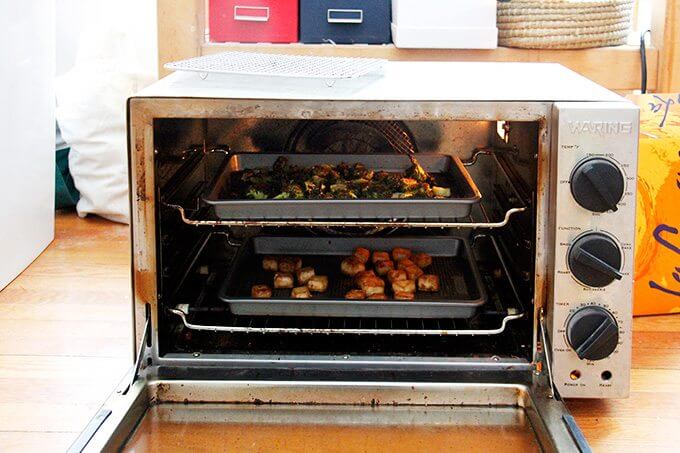 Meanwhile, make the pesto: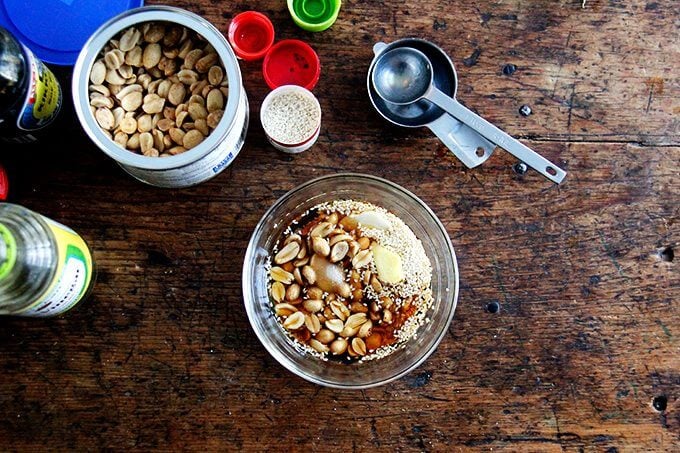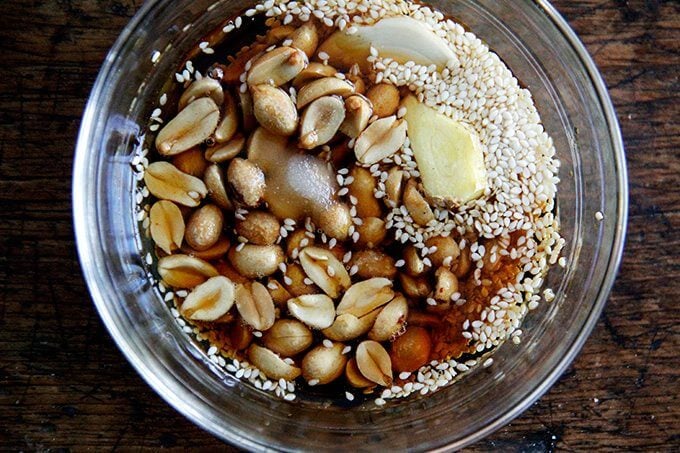 I used my extra coffee/spice grinder—a food processor is a pain to clean without a sink—which worked moderately well: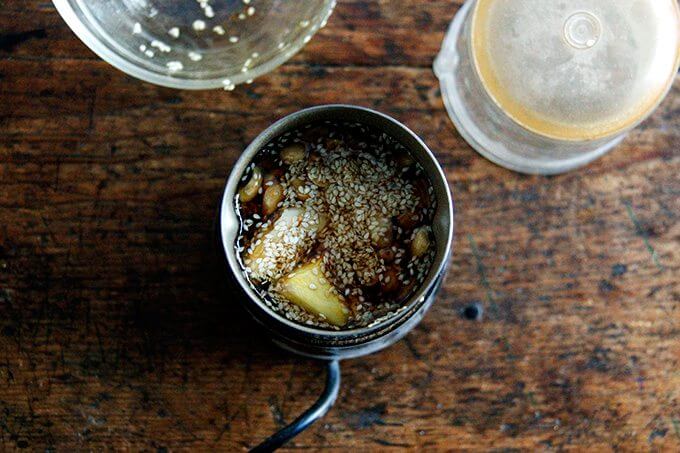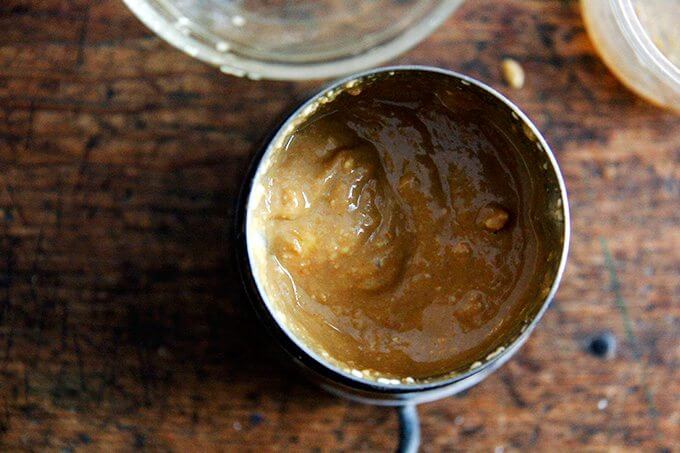 When the tofu and broccoli are crispy…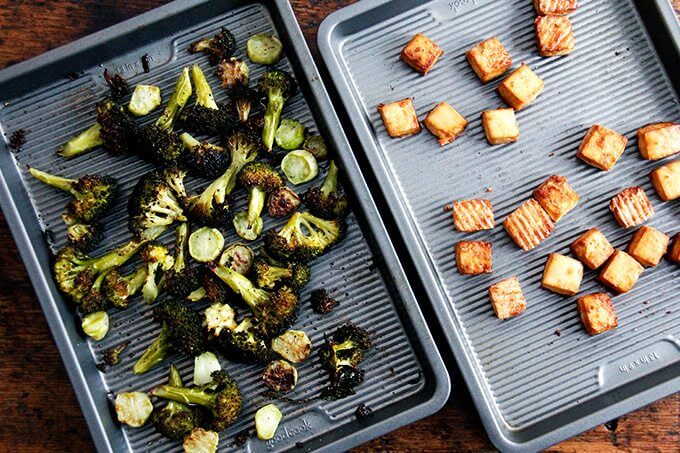 combine them, then drizzle with the sauce, and …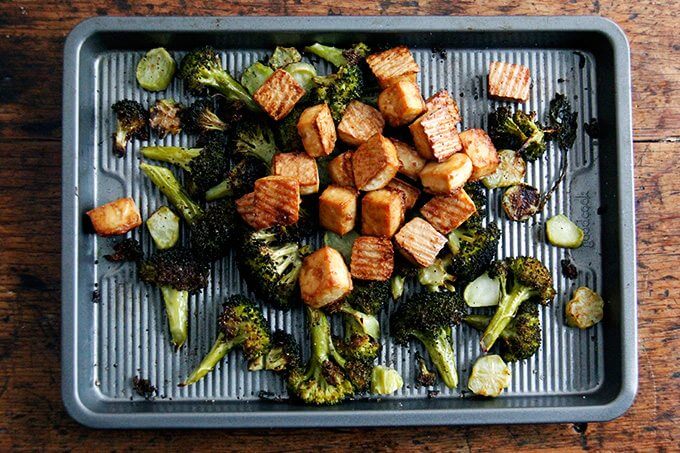 serve!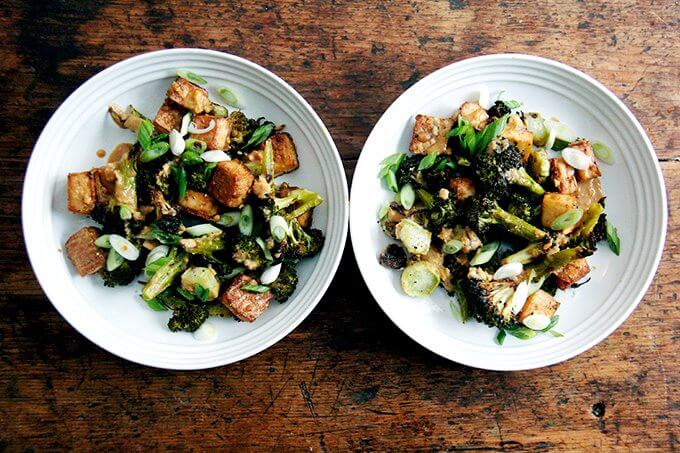 Cabinets!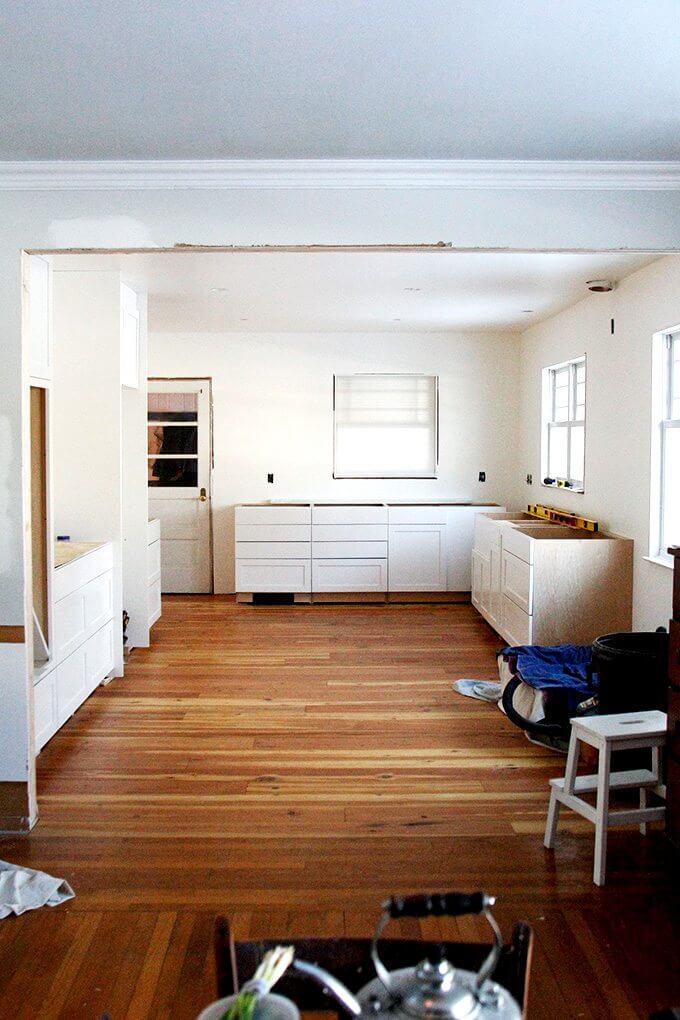 Sink!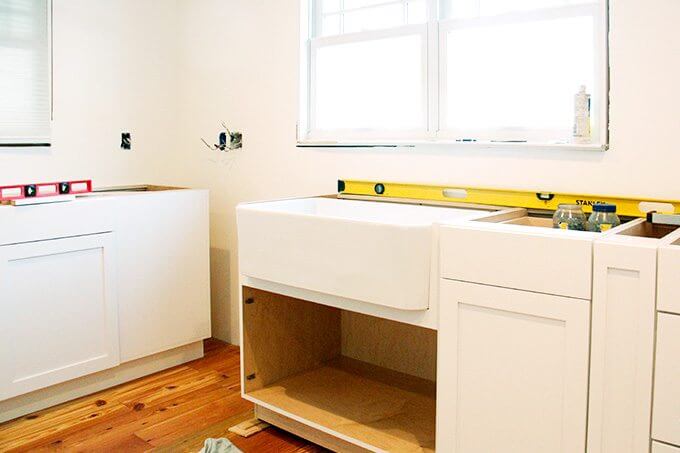 Print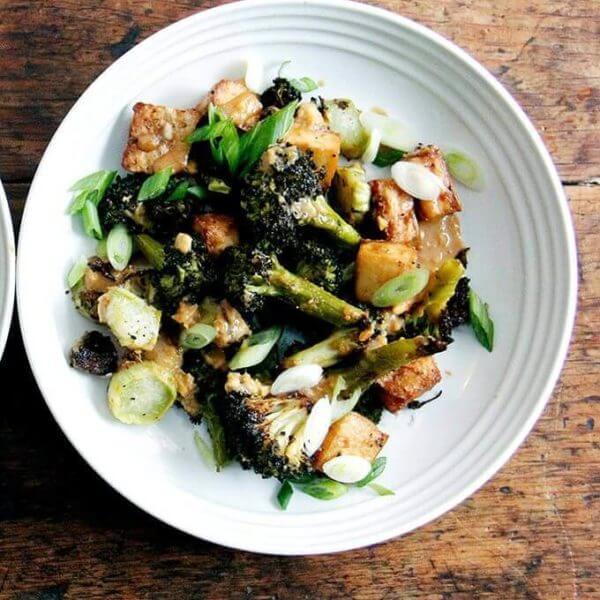 Crispy Tofu and Broccoli with Sesame-Peanut Pesto
---
Description
From Deb Perelman's new book: Smitten Kitchen Every Day
Though I haven't tried, I imagine this would double easily. With my kitchen under renovation, I am using quarter sheet pans that fit into my portable oven. One of these sheet pans fit the entire pound of broccoli and another fit the entire block of tofu. If you want to feed more than 2 people, I think you could easily roast 2 pounds of broccoli and 2 blocks of cubed tofu. Double the sauce, of course, too.
---
For the tofu and broccoli:
1

block (12- to 15-oz) firm or extra-firm tofu

1

pound broccoli

3 tablespoons

olive oil
salt and pepper to taste

1 tablespoon

soy sauce or tamari

1 tablespoon

cornstarch
for the pesto:
1 tablespoon

toasted (or not) sesame seeds

1/4 cup

peanuts, roasted (salted are fine)

1.5 tsp

minced fresh ginger

1

small garlic clove

2 tablespoons

soy sauce

2 tablespoons

sesame oil

1 tablespoon

rice vinegar

1/4 teaspoon

sugar or other sweetener
to finish:
3

scallions, thinly sliced
chili-garlic or other hot sauce
---
Instructions
Prepare the tofu: Drain the tofu, and place it on a few paper towels; place a few more towels over it. Place a heavy object—like a big frying pan—over the tofu, and let it rest for 10 minutes (and up to 30 , if you have the time) to press out the excess liquid. (I like to do this on a cooling rack set over a pan, see photos below).
Heat the oven to 400ºF. Line one rimmed sheet pan with parchment (for the tofu); leave another one bare (for the broccoli).
Prepare the broccoli: Trim and chop the broccoli into florets. Don't discard the stems (they are so good!): peel off the tough outer skin and knots, then cut the stems into 1/2-inch rounds. Drizzle 1 tablespoon of the oil over the bare sheet pan, swirl it to coat, scatter the broccoli over top, drizzle with another tablespoon of oil, season generously with salt and pepper, and toss to coat with your hands. Spread into an even layer.
Remove the tofu from the towels, and cut into 1-inch cubes. In a large bowl, gently toss the tofu with the remaining tablespoon of oil, the soy sauce, and the cornstarch until evenly coated. Spread out on the parchment-line sheet pan.
Cook the tofu and broccoli: Place both sheet pans in the oven and roast for 20 minutes, then toss the pieces around for even coloring and roast another 10 minutes. At this point, the tofu is usually done, which is to say golden at the edges and lightly crisp. Remove the pan from the oven. If necessary, roast the broccoli for another 10 minutes to get an extra char on it.
Meanwhile make the pesto: Pulse all of the ingredients together in a food processor until ground. Adjust the flavors to taste. If the sauce is super thick, you can thin it with some water.
To finish: In a large bowl, combine the broccoli and tofu, and toss with some of the sauce. Garnish with the scallions. Serve  extra sauce and hot sauce, if using, on the side.
This post may contain affiliate links. Please read my disclosure policy.