Ina Garten's Roasted Broccoli with Garlic, Lemon and Parmesan
This post may contain affiliate links. Please read my disclosure policy.
Ina Garten's roasted broccoli recipe is excellent and comes together quickly, a perfect veggie side dish to make year-round. I find myself making this not only for weeknight dinners but also for entertaining as everyone loves it. Fresh lemon zest and juice just along grated parmesan make it irresistible!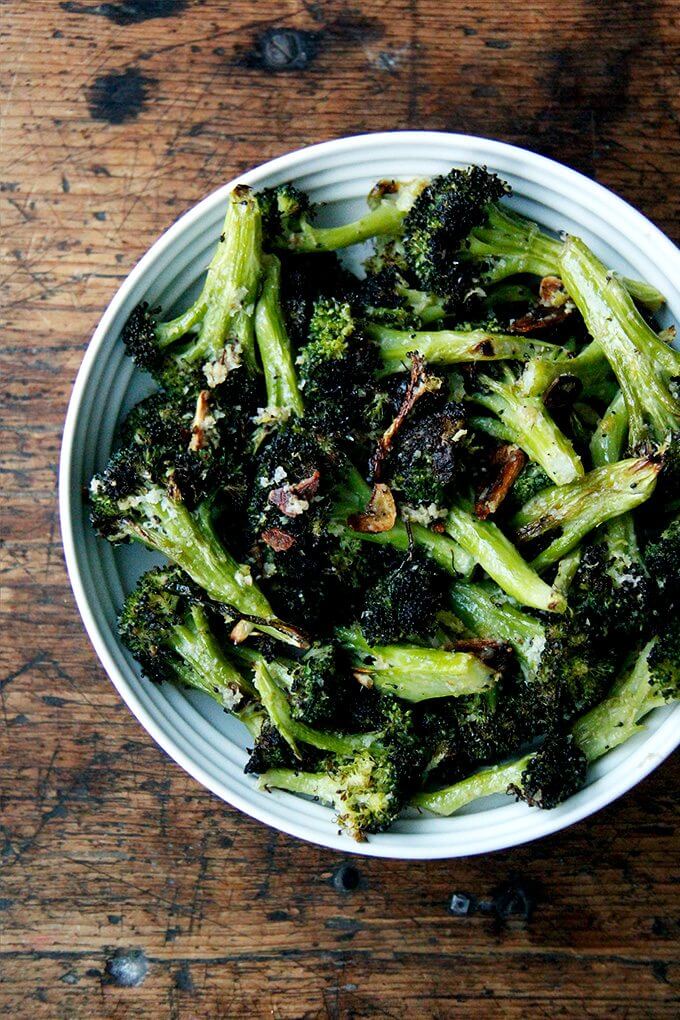 Just before Christmas, Food52's Kristen Miglore posted a roundup of the 10 most popular genius recipes of 2017. Included among the ten was a recipe for broccoli that  Adam Roberts of the Amateur Gourmet had written about in 2008, just a month after spotting the recipe in Ina's newly released Back to Basics.
The recipe soon made its way around the web, collecting admirers at every turn.
I apparently have been living under a rock. I made it for the first time last week, and while this roasted broccoli may be old news to many of you, I couldn't resist sharing it, should any of you also need hoisting from a dark, cold spot.
How to Roast Broccoli
This recipe for roasted broccoli is excellent and easy. Here's how you do it:
Toss broccoli florets with sliced garlic, olive oil, salt and pepper on a sheet pan.
Transfer to 425ºF oven and roast until the broccoli's edges begin to char, about 25 minutes.
Remove pan from the oven. Toss the broccoli with lemon zest, lemon juice, parmesan, and a splash more olive oil.
You can stop right there, but if you're up for it, toss the broccoli with toasted pine nuts and basil, too.
That's it. As some of you know, I do not have a kitchen at the moment and am just about ready to call it quits on the dishes-in-the-basement-utility-sink-followed-by-rinse-in-the-bathtub routine.
But knowing the repercussions of even simple cooking endeavors can't keep me from making this broccoli: I've made it three times in my portable Waring oven on two mini sheet pans in the past week because it just tastes so darn good right now—it's just what I'm craving after many weeks of indulging.
More Easy Veggie Side Dish Ideas
PS: Favorite Ina Garten Recipes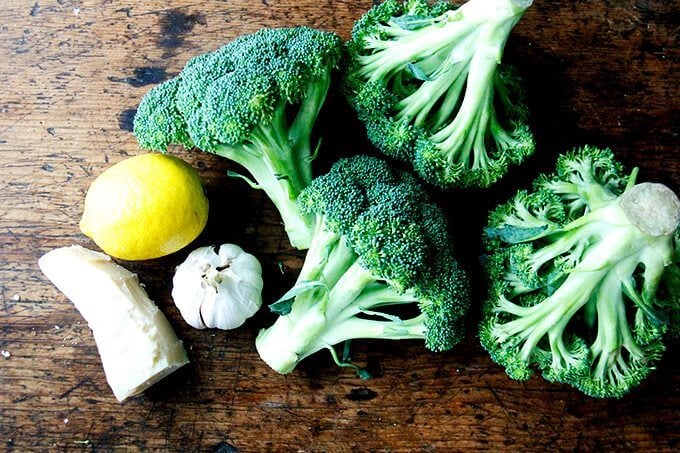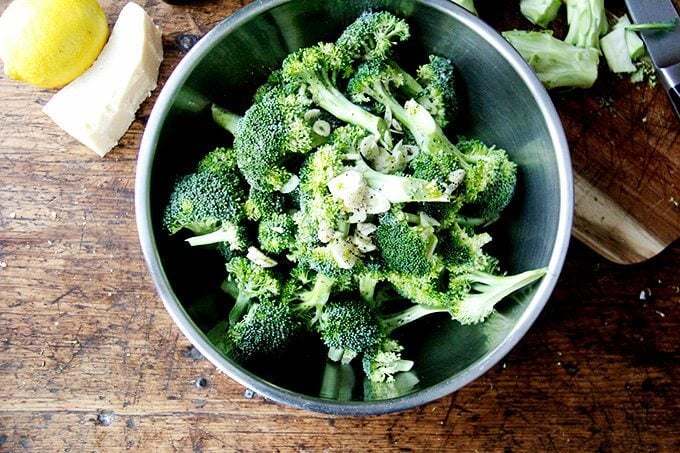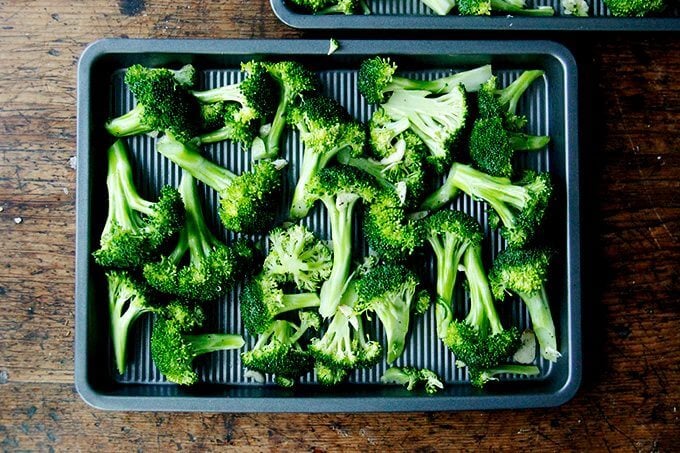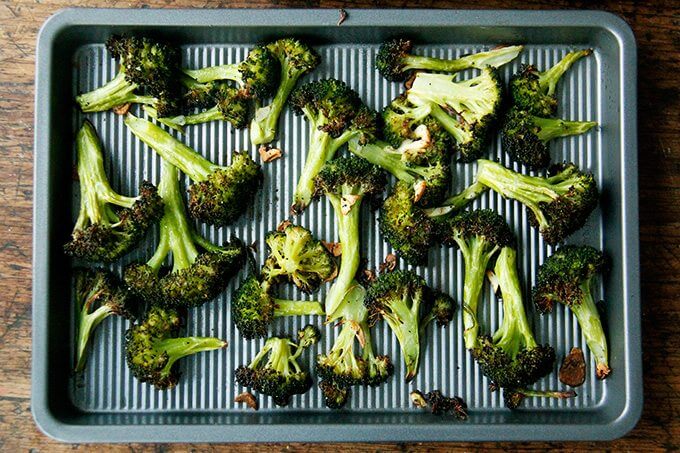 What would we do without microplanes? No, seriously, what would we do?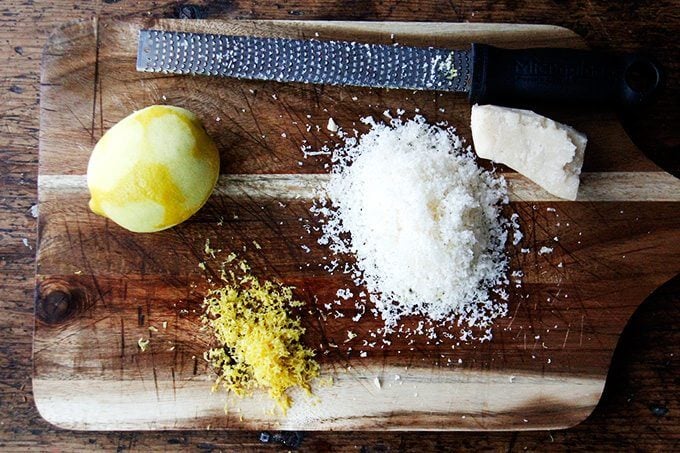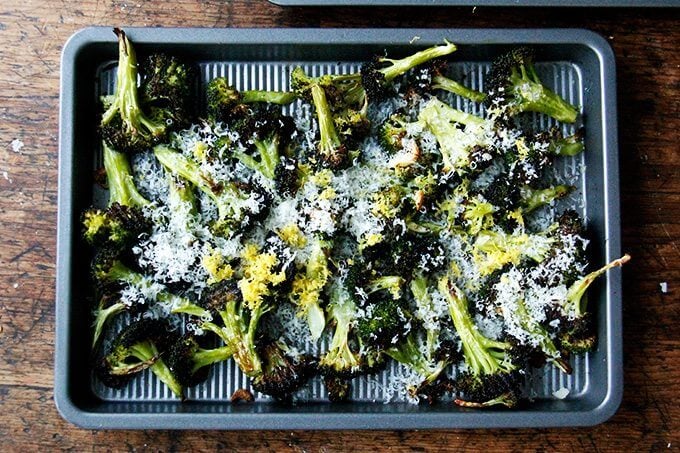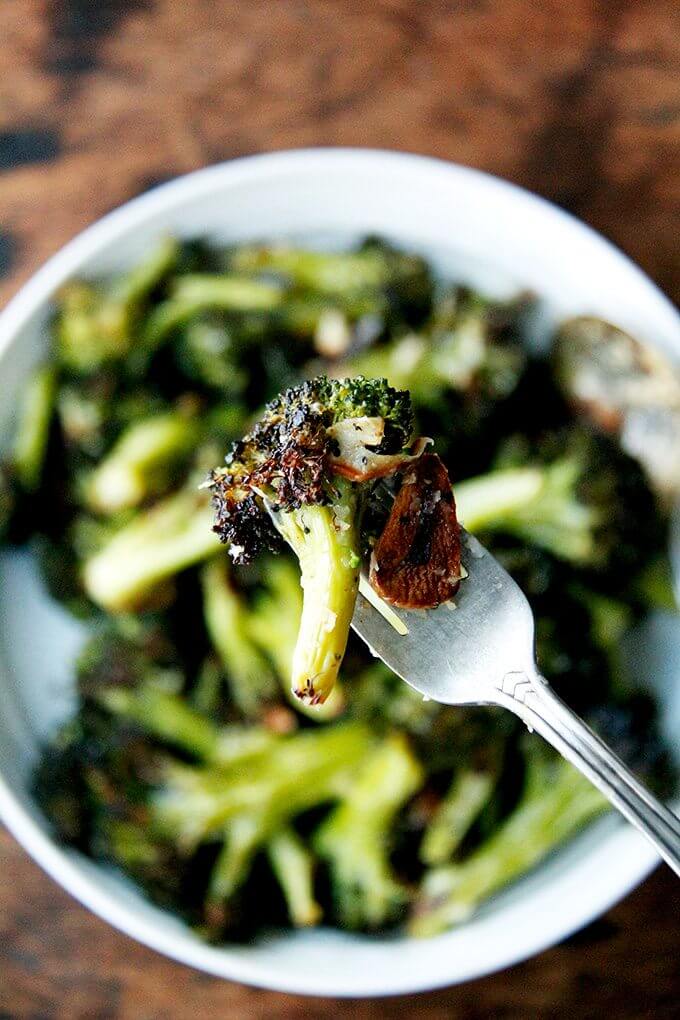 Print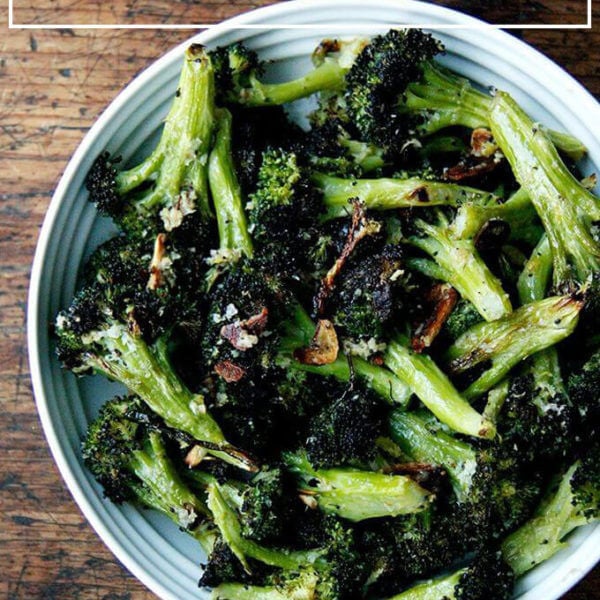 Ina Garten's Roasted Broccoli with Garlic, Lemon and Parmesan
---
Description
Adapted from the Barefoot Contessa's recipe from Back to Basics via Food52 and The Amateur Gourmet.
Original recipe calls for toasted pine nuts and basil, both of which sound delicious. I left them out mostly to simplify the recipe especially since I don't have a kitchen, but I'm not sure I'd make the effort in the future. Time will tell.
Also, I've cut the portions back, to accommodate my little oven, so if you wish to make more — the original recipe calls for 4 to 5 lbs. of broccoli — visit either of the recipes linked to above.
---
2

 lbs broccoli, from 3 to 4 small heads

2

 garlic cloves, peeled and thinly sliced
extra-virgin olive oil
kosher salt
freshly ground black pepper
zest from

one

lemon
freshly squeezed lemon juice
freshly grated Parmesan cheese—I microplane my parmesan and use about a heaping half cup, which weighs less than 1 ounce
sea salt, such as Maldon, for finishing
---
Instructions
Heat the oven to 425° F.
Cut the broccoli into florets. Place on a sheet pan large enough to hold them in a single layer. Toss the garlic on the broccoli and drizzle with 3 tablespoons olive oil. Sprinkle with a teaspoon of kosher salt and pepper to taste. Toss to coat evenly. Spread into a single layer. Roast for 20 to 25 minutes, until the broccoli is crisp-tender and the tips of some of the florets are browned.
Remove the broccoli from the oven and immediately toss with the lemon zest, the juice from half a lemon, and the parmesan. Taste. Add a drizzle more olive oil if the broccoli seems dry or tastes too sharp; add more fresh lemon if it needs more bite. Add a sprinkling of sea salt if it simply needs more seasoning. Add pepper to taste. Add more parmesan if you wish. In short: season to taste 🙂 
Prep Time:

15 minutes

Cook Time:

25 minutes

Category:

Side Dish

Method:

Oven

Cuisine:

American
Keywords: roasted, broccoli, lemon, garlic, parmesan
This post may contain affiliate links. Please read my disclosure policy.