Simple, Delicious Harissa Paste Made at Home
This post may contain affiliate links. Please read my disclosure policy.
This versatile homemade harissa paste recipe uses fresh peppers and chilies rather than dried peppers and is every bit as authentic and delicious a traditional harissa sauce recipes. Though spice and heat are the paste's predominant flavors, this harissa paste has sweet notes, too, thanks to the roasted peppers and near-caramelized onions, and a freshness lent by a healthy squeeze of lemon juice.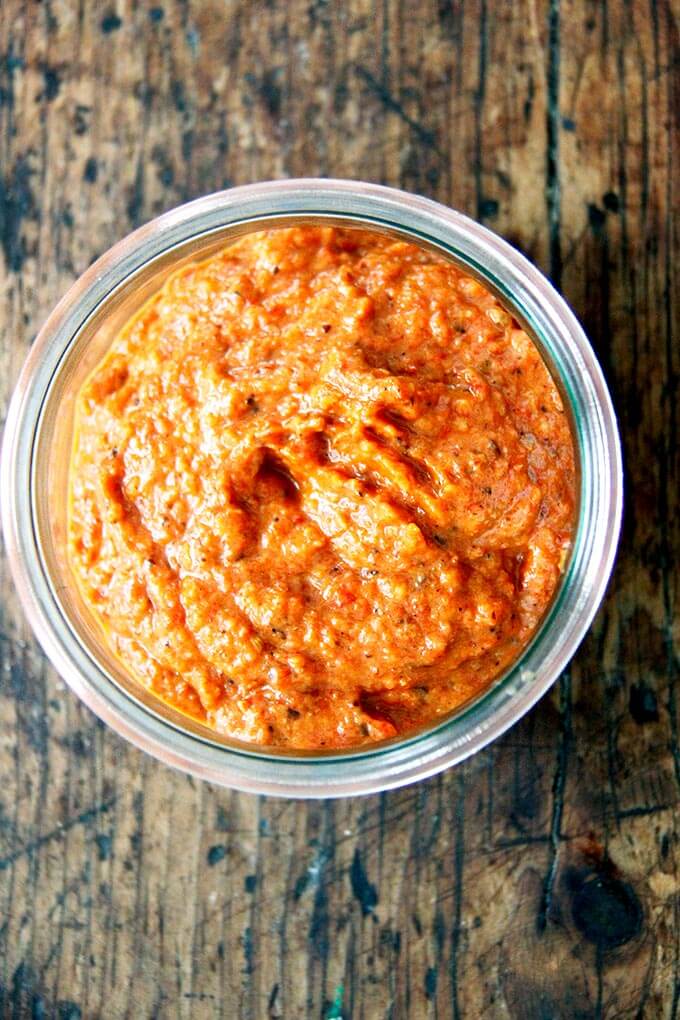 For years, I've wanted to make harissa paste at home, but every time I've set out to make it, I've been deterred by the process: many recipes that surface with a google search call for using dried chilies, which I can never find, and which, perhaps unfairly, I find to be a pain to work with.
A few weeks ago on a whim, I searched YouTube for homemade harissa recipes and was surprised to find a slew of videos demonstrating the process using fresh red bell peppers and fresh hot chilies as opposed to dried.
How promising?! I thought. But is using fresh peppers authentic? I worried. And more to the point, will harissa made with fresh peppers taste good?
A few weeks later, I made skhug, and shortly thereafter, I found myself flipping through Jerusalem: A Cookbook in search of something else to drizzle it over, when I came to the condiments chapter and to a two-page spread that included dukkah, zhoug (skhug!), and harissa all nestled together.
Homemade Harissa Paste with Fresh Peppers
What struck me about the Jerusalem harissa recipe is that it, too, called for using fresh red bell peppers and fresh hot chilies. I gave it a go and was so pleased with the results: a brilliantly hued, fiery paste, carrying the flavors of smoky, toasted cumin and coriander.
Though spice and heat are the paste's predominant flavors, it has sweet notes, too, thanks to the roasted peppers and near-caramelized onions, and a freshness lent by a healthy squeeze of lemon juice.
In sum, the three main components to this harissa paste include:
roasted red peppers
sautéed onions, garlic, and hot chilies
toasted spices and lemon
But the more I look at other harissa recipes, the more I realize how similar in spirit they all are: in essence, harissa is a spicy, concentrated vegetable paste, typically seasoned with cumin, coriander, and caraway.
The concentrated paste could be created from any number of vegetables: dried, reconstituted chilies and roasted or steamed red bell peppers are common as are tomatoes, both fresh and sun-dried. That said, I've come across a number of a recipes that don't include peppers at all.
All of this makes me wonder, what other vegetables could you cook down—could you concentrate into a paste—then season with toasted spices, and purée with the caramelized onions and garlic?
Making the harissa made me better understand skhug, which is made with fresh green chilies, fresh garlic, fresh herbs, toasted spices, and lemon—in essence, it's a green, uncooked harissa.
It's easy, I think, to overthink the process of making less-familiar condiments like harissa, to be worried about making something inauthentic, to let perfect be the enemy of good.
But if you make a paste that hits the notes of spicy, smoky, sweet, and sharp, you've likely got something on hand that's going to work for you in that Moroccan tagine recipe you've been eyeing.
It is nearly impossible to page through a monthly cooking magazine or a new cookbook without finding one or two (or ten!) recipes calling for harissa-glazed this or harissa-braised that. And though it's not a huge task anymore to locate ready-made harissa at the store, it's nice to know how to make it at home.
Homemade harissa? Yes. You. Can.
Use Harissa Paste With:
More Homemade Sauce Recipes
Here's a play-by-play: Gather your ingredients.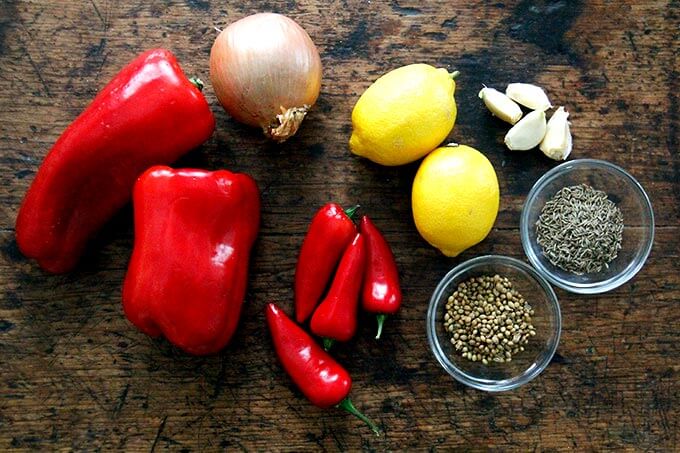 Roast peppers until charred.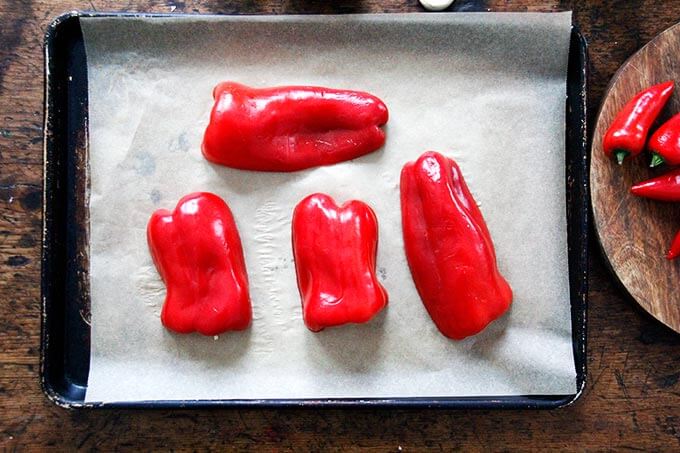 Meanwhile, chop onions and garlic. A coarse chop is fine.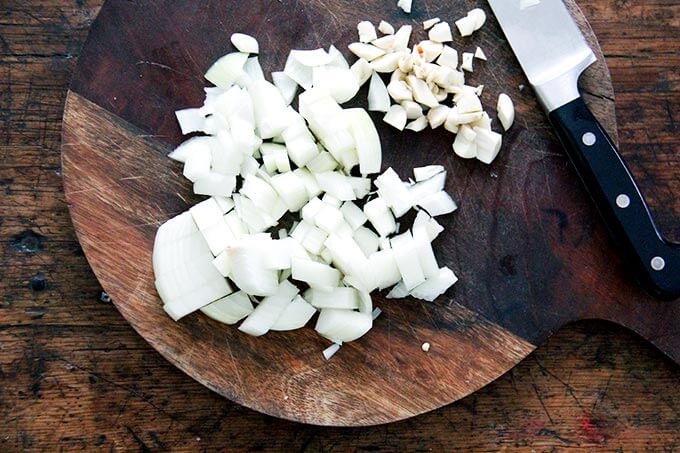 Chop some hot chilies, too. These are Fresnos, but I've used habaneros, too.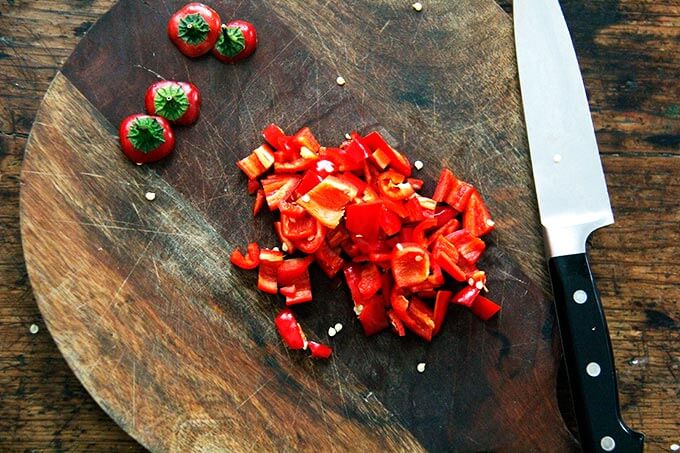 Sauté the onions, garlic, and chilies; toast some cumin and coriander seeds.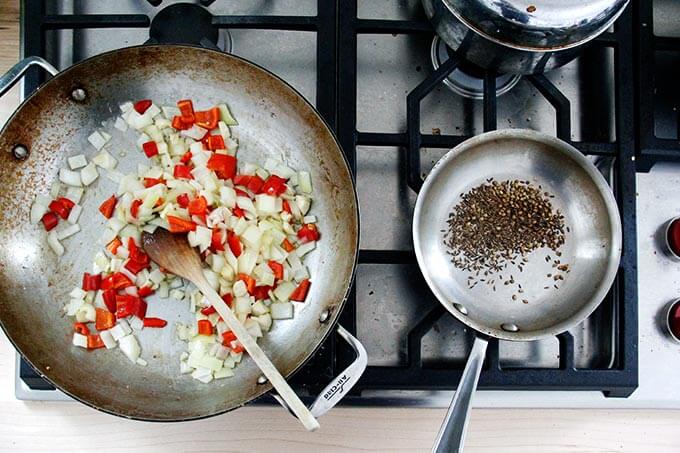 Grind the toasted seeds.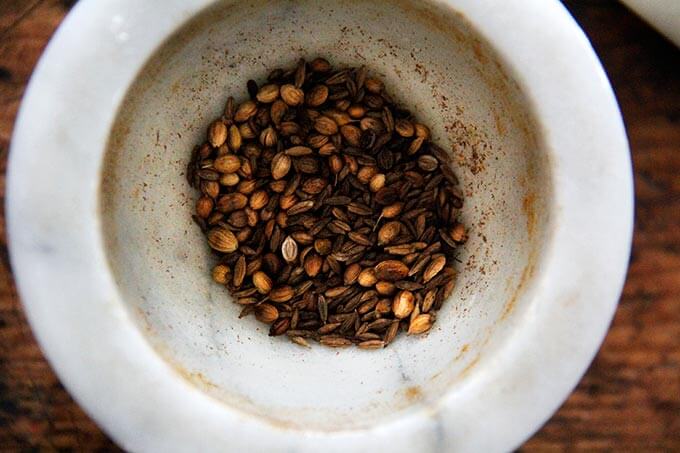 When the onion-pepper mixture begins to caramelize, it's about done.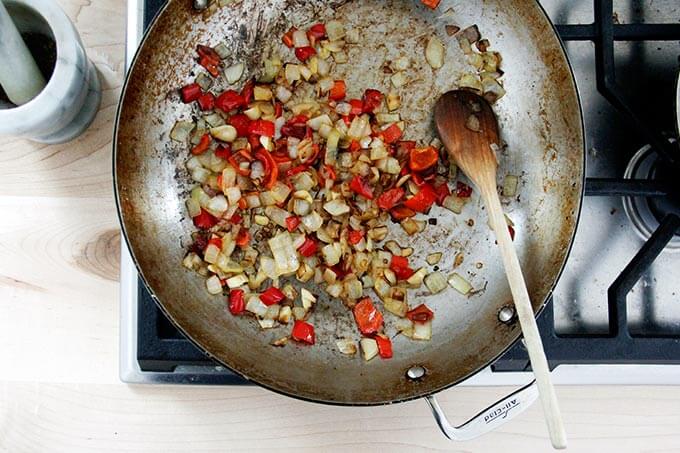 Transfer roasted peppers to a bowl.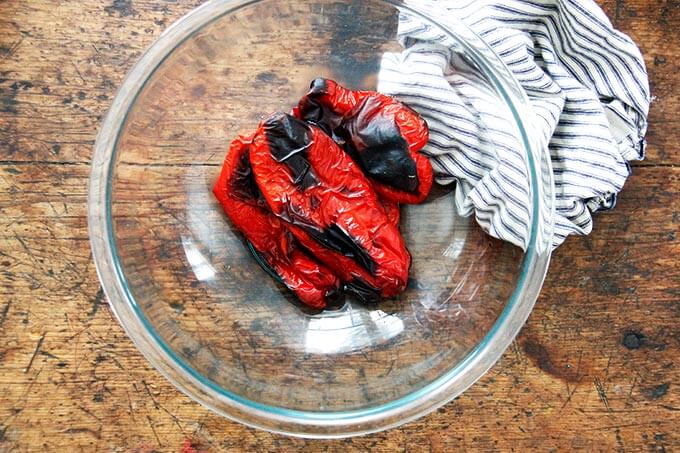 And cover it with a bowl cover or plastic wrap.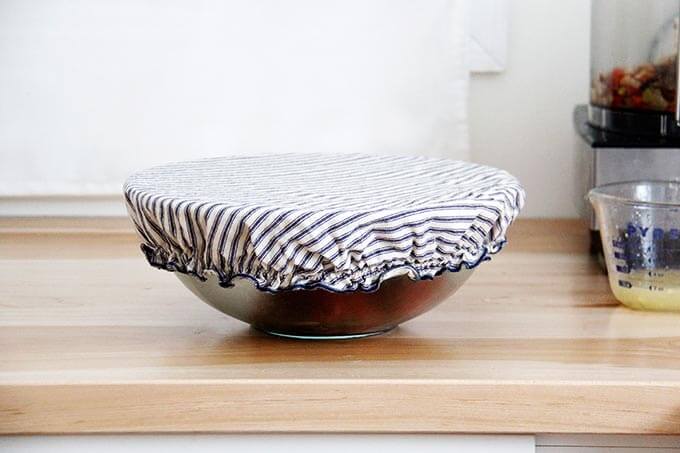 Throw everything—peeled roasted peppers, sautéd onions and chilies, toasted spices—in the food processor along with some salt and fresh lemon juice.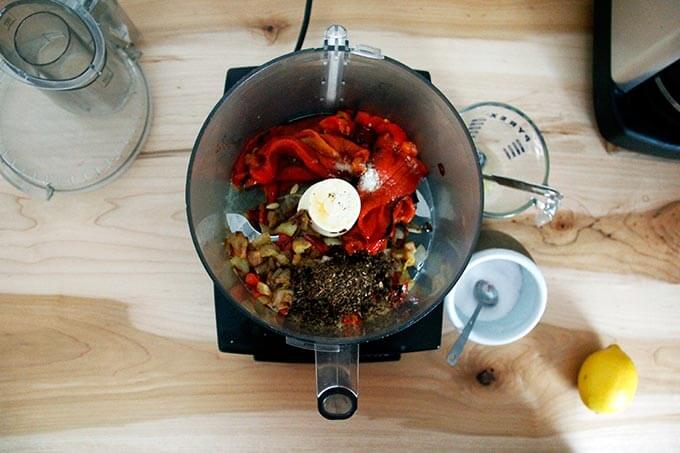 Purée until smooth, adding a splash of olive oil, and more salt and lemon to taste.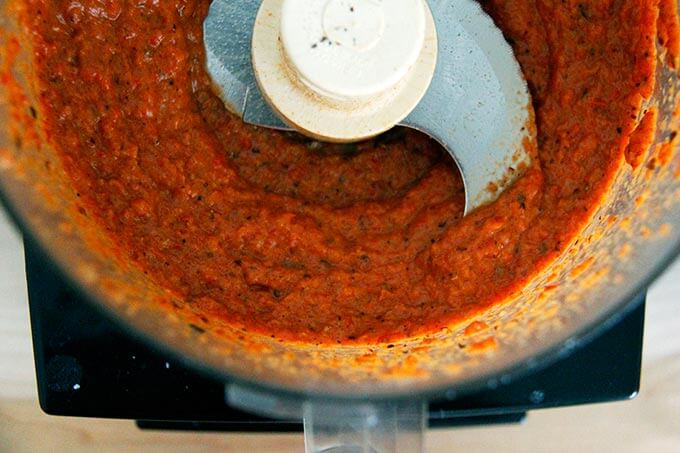 Harissa!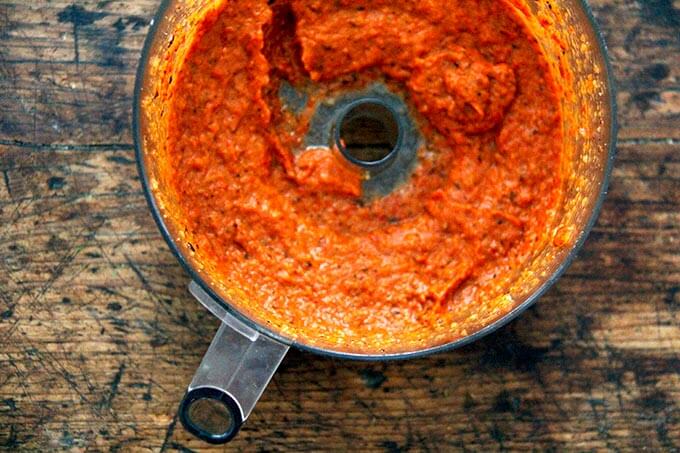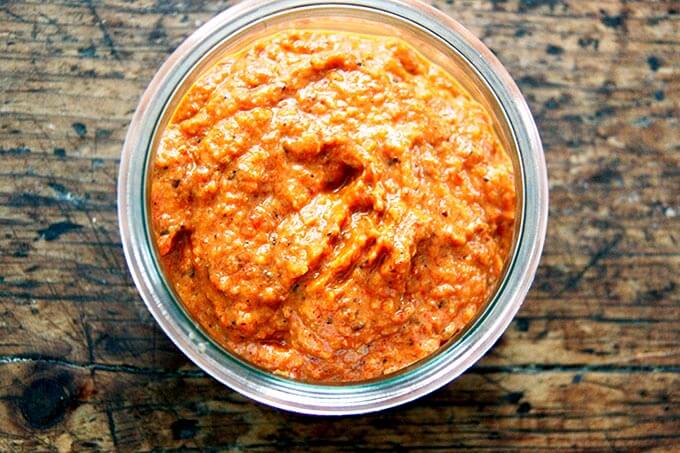 How have I only just discovered this page? All of my favorite condiments in one cozy spread: dukkah, harissa, skhug.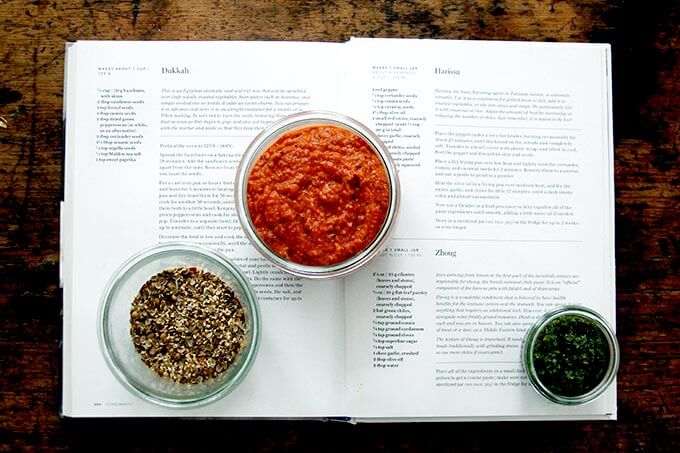 Print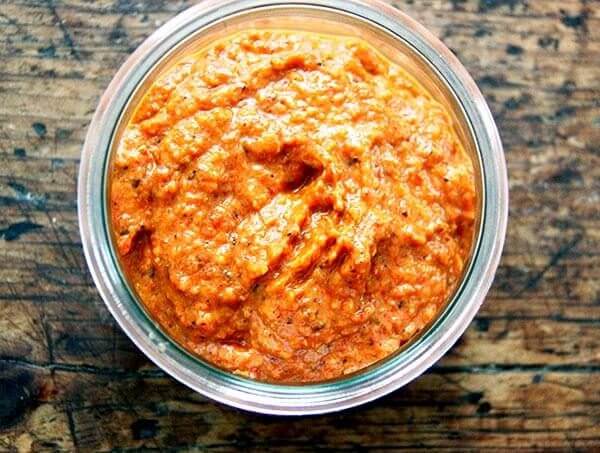 Simple, Delicious Harissa Paste Made at Home
---
Description
From Yotam Ottolenghi and Sami Tamimi's Jerusalem: A Cookbook.
I've made a number of small changes to the recipe, so if you'd like to view the original, find it here. Changes include: omit the caraway seed and tomato paste, use a white onion in place of a red (though a red onions will work fine), roast the peppers at 450ºF as opposed to broil.
Regarding chilies, I've used both Fresnos, as pictured here, and habaneros. Once when I made this, I seeded the peppers, and the resulting harissa tasted good but there was no heat to it. So now, I leave the hot chilies mostly with their seeds and membranes intact. It's really hard to know how hot the harissa is going to be till the very end because chilies, even of the same variety, vary in their heat level. Tasting one raw beforehand will give you a sense, but it's still hard to know exactly until the harissa is completely puréed. If you find your harissa to be incredibly spicy, you can either just use less of it in your recipes; or you could roast some more bell peppers, peel them, and purée them with your batch of harissa.
---
2

red bell peppers, halved, cored, and seeded

1 tsp

coriander seeds

1 tsp

cumin seeds

3 tbsp

olive oil, plus more to taste

1

onion, coarsely chopped, to yield 1 to 2 cups

3

to

5

cloves garlic, coarsely chopped

3

hot red chiles, coarsely chopped, see notes

2

to

4

tbsp freshly squeezed lemon juice

1/2 teaspoon

kosher salt plus more to taste
---
Instructions
Preheat the oven to 450ºF. Place the peppers on sheetpan lined with parchment paper. Roast until nicely charred nearly all around, 20-25 minutes. Transfer peppers to a bowl, cover with plastic wrap or a cloth bowl cover, and allow to cool. Peel the pepper and discard its skin.
Place a small, dry frying pan over medium heat and toast the coriander and cumin seeds until they begin to darken and smell fragrant. Transfer them to a mortar and use a pestle to grind to a powder.
Heat the olive oil in a large frying pan over medium heat, and fry the onion, garlic, and chiles for 10 to 12 minutes, until they begin to caramelize.
Use a blender or a food processor to blitz together all of the ingredients until smooth, adding a little more oil if needed. I usually add another tablespoon. Taste. Adjust with more salt, lemon, or oil to taste.
Store in a sterilized jar in the fridge for up to 2 weeks or even longer.
Prep Time:

20 minutes

Cook Time:

35 minutes

Category:

Condiment

Method:

Oven/Stovetop

Cuisine:

Middle Eastern/North African
Keywords: harissa, paste, homemade, simple
This post may contain affiliate links. Please read my disclosure policy.