Easy, One-Pot Coconut Thai Chicken Curry
This post may contain affiliate links. Please read my disclosure policy.
This one-pot coconut Thai chicken curry is incredibly flavorful and easy to prepare thanks to delicious time-saving tip: not browning the chicken. After sautéing an onion and making a simple sauce with spices, curry pastes, tomatoes, and coconut milk, you add the chicken to the pot and transfer it to the oven. In just about an hour, it will be done! The sauce is plentiful, so making rice or some sort of flatbread essential.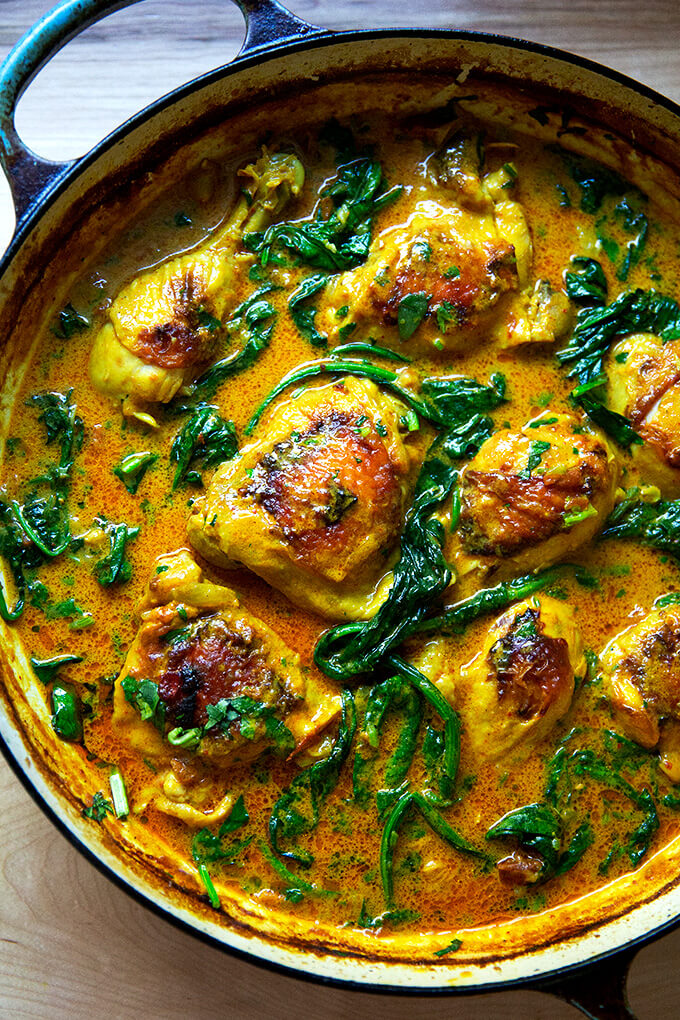 Are you still browning chicken?
When I was first learning to cook, browning meat prior to braising it, is what all of my favorite cookbooks taught. It's also what I learned from the chef, Thien Ngo, I worked for at Fork. Before Thien braised anything — chicken, brisket, short ribs — he always began by browning the meat first.
But browning, as far as I can tell, serves only one good purpose: to remove excess fat, thereby ensuring the sauce, in the end, won't taste unpleasantly fatty. For a braise, browning is not a step that produces crispy skin. And while it creates an appealing color and, in turn, flavor, these two outcomes can be achieved without actually going through the tedious process of browning.
How? In the oven.
Two years ago I made Diana Henry's Moroccan Chicken and Rice with Harissa and Dates, a recipe that calls for essentially chucking everything into a pan at once and throwing it in the oven. There's no preliminary browning, and it works: the end product being crispy skin and fall-off-the-bone meat.
I've stopped browning chicken ever since, and I've been revisiting my favorite braises in the meantime, giving them the chuck-in-the-oven treatment. This one-pan chicken with sherry vinegar sauce is a favorite, and here's another one: one-pan Thai chicken curry with spinach.
It uses all of the same flavorings as Thien's Thai chicken curry, but the method is different, simpler.
One-Pan Thai Chicken Curry How-To
Sauté an onion.
Add turmeric, curry powder, and Thai red curry paste.
Add tomatoes, coconut milk, brown sugar, fish sauce, and water.
Add chicken, transfer to the oven and cook for 1 hour.
Out of the oven, add a heap of spinach, stir, and serve over rice.
After an hour in the oven, the chicken skins are browned, and the meat has absorbed all the flavors of the sauce. The sauce is plentiful, making rice or some sort of flatbread essential.
A final note regarding not browning:
As noted above, browning meat does remove excess fat. If, prior to cooking, you notice your chicken thighs or drumsticks are particularly fatty, trim the excess fat/overhanging skin. This step usually is enough to ensure the final sauce doesn't taste too fatty, but if, in the end, you still find the sauce tasting too rich, you can skim excess fat, which will pool to the surface.
5 Favorite No-Browning Chicken Recipes
PS: Curried Lentils with Kale & Coconut Milk
PPS: Chopped Thai Satay Salad with Peanut-Ginger Dressing
PPS: Easy Thai Chicken Satay with Coconut Rice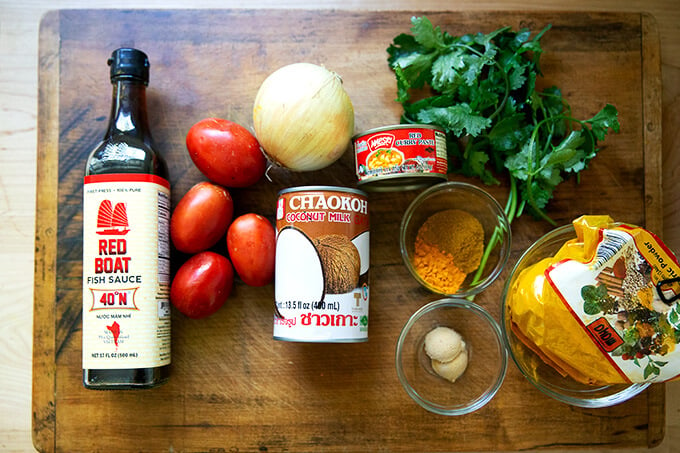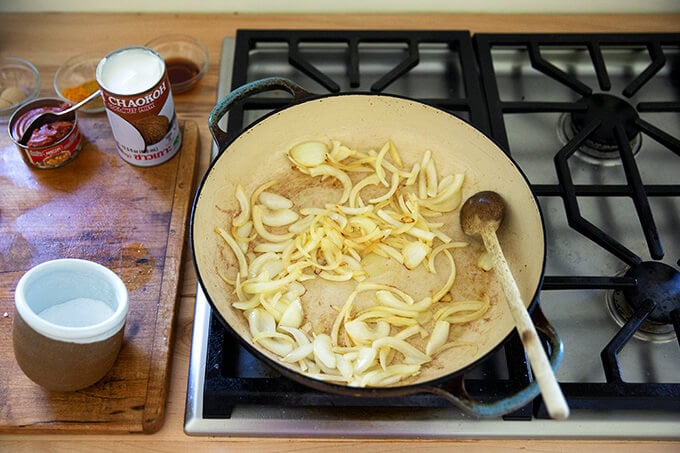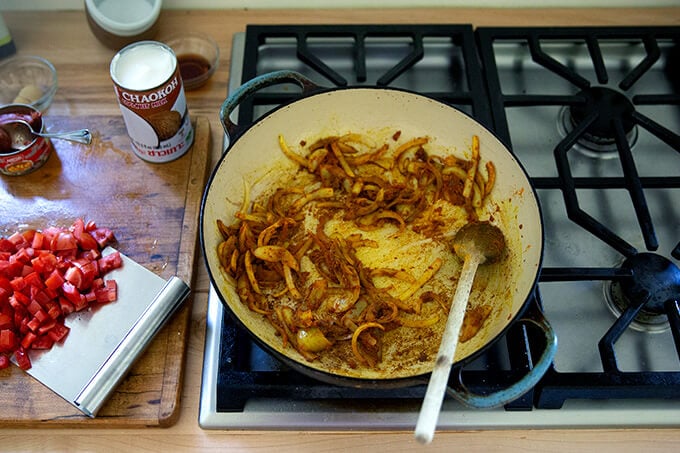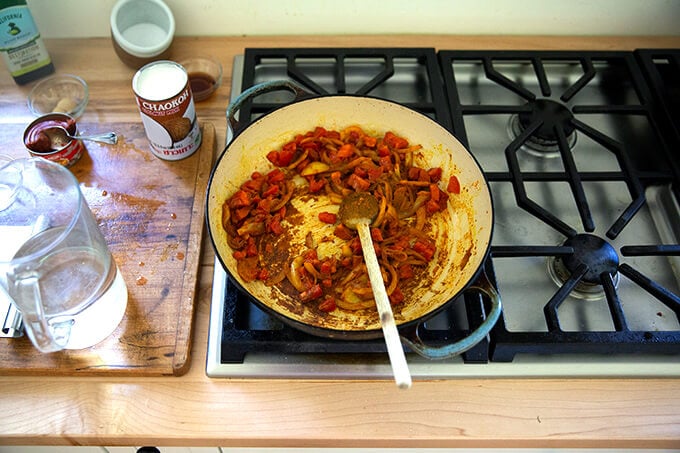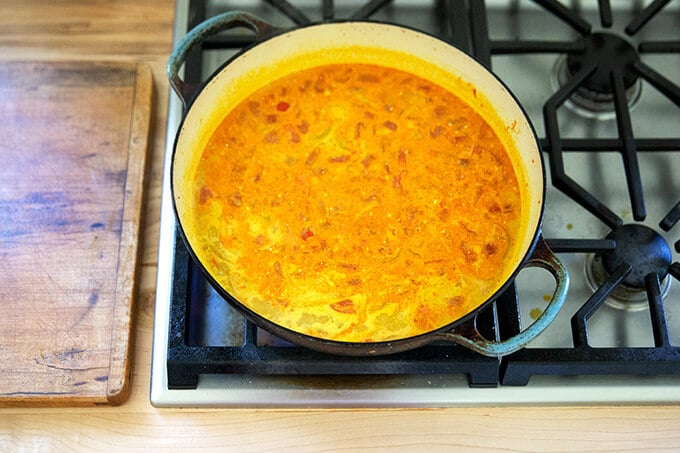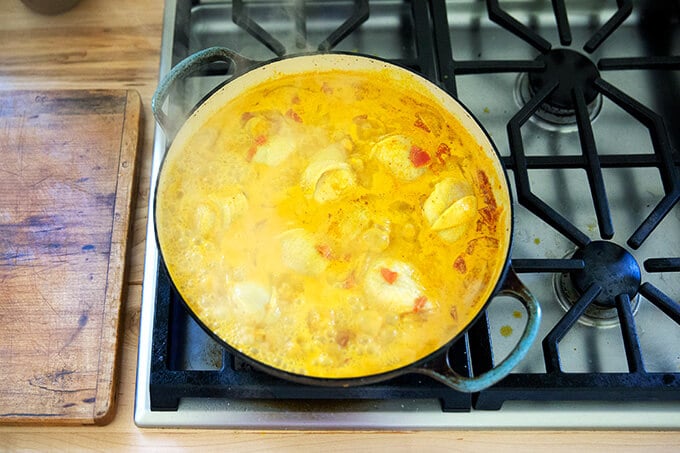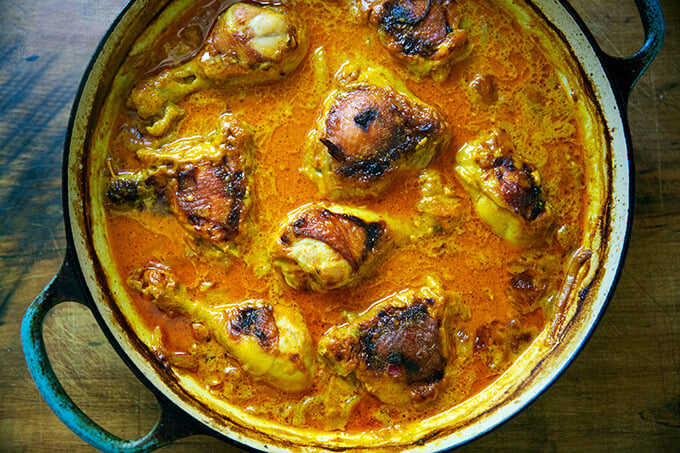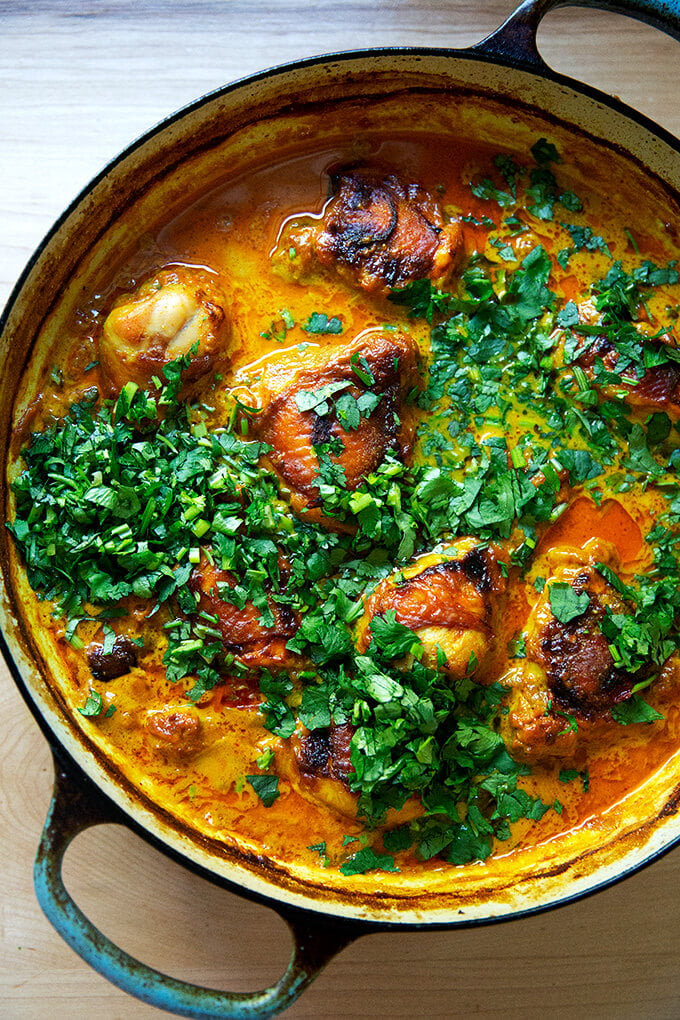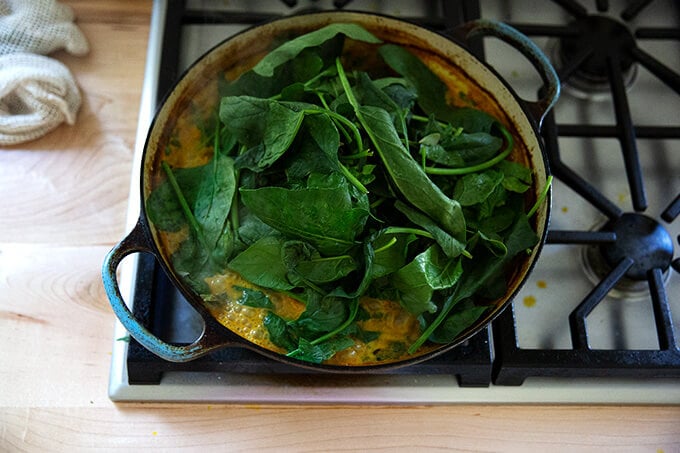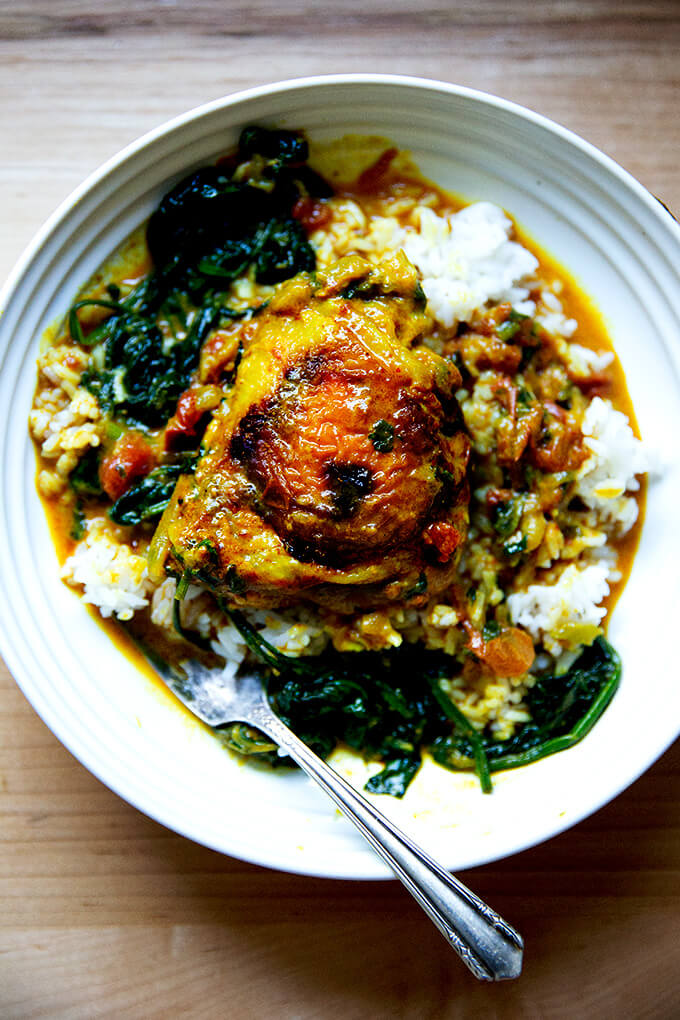 Print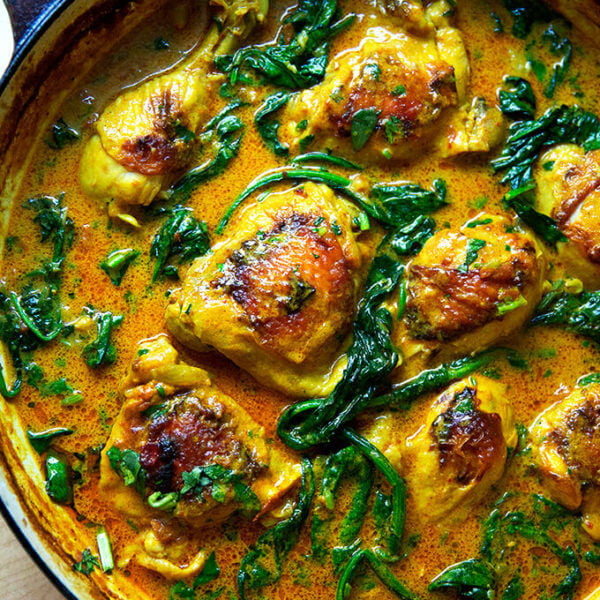 Easy, One-Pot Coconut Thai Chicken Curry
---
Description
I learned to make this chicken curry while working at Fork in Philadelphia many years ago, now. The chef, Thien Ngo, prepared it somewhat differently — he browned the meat first in one pot; browned a ton of vegetables (carrots, parsnips, onions) in another pan; additionally, he deep-fried potatoes; and he cooked everything stove top.
I've converted this to a one-pan number, and in place of the carrots, parsnips, and potatoes, I stir in a heap of spinach at the end.
A few notes:
If your chicken thighs or drumsticks are particularly fatty, trim the excess fat. This will prevent your sauce from being too fatty in the end.
Thai red curry paste. Maesri is the brand I buy at the Asian market. You can find it online, too. I use half a tin for this recipe (which is about 3 tablespoons), which makes it quite spicy but not outrageous. If you are sensitive to heat, start with a tablespoon and adjust the sauce with more at the end.
---
1 tablespoon

olive oil

1

onion, sliced
kosher salt

8

bone-in, skin on chicken thighs or drumsticks or a combination of both

2 teaspoons

turmeric

2 teaspoons

curry powder

1

to

3

tablespoons Thai red curry paste (see notes above)

3

to

4

plum tomatoes, chopped

1

can (13.5 oz) unsweetened coconut milk

1 tablespoon

fish sauce

2 teaspoons

brown sugar

1/2 cup

cilantro, roughly chopped, or more or less to taste
 3 to 5 ounces spinach, optional
For serving:
cooked Jasmine or Basmati rice (or any rice you like)
---
Instructions
Heat oven to 400ºF.
In a large sauté pan over hight heat, heat 1 tablespoon of olive oil. Add the onions and a pinch of salt, and immediately turn the heat to medium-low. Stir every so often, and cook until the onions soften and begin browning at the edges, about 5 minutes.
Meanwhile, place the chicken in a large bowl and season all over with kosher salt. Use 1 teaspoon per pound.
Add the curry powder, turmeric, and Thai red curry paste to the onions, and stir until onions are coated  in the spices, about a minute. Add the tomatoes, and stir until they just begin to soften, about a minute. Add the can of coconut milk. Fill up the empty can of coconut milk with water and add to the pan. Add the fish sauce and brown sugar and bring to a simmer. (Note: A number of people have had issues with this being too liquidy, so I've reduced the amount of water from 2 empty cans to one… hope this solves the issues.).  
Add the chicken pieces and turn to coat. Transfer pan to the oven uncovered and cook for 1 hour or until the liquid has reduced considerably, the chicken skin is brown, and the meat is falling off the bone. If the liquid has reduced too much, add more by the quarter cup. Note: If you make this ahead, you may need to add more water upon reheating. 
Add cilantro and stir. Add spinach, if using, and stir. Spoon rice into bowls. Top with chicken and sauce, and serve immediately.
Prep Time:

10 minutes

Cook Time:

1 hour

Category:

Dinner

Method:

Stovetop/Oven

Cuisine:

Thai
Keywords: one-pan, Thai, chicken, curry, coconut, milk, cilantro, dinner
This post may contain affiliate links. Please read my disclosure policy.