Chickpea & Quinoa Veggie Burgers
This post may contain affiliate links. Please read my disclosure policy.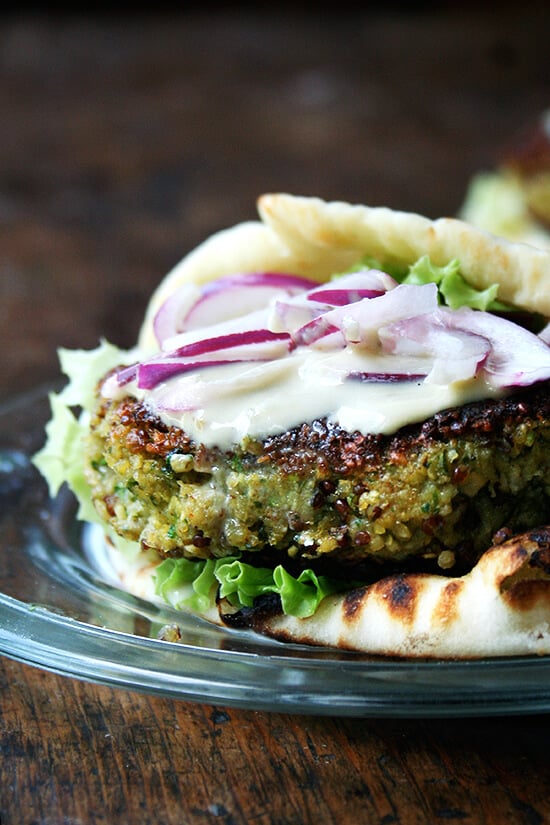 From beans and rice to grains and legumes to eggs and breadcrumbs to cheese and yogurt, many are the variables determining the fate of a homemade veggie burger. It's dizzying, as maddening as trying to unlock the secret to the chewiest granola bar.
All summer, I've been trying to make a good one, and I've finally found a formula I love, the inspiration coming from a favorite fritter: falafel. If you've made falafel, you're familiar with the method: soak dried chickpeas (or favas) overnight, drain them, whizz them with onions, herbs and seasonings, deep fry.
Without any binders, falafel manages to hold its shape, crispy on the edges, light and airy in the interior.
This method works beautifully for veggie burgers, too, the reconstituted puréed chickpeas acting as a binding agent, rendering additions such as eggs, yogurt, breadcrumbs, etc. unnecessary. I mean, if we're going through the trouble to make veggie burgers, wouldn't it be nice to keep them strictly vegetarian? These happen to be vegan to boot.
And no flavor is compromised due to the absence of these ingredients we often rely on to keep our favorite patties and meatballs and fritters intact. Here, raw onions, basil, cilantro, scallions, smoked paprika and grated zucchini offer bite, smoke, and freshness. A cup of cooked quinoa, too, provides a nice crunch throughout, the grains crisping up during the quick sear on the stovetop. Feel free to change the spices (cumin, coriander, cayenne, whatever) and herbs and vegetables (roasted green or poblano peppers would be a nice addition here, too).
Serve theses patties with naan, homemade or otherwise (love these), pickled red onions, and tahini sauce, which, if you've been missing as much as I, is reason alone to make these burgers.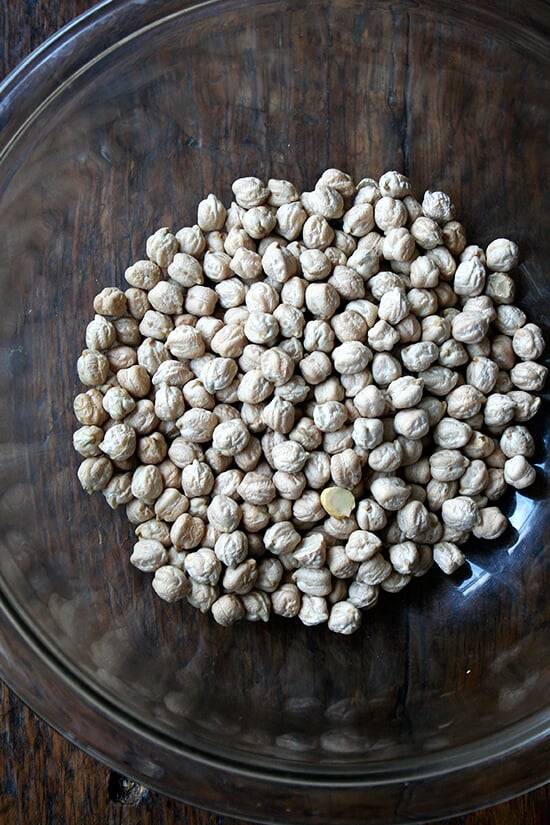 Soak the chickpeas for 18 to 24 hours: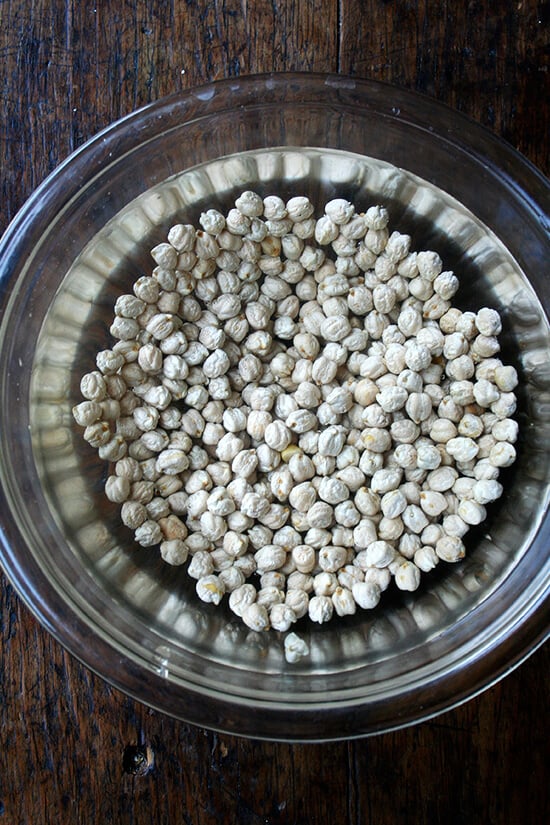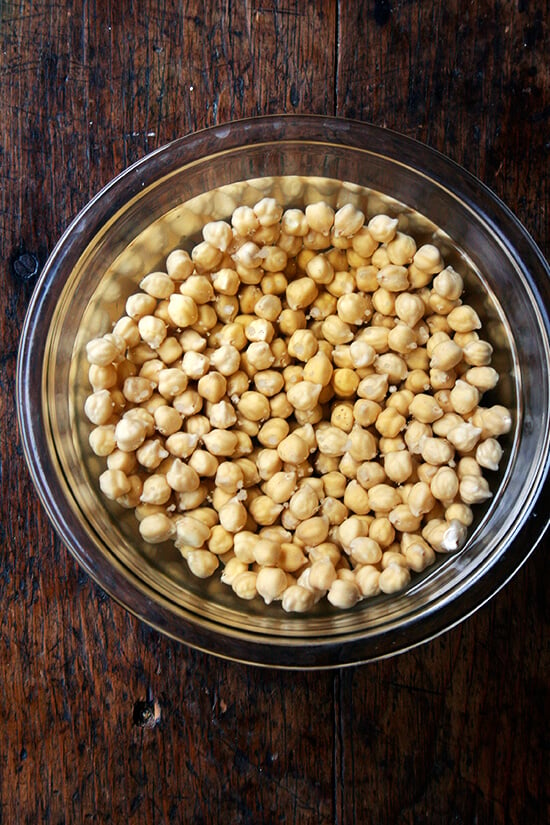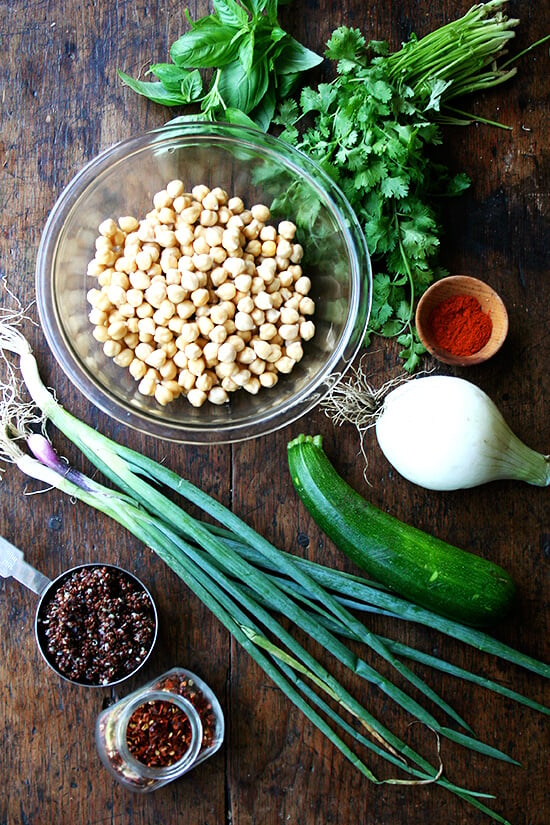 Whizz everything together in a food processor: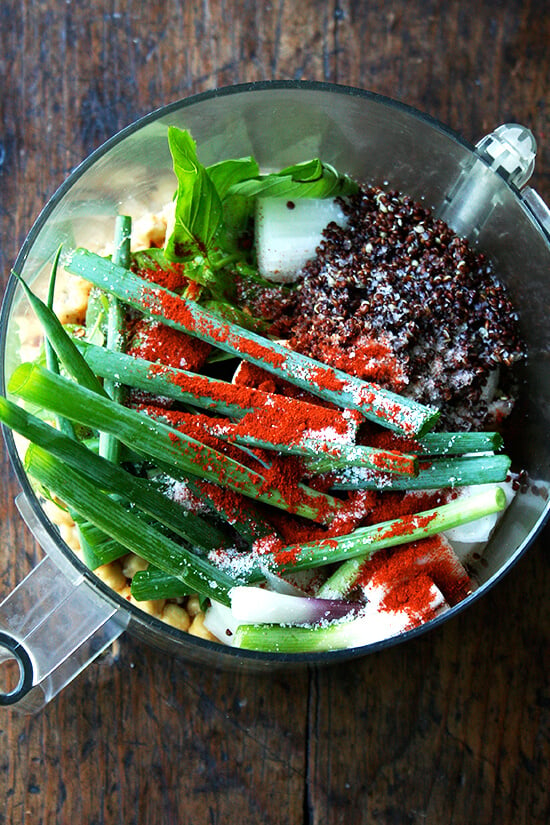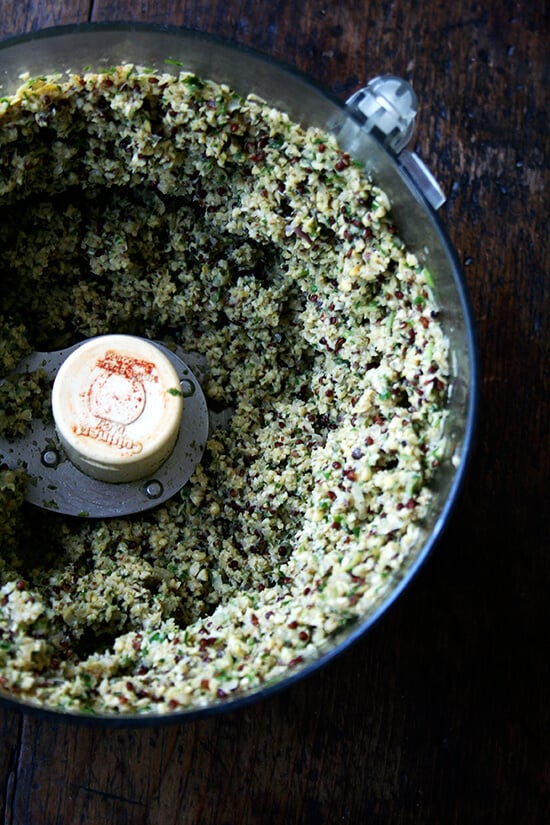 Fold the grated zucchini in last: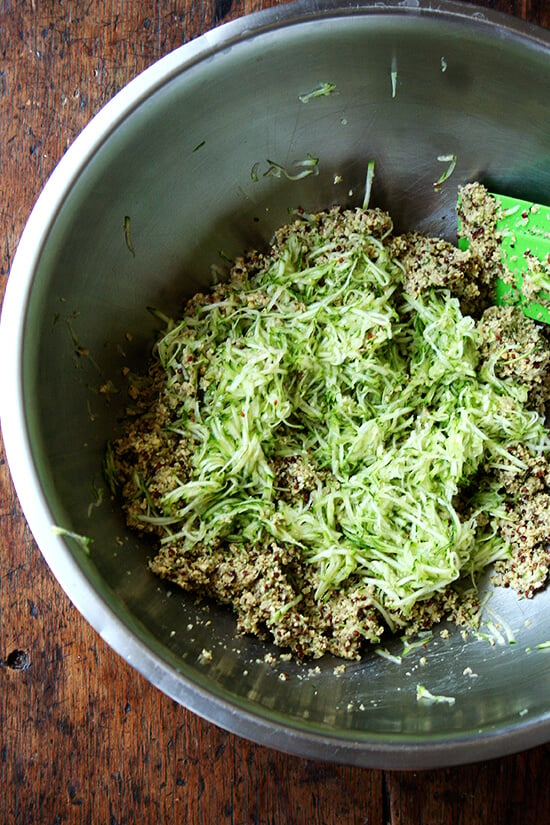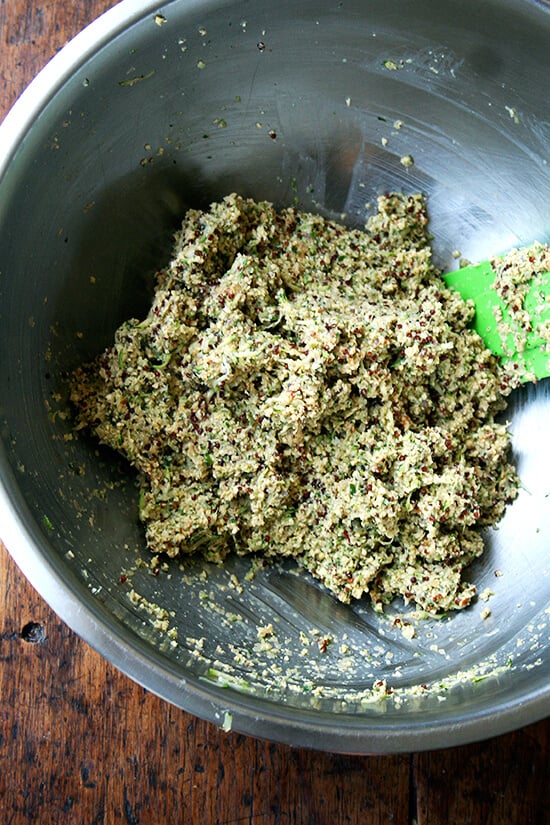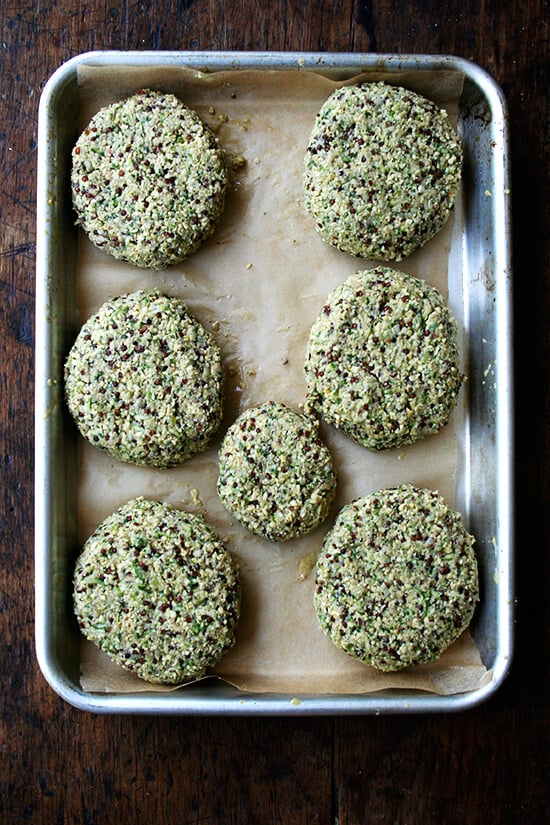 Cook for three minutes a side on medium high heat: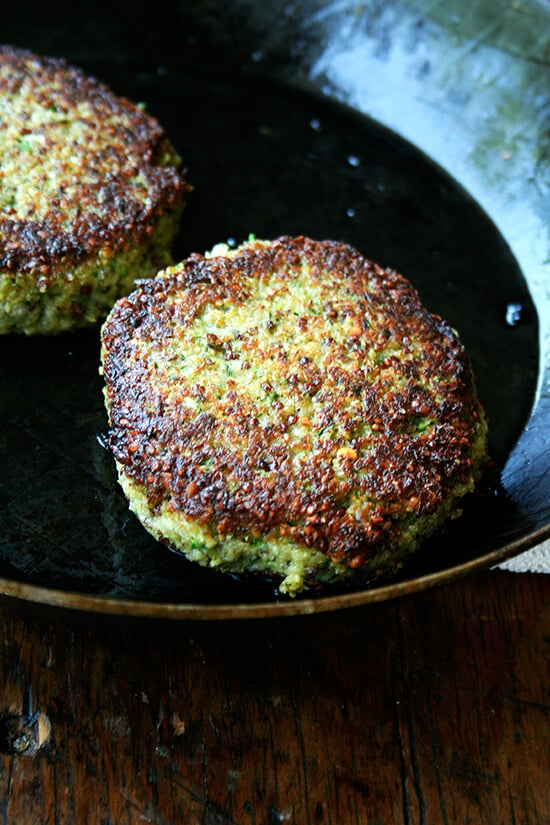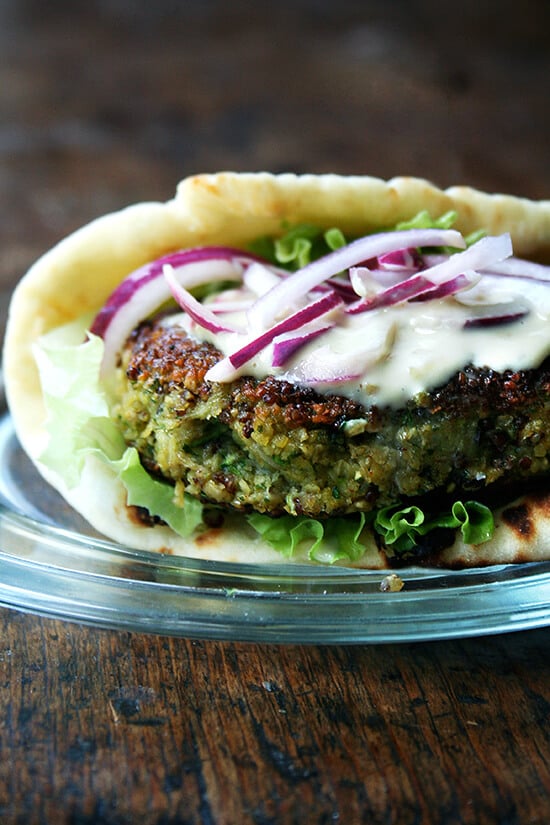 Reminder: Quinoa lovers: Alter Eco is having a recipe contest! Prizes are amazing.
Print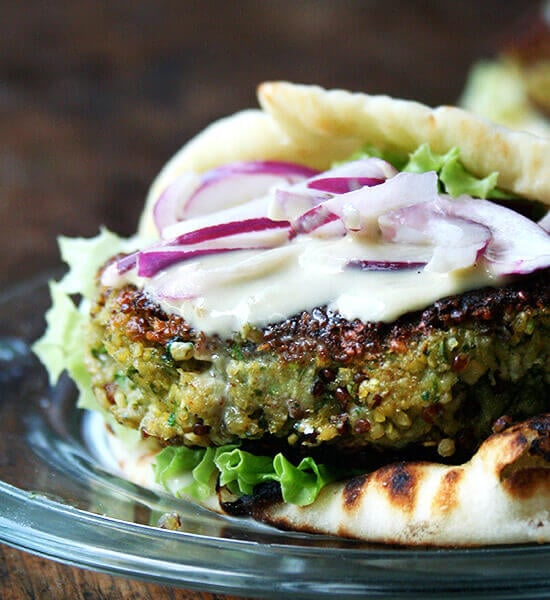 Chickpea & Quinoa Veggie Burgers
---
1 cup

(

200g

) dried chickpeas

1 cup

cooked quinoa* (I like red for its color, but you could use any variety.)

1

small onion, peeled and roughly chopped (

168g

once trimmed)

3

or so scallions, ends trimmed and roughly chopped (

36 g

once trimmed)
basil, cilantro, parsley, whatever you like, a small handful (25 g of each roughly)

2 tsp

. kosher salt

1½ tsp

. smoked paprika
crushed red pepper flakes to taste

1

small zucchini, grated (

185 g

once grated)
grapeseed oil for frying
serve with naan, lettuce, tahini sauce (so yummy!), pickled red onions, Sriracha (or other hot sauce, optional)
---
Instructions
Place dried chickpeas in a bowl and cover with water by a few inches. Let sit overnight, or at least 12 hours. If time permits, 18 to 24 hours is best. Drain.
Place the drained chickpeas, quinoa, onion, scallions, herbs, salt, paprika, and pepper flakes in the food processor. Process until blended, about 10 seconds. Scraped down the sides of processor and pulse again until combined. Transfer to a large mixing bowl.
Add the grated zucchini and with a spatula or your hands, incorporate the zucchini into the mixture. Taste the mixture. It should taste good, and shouldn't need much adjustment, but do adjust if necessary.
Use a ½-cup measuring cup to portion the mixture into 6 (plus a little guy) patties. Squeeze the mixture between your hands as you shape each patty. The mixture will feel wet. When you shape the patties, the mixture might even feel a little delicate, and you will probably worry that the patties will fall apart in the pan. But, as long as your patties can hold their shape on the plate or sheetpan, you're in good shape. At this point, the patties can be wrapped and stored in the fridge for a day or two.
Depending on how many patties you are cooking at one time, heat a sauté pan over medium high heat. For two patties, add 1 tablespoon grapeseed oil. When the oil begins to skid around the pan and feels hot to your hand hovering above, gently lower a patty into the oil. Repeat with another. Cook for three minutes adjusting the heat as necessary. Flip. Cook for three minutes more. Serve immediately with naan, lettuce, tahini sauce and onions.
Notes
*Quinoa: This is how I cook quinoa: Bring a pot of water to a boil. Once the water comes to a boil, add the quinoa and cook for 9 minutes. Drain. There is no need to salt the water here because the mixture is seasoned sufficiently (but otherwise I would salt the water). For these burgers, I have been cooking a cup of quinoa at a time, which produces over 2 cups of cooked quinoa, and I use 1 cup here and the rest for a salad. But if you want to try to produce a single cup of quinoa, try starting with about ⅓ cup (66 g) of dried quinoa. It won't be perfect, but it will be close. The weights below for the vegetables (onions, scallions, herbs, zucchini) are rough — use them as a guide. Try to stay somewhat close but don't worry about completely matching. You can use any spices you like. Cumin is common, but I find it to be overpowering. Smoked paprika offers a nice smokiness and a nice change if you are looking for one.
---
Print
3 Tbsp

. olive oil

3 Tbsp

. tahini

1 1/2 Tbsp

. lemon juice (about

1/2

a lemon)

2 Tbsp

. water

1/4 teaspoon

kosher salt

1

to

2

cloves garlic, crushed

1 teaspoon

maple syrup or honey (optional)
---
Instructions
In a small bowl, stir together the tahini (being sure to stir the tahini itself first to make sure it is emulsified), olive oil, lemon juice, water, salt, and garlic. Taste. Add the maple syrup or honey if desired. (I like this dressing with a touch of sweetness.) Taste. Adjust with more salt, if necessary, and thin out with more water if necessary, too — the sauce should be pourable or the consistency of a traditional dressing.
---
Print
½

red onion, thinly sliced

1 tablespoon

red wine vinegar (or any vinegar)
Salt
---
Instructions
In a small mixing bowl, combine the onions and vinegar. Season with salt and allow the onions to macerate until they have softened, about 15 minutes. Set aside until ready to use.
This post may contain affiliate links. Please read my disclosure policy.