Sautéed Zucchini with Mint, Basil & Pine Nuts
This post may contain affiliate links. Please read my disclosure policy.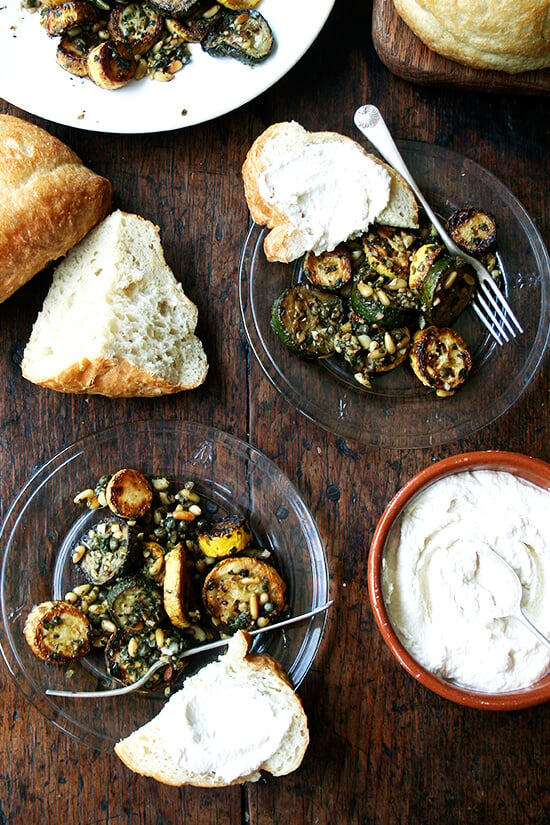 It has been my experience for years that on eves of CSA pickups, we get by with what we have, cobble together dinner with the scraps in the vegetable drawer, a hunk of bread, cheese, a tin of sardines or whatever we find in the pantry.
But this summer, I can't keep up. Even with the children eating the green beans, a weekly ritual of chard fritters, and gratins galore, we can't make a dent in our produce share. Every Monday is an emergency, an evacuation of what's left, everything and anything shredded into a slaw.
I'm not complaining. These are good problems. And in recent weeks, I've found myself hoping for more than just a few summer squash to appear in my weekly basket, because this sautéed zucchini recipe is one of the most delicious things I've made in awhile.
It's another Deborah Madison gem via Food52 and my cousin who emailed and texted and insisted I make it immediately. I'm so glad she did. It's simple and fun to make: 1/2-inch thick rounds (which is thicker than you think — get out your tape measure) brown in olive oil while you mince together basil, mint, garlic and capers. This "knife pesto" gets added to the sautéed squash at the end with a splash of vinegar and toasted pine nuts. The instructions explicitly advise not salting the squash till the very end, a withholding that keeps water from leaching out of the rounds, allowing them to brown properly. What I love about the dish is that even though the "dressing" is a jumble of ingredients, you can taste each element — the bite of the vinegar, the zing of the garlic, the sweet herbs, the crunchy nuts. The bits of knife pesto are irresistible.
As suggested, I've been serving this with my favorite bread and homemade ricotta. This has been dinner three nights in a row. I can't imagine a more perfect summer meal.
A Few other Favorite Zucchini Recipes
This gratin is my favorite — it's so fast to throw together and so good.
This summer squash gratin with salsa verde is delicious, too, but a little more involved.
Love this summer squash spaghetti.
These fritters with tzatziki are a fun first course.
I love this raw, shaved zucchini and pecorino salad with olive oil and lemon.
Zucchini bread. Yum.
Favorite summer pizza: The Zucchini Anchovy.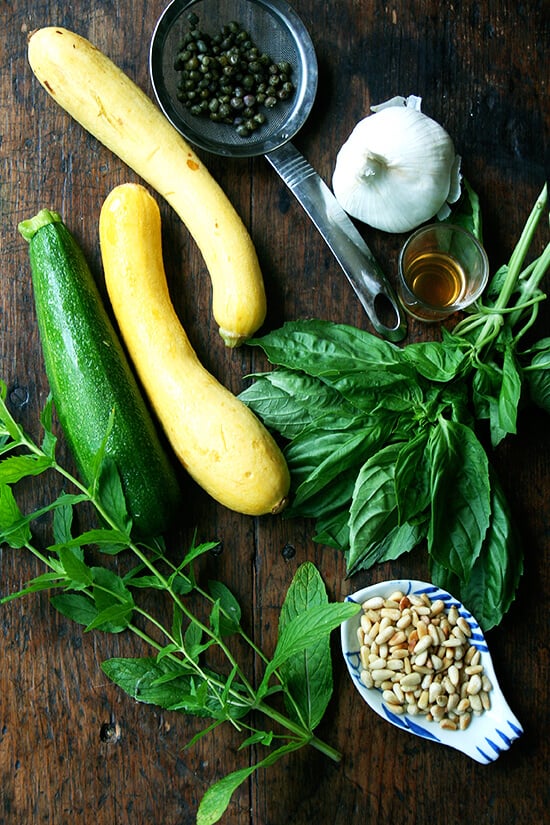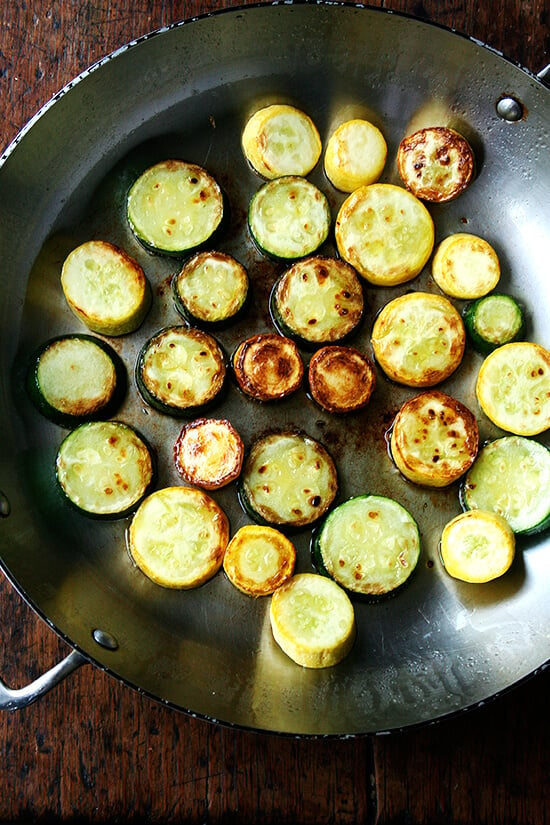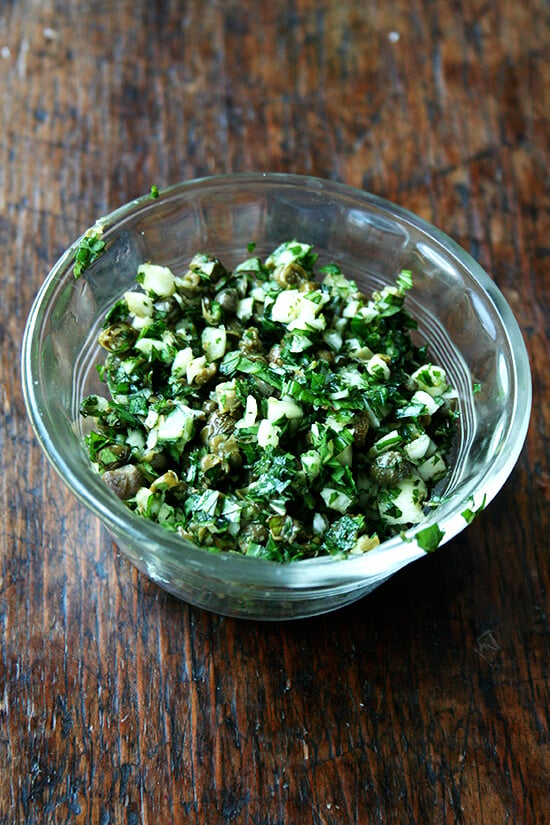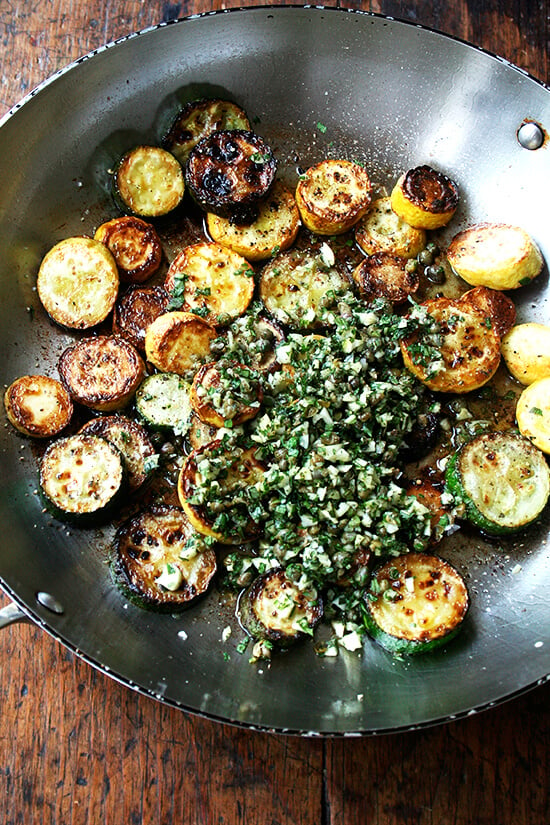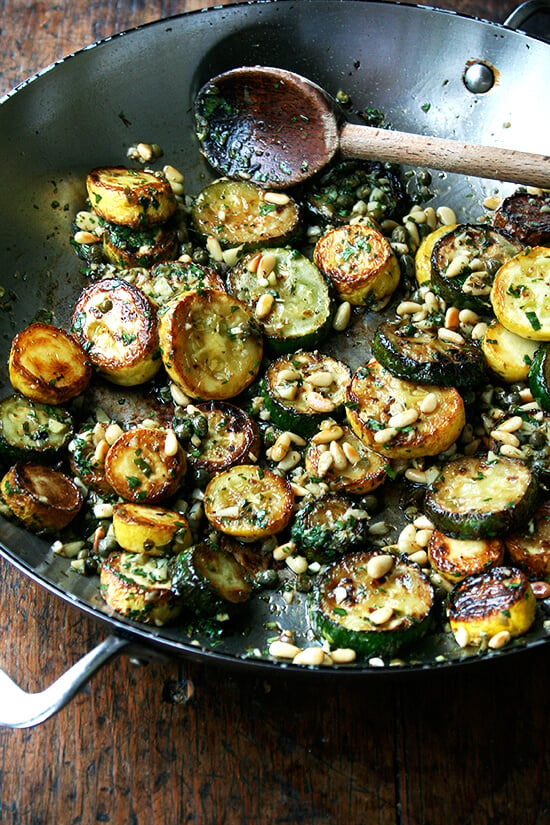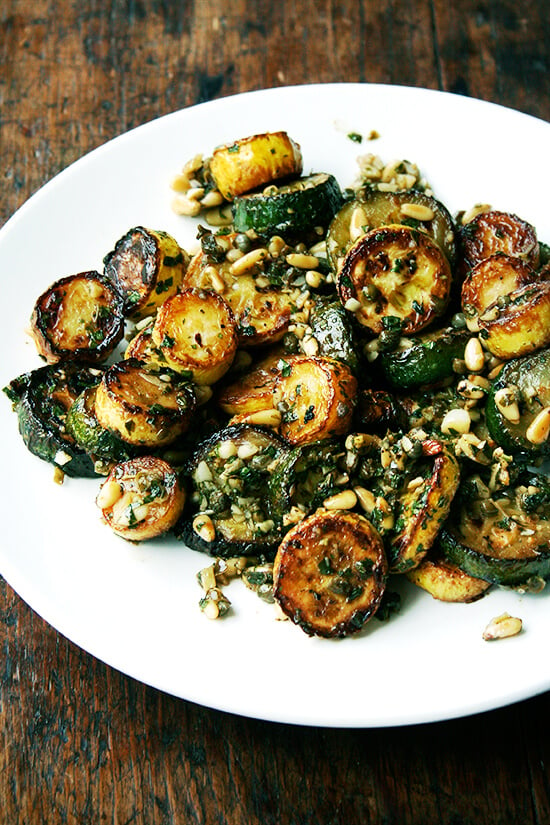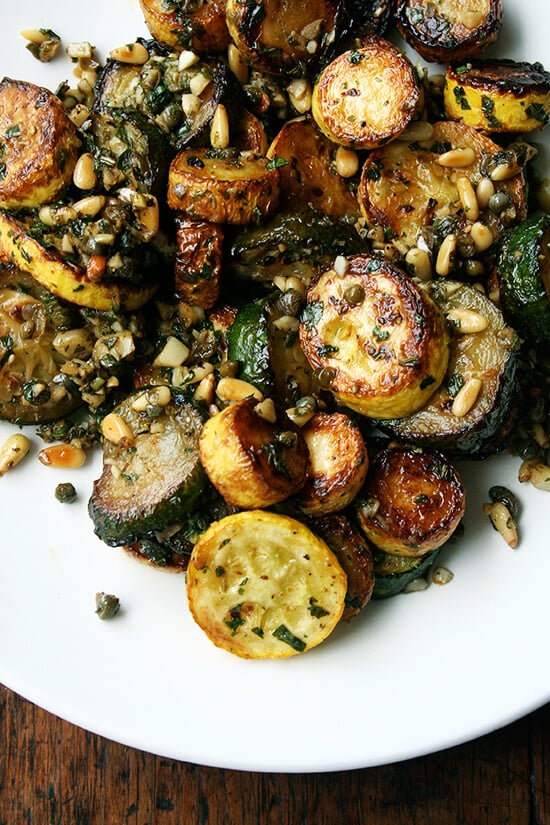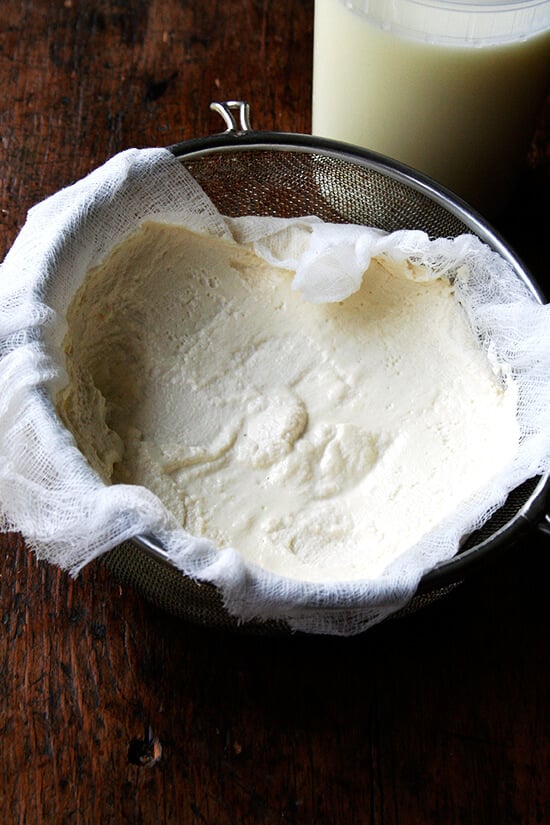 Print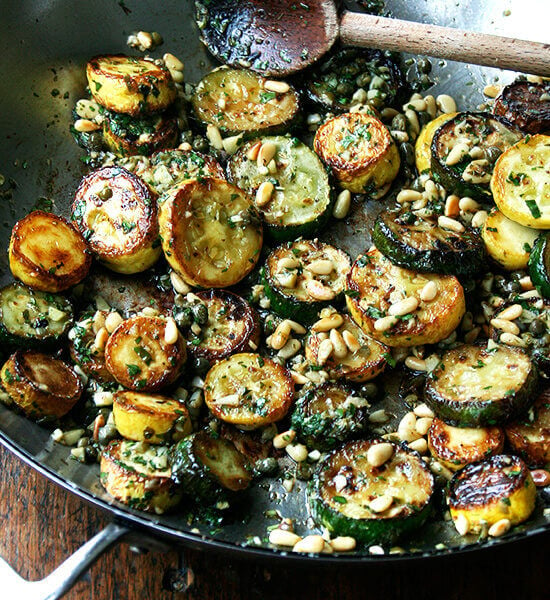 Sautéed Zucchini with Mint, Basil & Pine Nuts
---
---
1

pound zucchini (or any summer squash), sliced into ½-inch rounds

3 tablespoons

(or less) olive oil, divided

3

small cloves garlic

10

(or more) mint leaves

5

(or more) basil leaves

1

heaping tablespoon capers, rinsed

2 tablespoons

pine nuts or walnuts, lightly toasted

1

to

2

teaspoon red wine vinegar or white balsamic or whatever vinegar you have
Sea salt and freshly ground pepper, to taste
Additional mint and basil, torn, to garnish (optional — I omit bc I go big on the knife pesto)
homemade ricotta and your favorite bread (optional, for serving)
---
Instructions
Heat 1 tablespoon of olive oil in a 10-inch skillet over medium-high heat. When the oil is hot, add half the zucchini and sauté, flipping and turning every few minutes, until golden brown, about 15 minutes. Don't salt them yet!
While your zucchini cooks, chop together the garlic, mint, basil, and capers so that they intermingle and turn into a sort of knife pesto. When the zucchini is golden, remove it from the pan and cook the remaining zucchini in another tablespoon of oil, just as you did the first batch. Note: I've cut back the oil here, but if you feel you need a splash more while you are sautéing, go for it. Then add the first batch back into the pan, along with the herb-garlic mixture and the vinegar, to taste. Taste for salt; add a good pinch, plus a few cracks of pepper. Toss well. Add nuts. Scoop everything out onto a serving plate. Right before serving, sprinkle on extra herbs if using.
Prep Time:

15 minutes

Cook Time:

15 minutes

Category:

Side Dish

Method:

Stovetop

Cuisine:

American
Keywords: summer, squash, sauté, zucchini
Print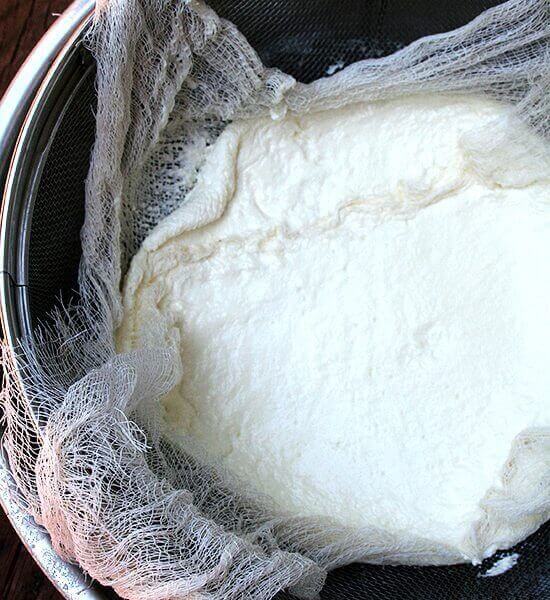 Homemade Ricotta Cheese
---
---
4 cups

whole milk

2 cups

heavy cream

1 teaspoon

kosher salt

3 tablespoons

good white wine vinegar
---
Instructions
Set a large sieve over a deep bowl. Dampen (or don't) 2 layers of cheesecloth with water and line the sieve with the cheesecloth.
Pour the milk and cream into a stainless steel or enameled pot. Stir in the salt. Bring to a full boil over medium heat, stirring occasionally. Turn off the heat and stir in the vinegar. Allow the mixture to stand for 1 minute until it curdles. It will separate into thick parts (the curds) and milky parts (the whey).
Pour the mixture into a cheesecloth-lined sieve and allow it to drain into the bowl at room temperature for 20 to 25 minutes, occasionally discarding the liquid that collects in the bowl. The longer you let the mixture drain, the thicker the ricotta. Transfer the ricotta to a bowl, discarding the cheesecloth. Save the whey — you can make bread with it. Use the ricotta immediately or cover with plastic wrap and refrigerate. The ricotta will keep refrigerated for 4 to 5 days.
Prep Time:

5 minutes

Cook Time:

5 minutes

Category:

Cheese

Method:

Stovetop

Cuisine:

American
Keywords: ricotta, homemade
This post may contain affiliate links. Please read my disclosure policy.