Harissa Carrot Salad with Avocado
This post may contain affiliate links. Please read my disclosure policy.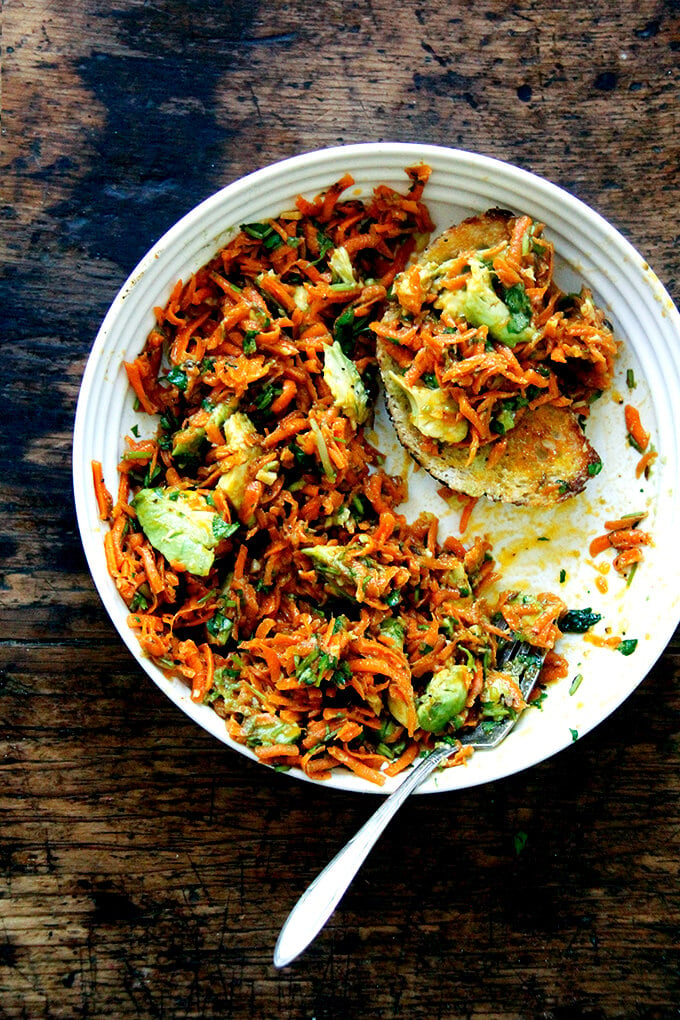 A few weeks ago, after discovering the joys of making harissa from scratch, I spooned a few tablespoons of the fiery, bright paste into a warm dressing infused with garlic, cumin seeds, and fresh lemon, then tossed it all with shredded carrots and chopped parsley.
I was following a recipe on Smitten Kitchen and, as promised, the salad incited more excitement than I imagined capable of a heap of carrots. I ate nearly the entire salad myself, saving a small bowl for Ben, who devoured it as enthusiastically and quickly upon walking through the door after work.
If you have a food processor to shred the carrots and a jar of harissa, homemade or otherwise, on hand, the salad comes together in no time, and it can be adapted in many ways. My favorite variation includes sliced avocado and olive oil-fried toast, but I've also served it atop a smear of lemony yogurt sauce, and I've also folded in feta, as suggested in the original recipe. In short, adapt the recipe to your tastes and preferences.
As alluded to above, I find this salad completely addictive, and it's making me especially excited for the summer CSA carrots. But it also makes me wonder, what other vegetables could we shred and toss with this warm harissa-spiked dressing? Raw beets? Raw sweet potatoes? Turnips? Cabbage? Keep me posted if you make any discoveries.
PS: Homemade Harissa (So good and easy! I use the recipe from the Jerusalem cookbook, which calls for using fresh red bell peppers as opposed to dried chilies. I could spoon this harissa over anything.)
PPS: Two more condiments to serve with your carrot salad: Skhug (So good: it's essentially, a green, uncooked harissa.) Dukkah (A blend of toasty spices.)
Here's a play-by-play. Gather 3/4 lbs. carrots: no need to peel! Send them down the food chute of your food processor with the shredder attachment in place.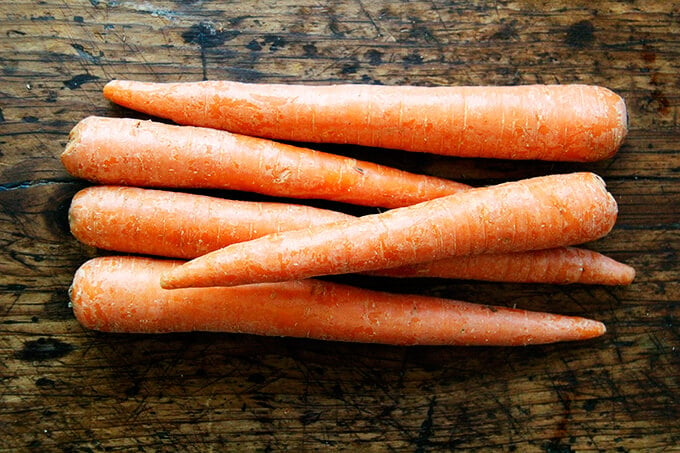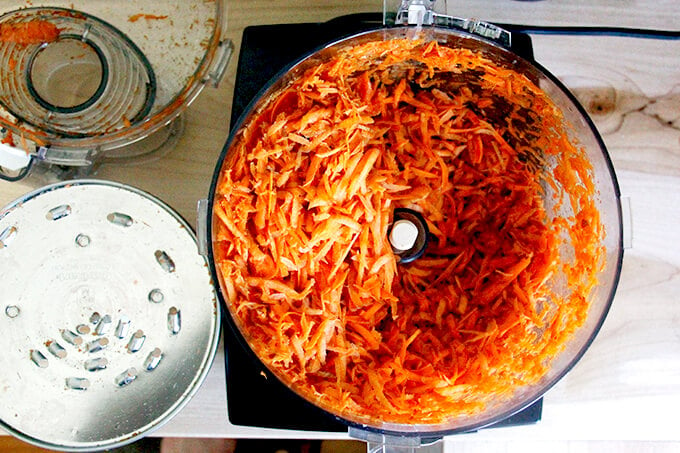 Gather the remaining ingredients: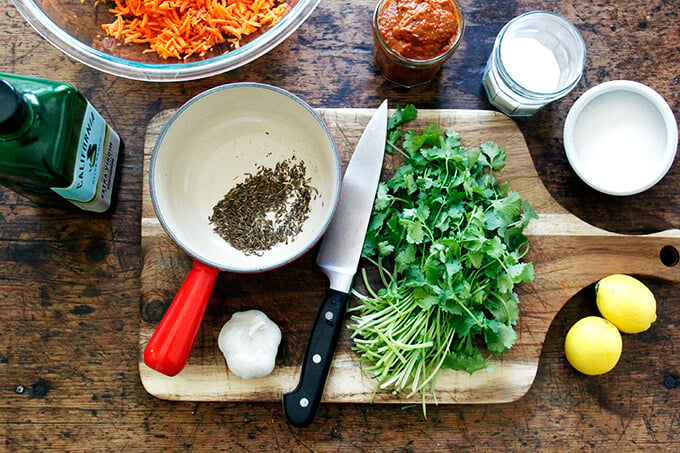 The hardest part: mincing a clove or two of garlic; juicing a lemon or two; finely chopping some herbs.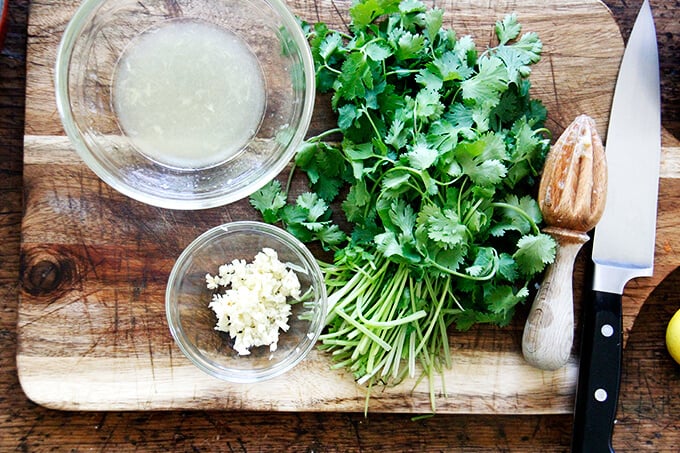 Place all of your sauce ingredients in a little saucepan: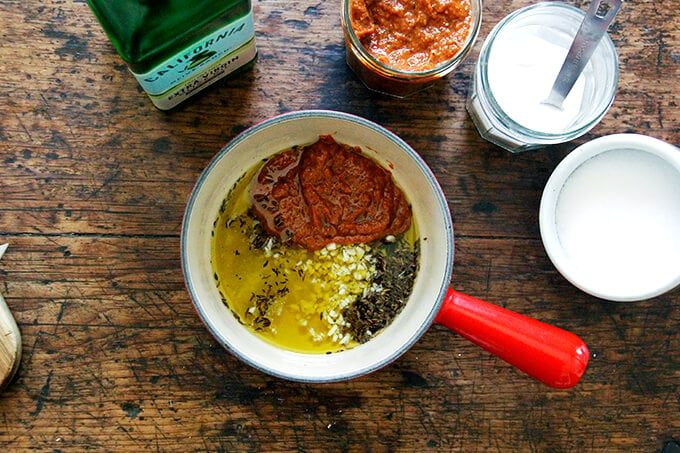 Bring it to a sizzle, and cook for one to two minutes. Add fresh lemon juice off the heat.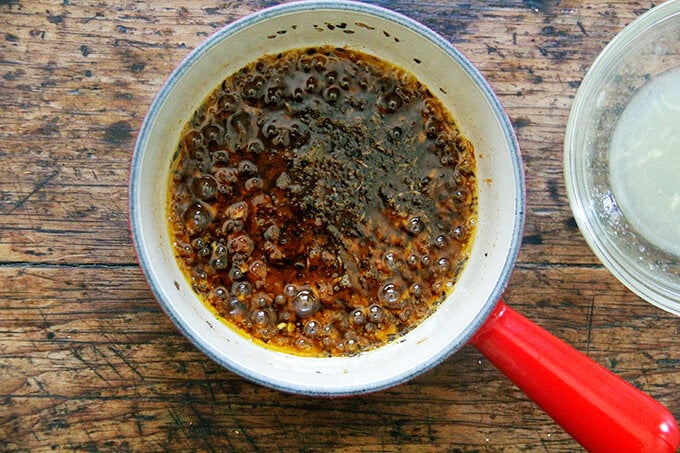 Toss the carrots with the warm harissa dressing: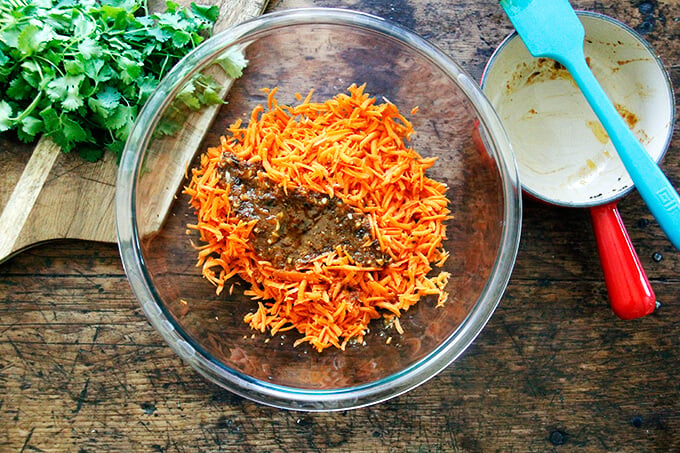 Add chopped cilantro or parsley or mint or a combination of all three: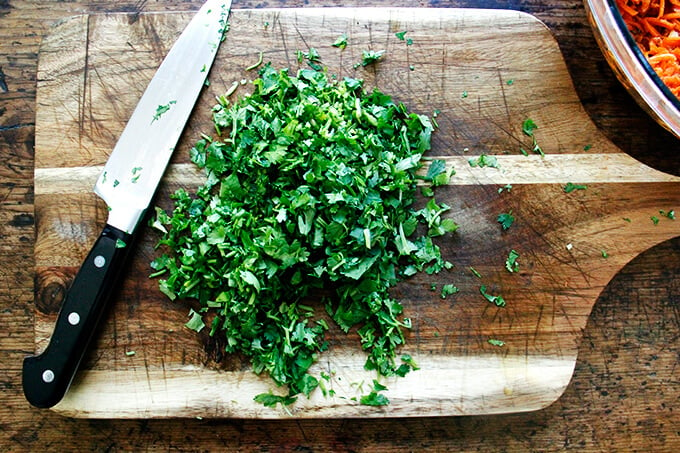 Toss again: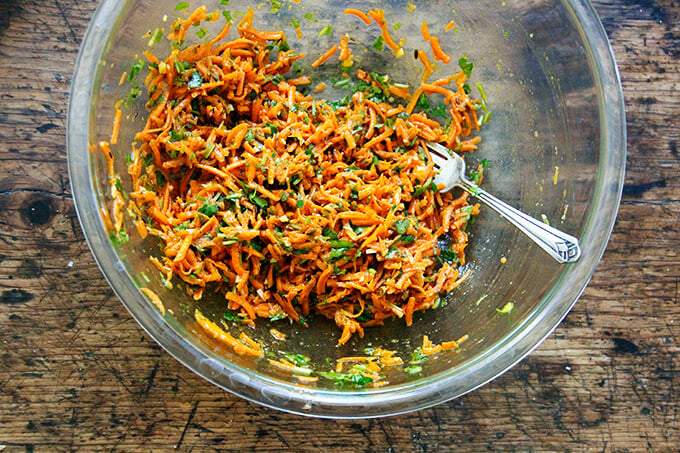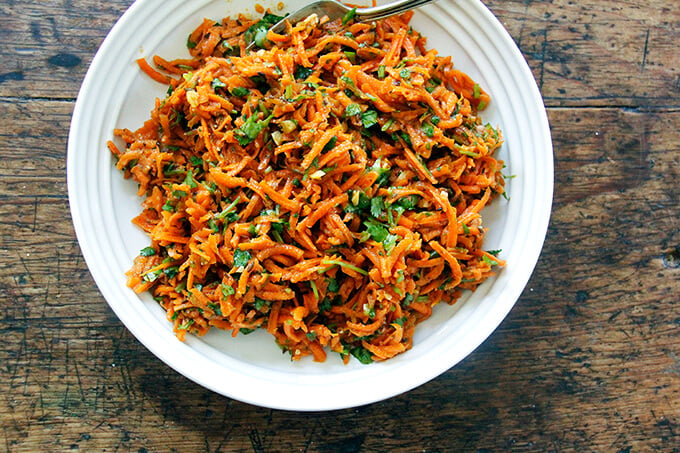 Serve with avocado on the side as well as a slice of toast: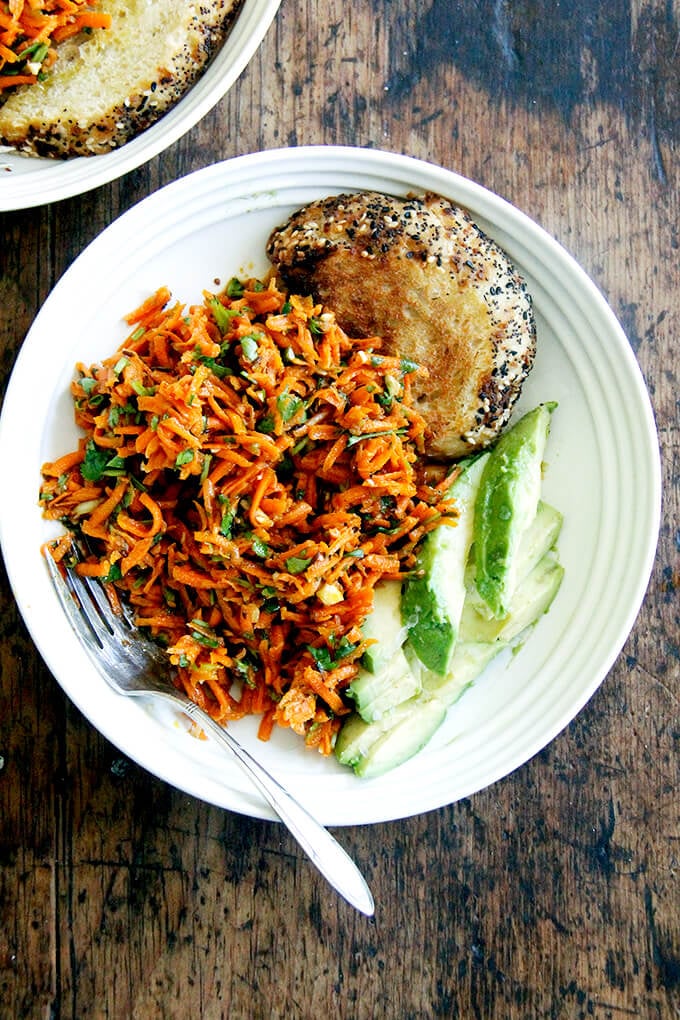 It's especially good all mixed together. Yum.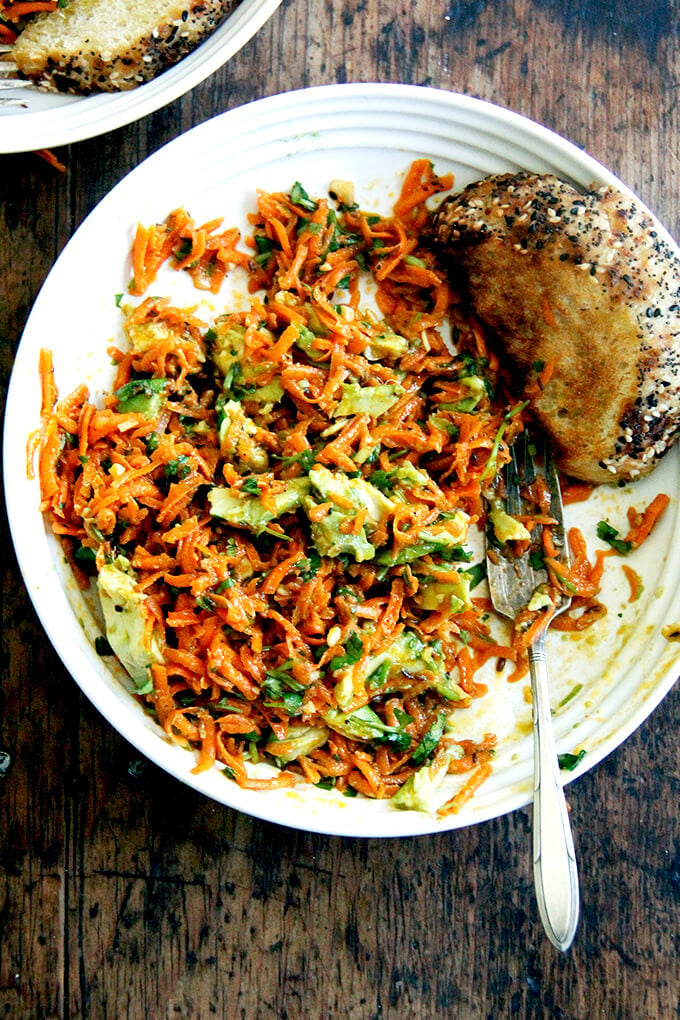 Print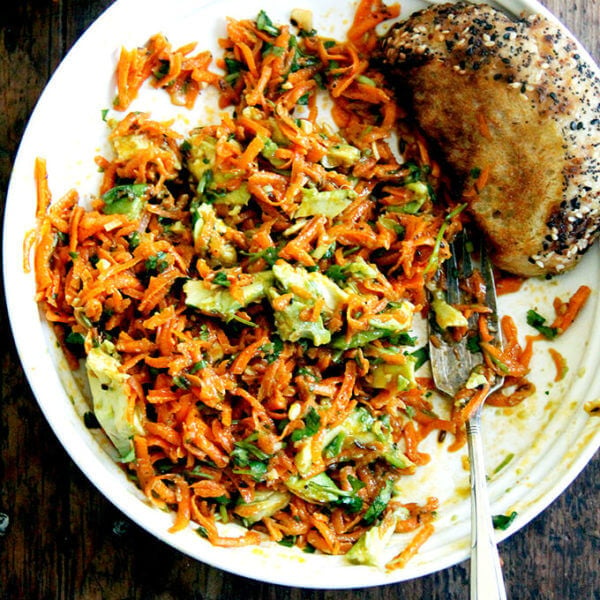 Harissa Carrot Salad with Avocado
---
Description
Adapted from a harissa carrot salad recipe from Smitten Kitchen.
I've been making this with homemade harissa, which varies in spiciness every time I make it depending on the heat of the chilies. Typically, it is less spicy than store-bought brands, which is why I can use as much as 1/4 cup in this recipe. You may only need a teaspoon or less depending on the harissa you are using. Feel free to use whatever prepared harissa you like, though I highly recommend making it from scratch. It is so good and relatively easy. Watch a harissa how-to on Instagram stories. Also watch a harissa-carrot salad how-to in Stories.
Use whatever herbs you like best. The original recipe calls for mint, which would be delicious. A combination of herbs would be nice, too. The original recipe calls for feta, which would be delicious. I've also served it atop a smear of yogurt sauce as in this roasted cauliflower with skhug recipe.
---
3/4

lb. carrots, scrubbed, root ends trimmed, but unpeeled

1 teaspoon

cumin seeds

2

cloves of garlic, minced
harissa to taste, I use about 1/4 cup of homemade harissa, but I suggest starting with a teaspoon if using store-bought, see notes

1/2 teaspoon

sugar

½ teaspoon

kosher salt

1/4 cup

olive oil

3 tablespoons

lemon juice (from about

1

lemon)

½ cup

finely chopped flat leaf parsley or cilantro or a mix of the two

1

avocado, halved and thinly sliced
---
Instructions
Send the carrots down the chute of your food processor with the shredder attachment in place. Transfer shredded carrots to a large bowl. Alternatively, coarsely grate with a box grater.
In a small saucepan, toast the cumin seeds over medium heat until they begin to darken and smell fragrant. Add the garlic, harissa, sugar, salt, and olive oil, and bring to a sizzle. Cook until fragrant, about one to two minutes. Remove pan from the heat and add the lemon juice.
Pour the dressing over the carrots and mix. Add the herbs and mix again. Add the avocado, if using, and toss again. Serve immediately or let stand for an hour or so before serving. Note: If you would like to make this ahead of time, hold the avocado until just before serving. 
Prep Time:

25 minutes

Cook Time:

5 minutes

Category:

Salad

Method:

Toss

Cuisine:

Moroccan
Keywords: Moroccan, carrot, salad, harissa, avocado
This post may contain affiliate links. Please read my disclosure policy.