CSA Weeks 1 & 2: Essential Recipes for Greens + Radish (or Turnip) Tartines with Anchovy Butter
This post may contain affiliate links. Please read my disclosure policy.
It's the most wonderful time of the year 🙂 🙂 🙂
Weeks 1 and 2 of our Roxbury Farm CSA have been filled with beautiful greens, peppery radishes, and the most fragrant and delicate herbs.
Let's review a few tips for preparing your vegetables for storage:
1. Always snip greens from roots: radishes, turnips, kohlrabi, carrots, beets, etc. Store the greens and roots in the fridge. I keep all of the greens in one bag and the roots in another bag — just my preference.
2. Always snip off rubber bands from anything they are binding — herbs, asparagus, radishes, etc.
3. Herbs: Store basil out of the fridge in a glass with the stems dipped into a little bit of water. Parsley and cilantro keep well in the fridge.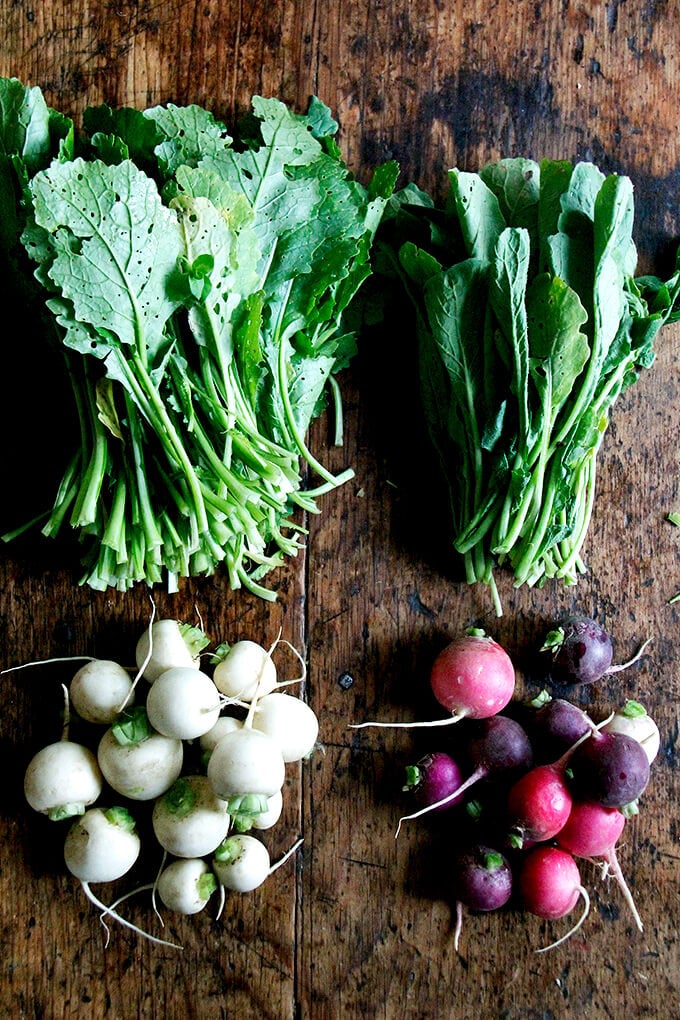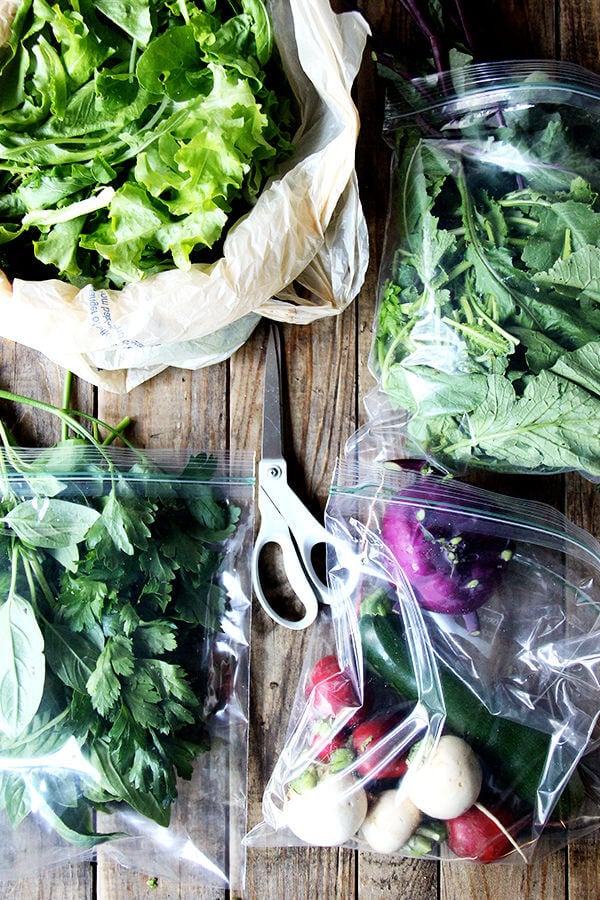 Here are a few essential recipes for using up all of those greens from your turnips and radishes as well as kale, broccoli rabe, and any other greens you might have on hand.
Weeknight Carbonara loaded with Greens. I think this may be the most useful of all the recipes this time of year. You can use any greens—turnip, radish, kale, broccoli rabe, etc. It's a super simple pasta dish and so, so tasty.
Fried Greens Meatless Balls. Another perfect outlet for all of those greens.
Shallot vinaigrette. For the more delicate lettuces, there is nothing better. I made this 10-minute favorite no-cook summer meal last night, using the mixed greens, a few scallions, sliced radishes and turnips.
Simple pickle recipe: I've been slicing the radishes and turnips and throwing them in salads, but pickling is a great option, and I absolutely love pickled radishes and turnips. I love pickled kohlrabi as well.
Anchovy Butter makes everything better. Recipe below. More ideas for radishes here.
All the Herb Recipes here.
What are you making with your CSA veg?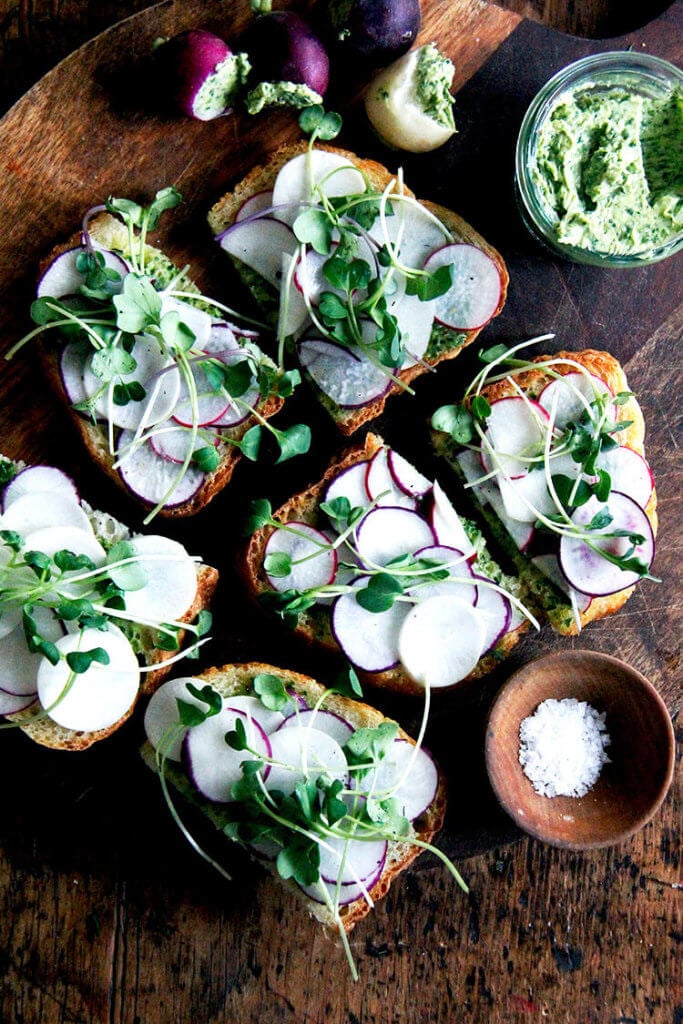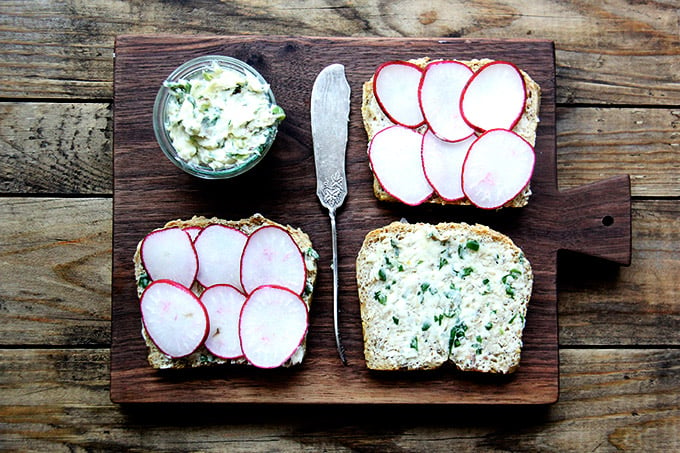 Print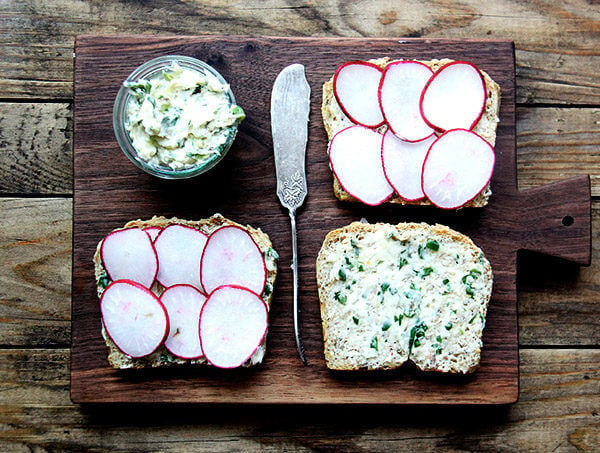 Radish or Turnip Tartines with Anchovy Butter
---
---
for the anchovy butter:
1

stick softened butter

6

finely minced anchovies

1

minced scallion

1 tablespoon

minced dill or basil and parsley (whatever you have on hand)

1

minced garlic clove
pinch salt and pepper

1 tablespoon

fresh lime or lemon
for the tartines:
good bread, sliced and toasted
thinly sliced radishes or turnips
nice sea salt, such as Maldon
---
Instructions
Make the butter: Mix everything together. Taste. Adjust seasoning as necessary.
Assemble the tartines: Spread bread with anchovy butter. Top with thinly sliced radishes or turnips. Season with salt.
This post may contain affiliate links. Please read my disclosure policy.