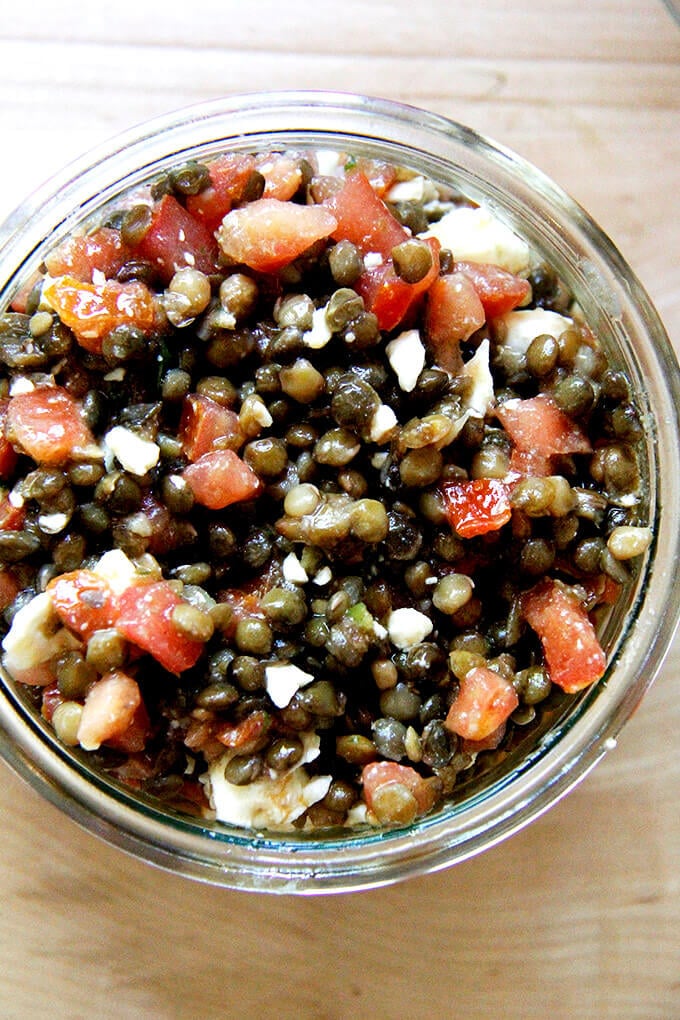 Writing click-bait titles is not something I plan on getting into, BUT: Friends, just this once, can you forgive me? I really am blown away by this salad. I first tasted it last Friday afternoon at an end-of-school-year party, and I have made it every other day since.
Are you ready for the recipe? Visit your local Trader Joe's, and pick up: 1 tub of bruschetta sauce, 1 tub of crumbled feta, and 1 box of cooked lentils. Combine as you wish. Toss. Taste. Adjust to taste with more feta or bruschetta sauce or both.
The post should end here with a, "Bye! Have a nice summer!" but believe it or not, you may run into some roadblocks: The first problem you may encounter is not being able to find the cooked lentils. My Trader Joe's has been out of the lentils for weeks, but I found a nice alternative at the Niskayuna Co-op: Melissa's Produce steamed lentils. You, of course, could cook the lentils yourself, which is not difficult and which is more cost effective, but hey, should we try and live a little this summer? It's hard, I know.
The second problem you may encounter is not being able to find the bruschetta sauce, though this is unlikely—most Trader Joe's get daily deliveries, bruschetta sauce included.
The third problem you may encounter is that you don't have a Trader Joe's nearby. This problem is a little trickier to solve as it will require creativity on your part or a follow-up blog post on mine when the tomatoes finally arrive. Stay tuned.
Friends, as you know, I am the first to tell you to cook beans from scratch, to make bread, to make stock, to whisk up a vinaigrette, to make harissa, and shkug and anything else that just plain tastes better made at home. Cooking never feels like a chore for me, and I typically shy from "recipes" like this because often they taste somewhat artificial or too sweet or too salty, etc.
But this lentil salad is really, really good. One bite of it at the party had me pulling guests aside asking: Did you make the lentil salad? No? Do you know who did? When I learned it was Gail, whose husband manages the Albany Trader Joe's, it all made sense.
A from-scratch bruschetta sauce and home-cooked lentils would not make this salad impossibly complicated, but the point here is that isn't it nice to know, when you're in a pinch (or not), you can pick up three products, throw them together, and call your dinner side dish or potluck contribution or lunch-for-the-week done?
Friends, have you made this salad? I made it on Instagram stories yesterday and was shocked to learn people have been making this one for years! Do you know it? Do you love it? Do you know any other Trader Joe's hacks?
Here's a play-by-play … drumroll please … let's make the simplest recipe to date in Alexandra's Kitchen history. Gather your ingredients: feta, cooked lentils, bruschetta sauce.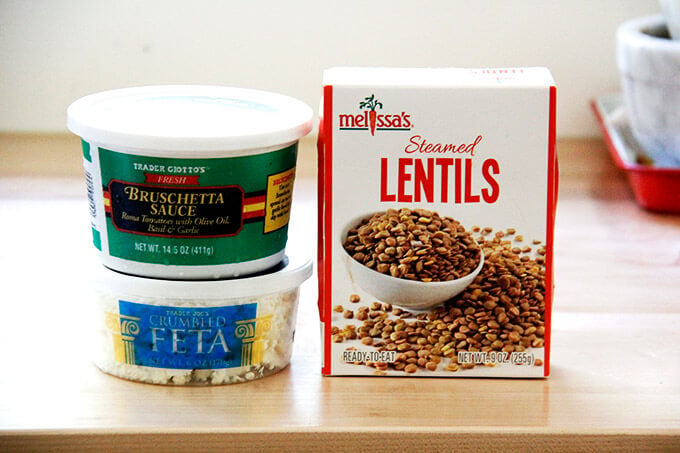 Open the containers …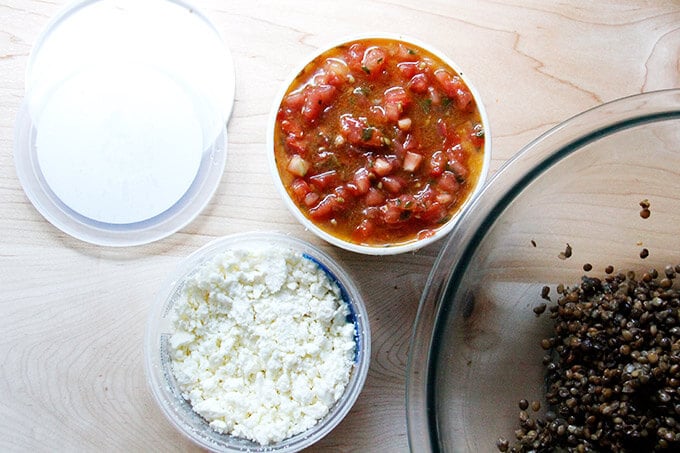 and dump into a bowl (or measure: 1.5 cups cooked lentils, 1.5 cups bruschetta sauce, .5 cups feta).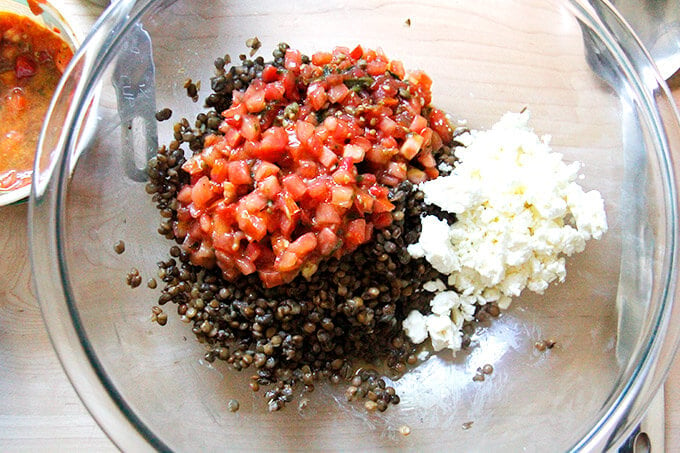 Ta-da!!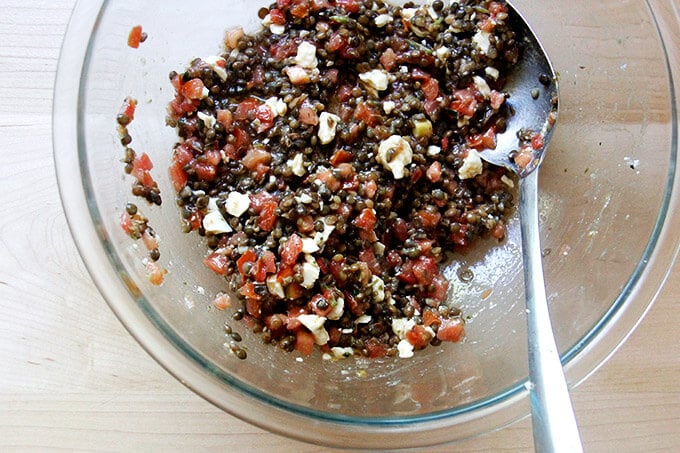 Print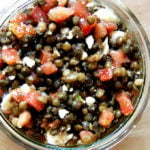 Mind-Blowing, Three-Ingredient Trader Joe's Lentil Salad
---
Prep Time:

5 minutes

Total Time:

5 minutes

Yield:

3.5 cups
Description
My friend Gail, whose husband manages the Albany Trader Joe's,  brought this salad to a party last week, and it blew me away: most important, it was incredibly delicious; nearly important, it required very little effort: picking up three, ready-made products and combining them.
If you cannot find Trader Joe's cooked lentils, look for the Melissa's Produce cooked lentils in your local grocery store.
This salad keeps very well in the fridge, and I like eating it cold straight from the fridge, but if you are serving it to company, you may want to bring it to room temperature before serving because the olive oil in the bruschetta sauce congeals a bit in the fridge.
---
Ingredients
1 1/2 cups

cooked lentils, see notes

1 1/2 cups

Trader Joe's bruschetta sauce

1/2 cup

crumbled feta
---
Instructions
Combine all ingredients in a bowl. Toss. Taste. Adjust to taste with more feta or bruschetta sauce. Serve immediately or stash in the fridge.
---
Category:

Side Dish

Method:

Toss

Cuisine:

American
Keywords: lentils, trader joe's, mind-blowing