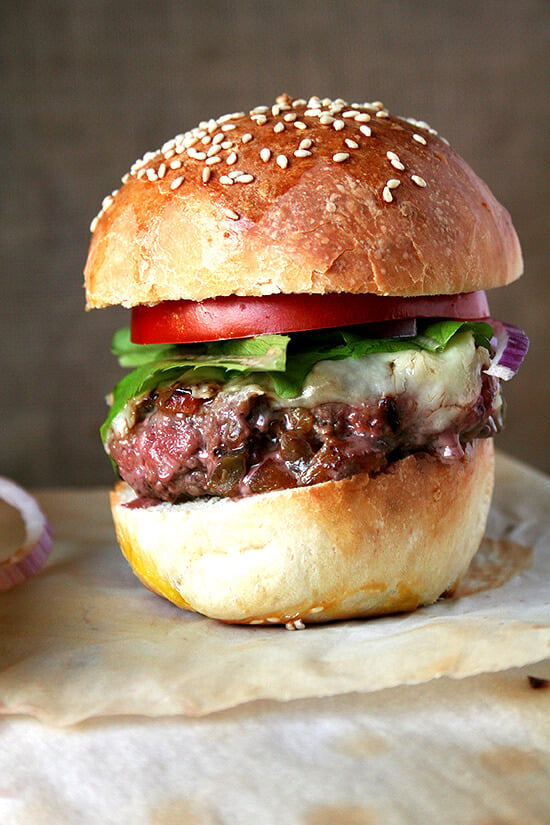 About a month ago, a hankering for homemade hamburger buns led me to a wonderful discovery: Belles Hamburger Buns. You see, I wanted to find the perfect vehicle to hold the burgers I have been savoring every week since stocking up on J&J grass-fed ground beef at Delaney's 100-Mile Market in Temecula back in August. Oh if I only lived closer to this store! I would never be without Jordan Stone's legendary homemade pastas, or cans of American Tuna, or wonderful local produce, chickens and eggs, and as I already mentioned, this tasty grass-fed beef.
Alas, back to the buns. Belles Hamburger Buns happened to be the first recipe to turn up on my google search. I have made the recipe three times now and have had success with every batch. The dough is simple to make and forgiving, too — yesterday, for example, I mixed the dough before work, let it rise in the fridge during the day, punched it down when I returned and proceeded with the recipe as if I had never stepped out of the kitchen. I have frozen the portioned dough, too, let it thaw in the fridge overnight and proceeded with the recipe the following evening. Simps.
Now, I know it's not really burger season, but Liza, my mother, has turned me onto a burger recipe  — a preparation, really — that has become a weekly staple. It's simple: Roast green peppers, chop them up, and mix them into hamburger meat with a little kosher salt and pepper. Then, form patties and cook them in a cast iron pan for about four minutes a side for delectable medium-rare burgers. Not sure what it is, but the roasted green peppers — and it's important to use green not red though I can't give you a scientific reason why — add just the subtlest bit of flavor, enough to keep the burgers juicy and tender but not so much as to mask the flavor of the meat.
And while any skillet will likely work, the cast iron skillet has produced consistent results every time: Four minutes a side for patties about  an inch thick weighing five to six ounces each has become my magic formula for producing medium-rare burgers. I don't care what anybody says, cooking a burger to a desired temperature is damn hard, and I attribute the success I have had thus far to the cast iron pan's ability to retain heat so well. I might add, too, that it is a cinch to clean — mine, a gift from Liza, is seasoned such that I rarely have to do anything but wipe it out with a paper towel. If bits do stick, I clean the pan the same way I clean this pan, by heating some kosher salt in it, then wiping it out with a paper towel. Simps.
Like many of my mother's suggestions, this one took a few months to consider.  Why haven't I learned? Liza doesn't mess around, especially when it comes to food. I should just  immediately make and do everything she tells me to. Anway, try this burger-cooking method! I know you'll find success. And if you have the time to make homemade buns and locate some yummy grass-fed beef, you have quite a memorable meal in store. Thanks, mama, for another wonderful recipe, and thank you, Belles, whoever and wherever you are for a fantastic bun recipe.
I hate to bore any of you who have already heard my thoughts on grass-fed beef, so here are a few links to past posts and articles if you are interested in reading up on this matter:
Grass-fed Beef
Pasture-Perfect Patties
Anxious to Purchase a Steer
Hearst Ranch Grass-fed Beef
Grass-Farming in Lancaster
Small Farm Productivity
When Searching for Solutions, Don't Forget the Farm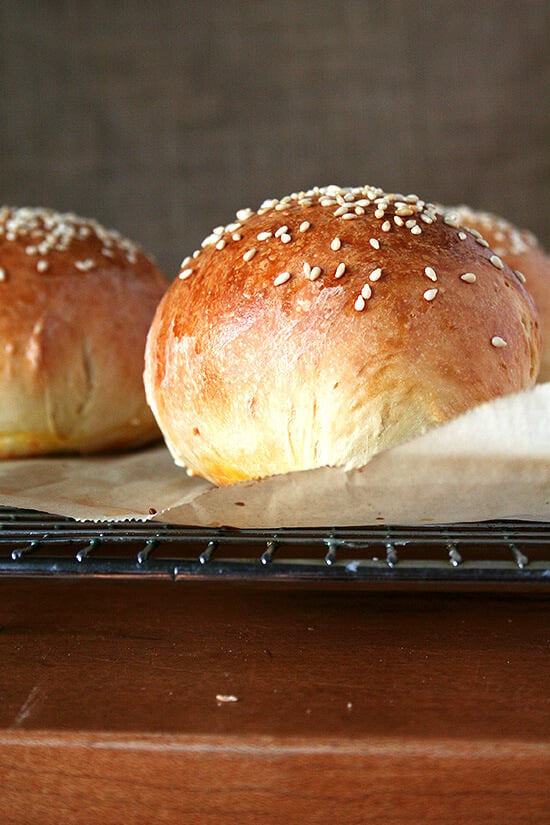 Making these buns couldn't be simpler: Combine yeast and flour in a stand mixer. Heat milk, water, sugar, salt and butter together until warm to the touch. Add the warmed milk mixture to flour and let the stand mixer do its thing for 8 minutes. Ta-da! The dough is ready to go.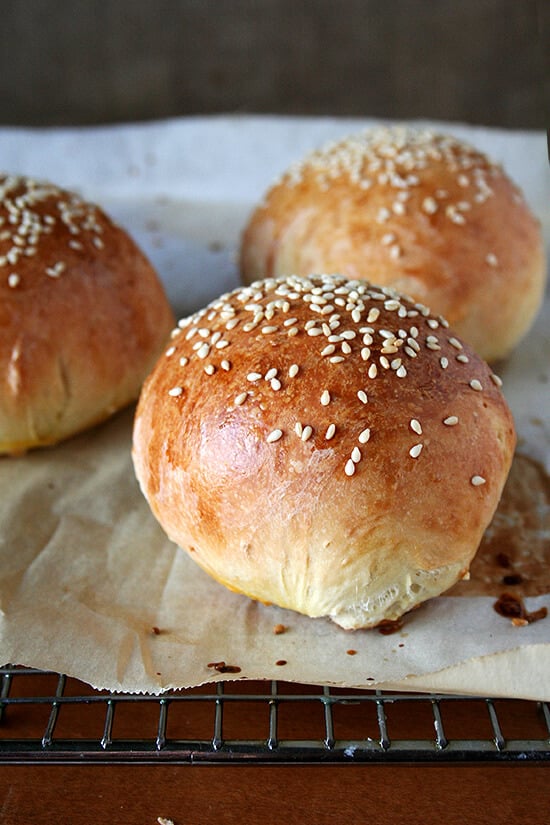 Cooking these burgers couldn't be simpler either. Heat a thin layer of olive oil in a cast-iron pan over high heat. When the oil begins swirling in the pan, add the patties and reduce the heat to medium-high. Cook for about 4 minutes. Flip. Add cheese, if desired, and cook for about 4 minutes longer for medium rare. Yum.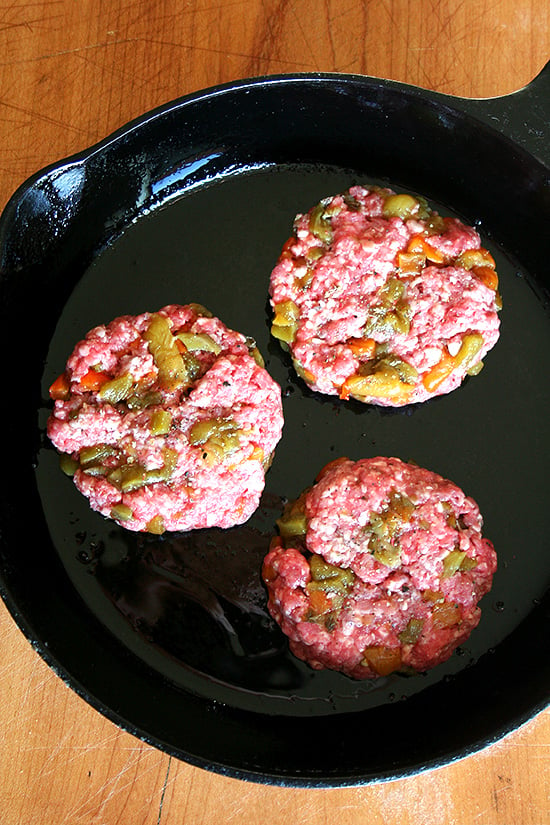 The wonderful J&J grass-fed beef: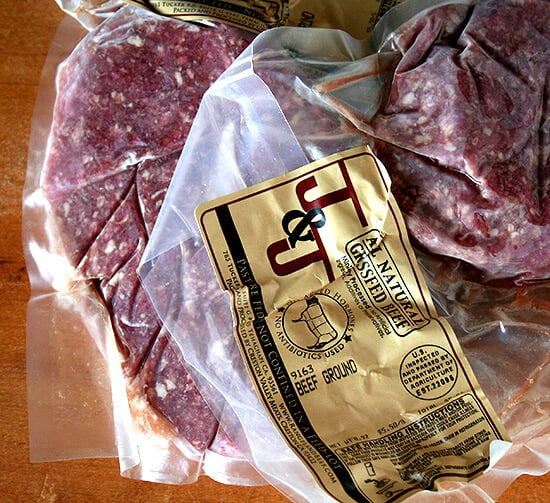 Are these not the cutest little buns you have ever seen? You can make them, too! Promise. It's easy and fun and delicious.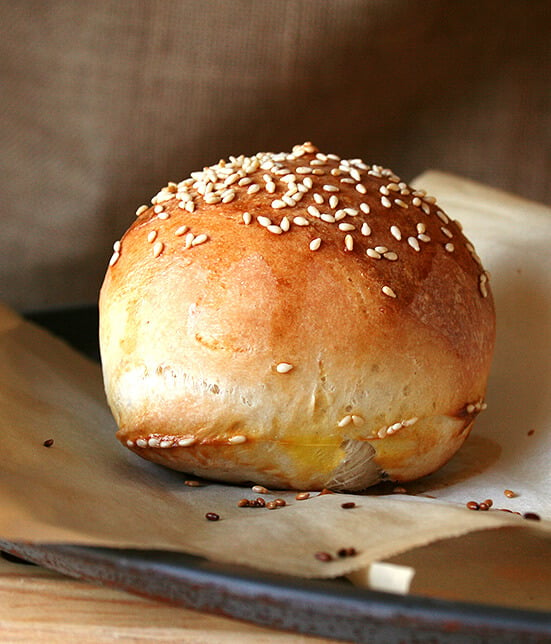 Update 2018: If you're looking for a brioche burger bun, try this recipe. It's my favorite burger bun recipe. I love love love Belles Hamburger Buns, but there's something about a brioche bun and a burger, you know? They're just a perfect match.
Print
Belles Hamburger Buns
---
Author:

Prep Time:

25 minutes

Cook Time:

25 minutes

Total Time:

2 hours 10 minutes

Yield:

12 buns
---
Ingredients
1 cup

milk

1 cup

water

2 tablespoon

s butter

1 tablespoon

white sugar

1 1/2 teaspoon

s salt

5 1/2 cup

s (about

23.5 ounce

s) all-purpose flour

1

(.25 ounce) envelope active dry yeast

1

egg yolk

1 tablespoon

water
sesame seeds (optional)
---
Instructions
Combine the milk, 1 cup of water, butter, sugar and salt in a saucepan. Heat until warm to the touch and until the butter has melted — this only takes a minute or two. Remove from the heat. If you have heated the mixture longer than you had intended, let it stand till room temperature. Warning: if the mixture is too hot, it will kill the yeast.
In a large bowl (or the bowl of a stand mixer), stir together the flour and yeast. Pour in wet ingredients and stir until the dough starts to pull together. If you have a stand mixer, use the dough hook to mix for about 8 minutes. If not, knead the dough on a floured surface for about 10 minutes. Place the dough in a greased bowl, turning to coat. Cover and let stand until doubled in size, about 1 hour.
Punch down the dough and divide into 12 portions. Make tight balls out of the dough by pulling the dough tightly around and pinching it at the bottom. Place on a baking sheet lined with parchment paper. Note: I would only bake 6 buns at a time on one sheet and place only one pan in the oven at a time to ensure even baking. Set rolls aside until they double in size, about 20 minutes.
Preheat the oven to 400ºF. Mix together the egg yolk and 1 tablespoon of water in a cup or small bowl. Brush onto the tops of the rolls. Sprinkle with sesame seeds if using.
Bake for 15 to 20 minutes, or until nicely browned on the top and bottom. Let cool before slicing and serving.
---
Notes
I have served these warm, which I love, and also sliced and toasted, which I think is even better for burgers — the toasted buns don't get soggy.
---
Print
Liza's Burgers with Roasted Green Peppers
---
Author:

Prep Time:

10 minutes

Cook Time:

30 minutes

Total Time:

50 minutes
Description
This is more of a method than a recipe.
---
Ingredients
hamburger meat (I usually use about a pound)
green peppers (I usually roast about 2 peppers per pound of beef, but don't end up needing all of them for the patties.)
Parchment paper, for easy cleaning
olive oil
kosher salt
freshly cracked pepper
Homemade buns (optional): Light Brioche Buns, Even Better
Burger accoutrements: cheese, lettuce, tomato, red onion, Dijon, ketchup, mayo, etc.
---
Instructions
Roast the peppers: Preheat the oven to 450ºF. Line a sheetpan with parchment paper. Cut the peppers in half lengthwise. Remove the seeds and stem. Place peppers cut-side down on the prepared pan and place in the oven. Roast until the skins are browned and blistery, about 20 minutes. This may take longer or shorter, depending on your oven. Just keep an eye on them towards the end — you don't want them to be totally charred. Remove the peppers from the oven. Place in a bowl. Cover the bowl with plastic wrap and set aside. When peppers are cool enough to handle, remove skins and discard. Chop peppers into small pieces. Set aside.Note: This can be done days in advance. Also, you might not need all of the peppers. Save any remaining to add to an omelet. Yum.
Prepare the patties: Spread the meat into a large bowl. Sprinkle lightly with kosher salt and pepper. Sprinkle as many of the diced peppers over the meat as you like. Gently begin forming your patties. I portion mine into either 5- or 6-ounce patties depending on the day. Season each side of the burgers with salt and pepper to taste.
Heat a thin layer of olive oil in a cast iron pan over high heat. When the oil begins to gently swirl, add the patties and turn the heat down to medium or medium-high. Cook for 4 minutes. Flip. Top with a thin slice of cheese, if desired, and cook for about four minutes longer for medium-rare. Serve on a toasted bun with all the fixins.
---