Spring Wheat Berry Salad
This post may contain affiliate links. Please read my disclosure policy.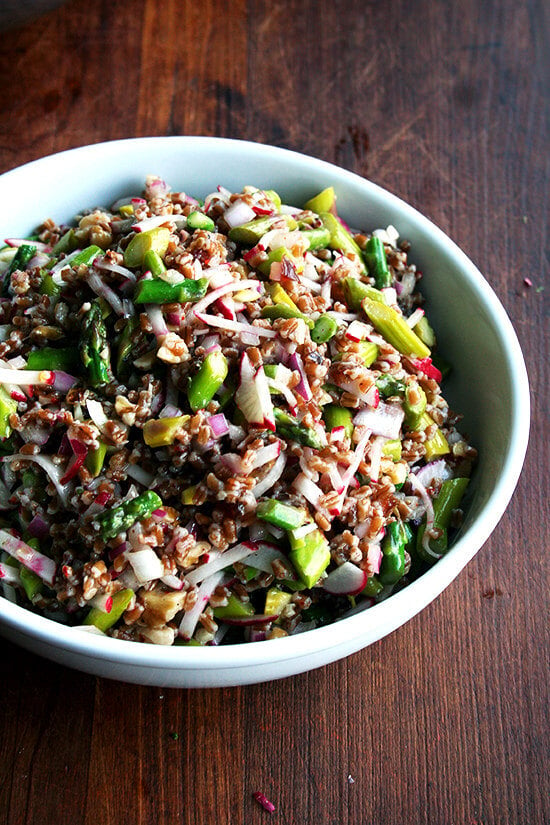 About this time last year, I learned how to properly cook quinoa, a revelation that not only gave the ancient grain a permanent spot in my pantry, but also inspired a number of grain salads I made all summer long.
While the ingredients in each salad varied from radishes and peas to cherry tomatoes and cucumbers to roasted squash and wilted mustard greens, the formula was always the same: something fresh, something crunchy, something spicy, something sweet. The dressing was simple too: extra-virgin olive oil and minced red onions macerated in vinegar or lemon juice. Cheese never entered the equation, nor was it missed.
Here, wheat berries and walnuts combine with asparagus and radishes in an addictive, chewy, crunchy, colorful combination, a simple salad to herald the arrival of spring, which at last appears to be here to stay.
Happy Friday, Everyone.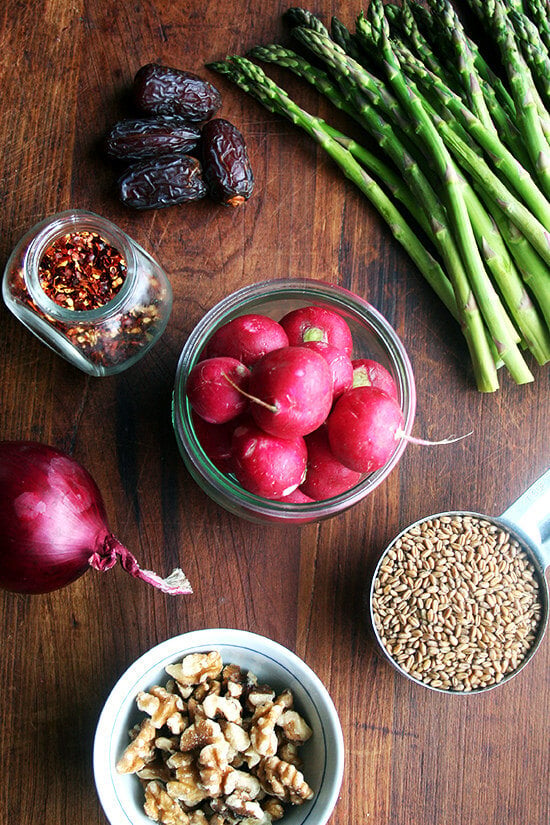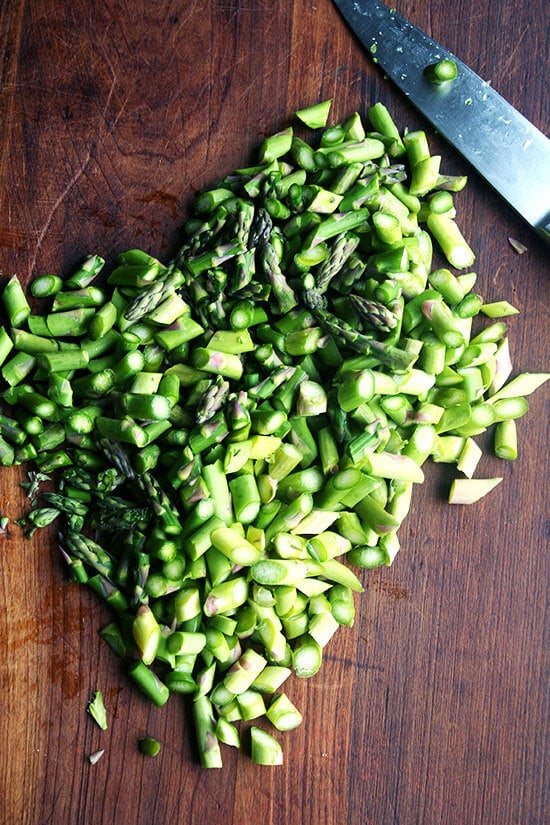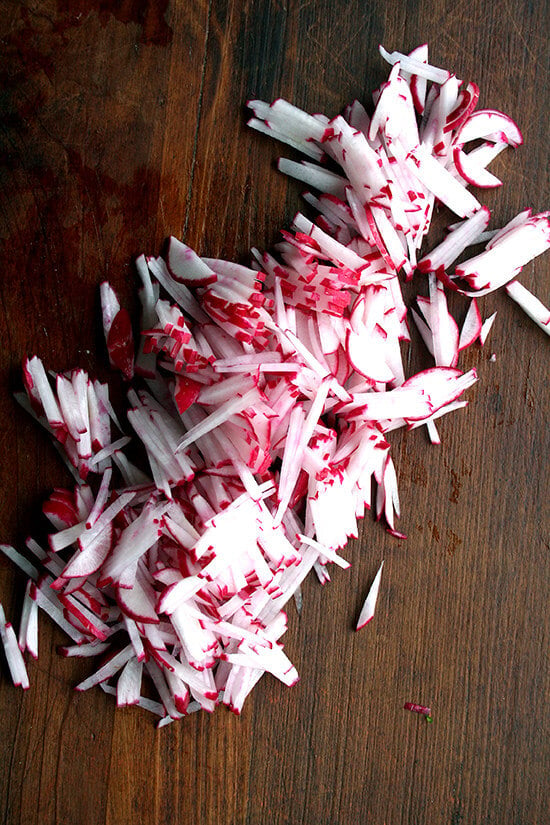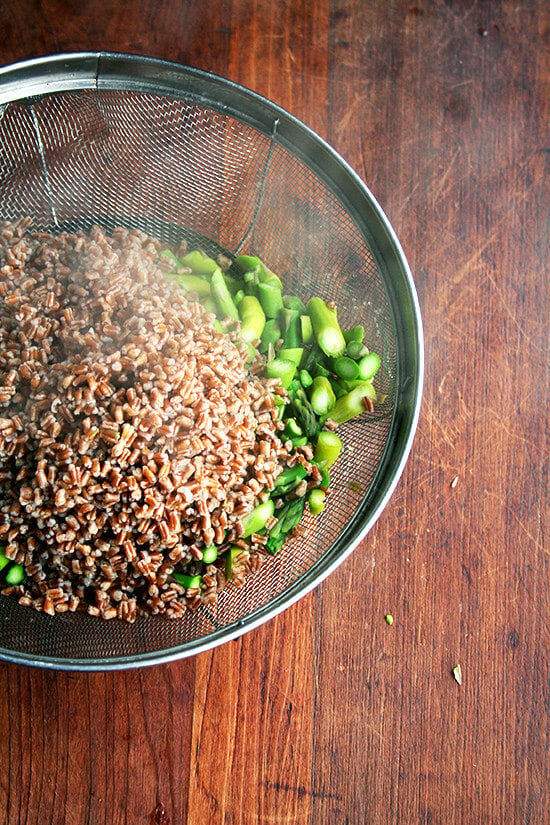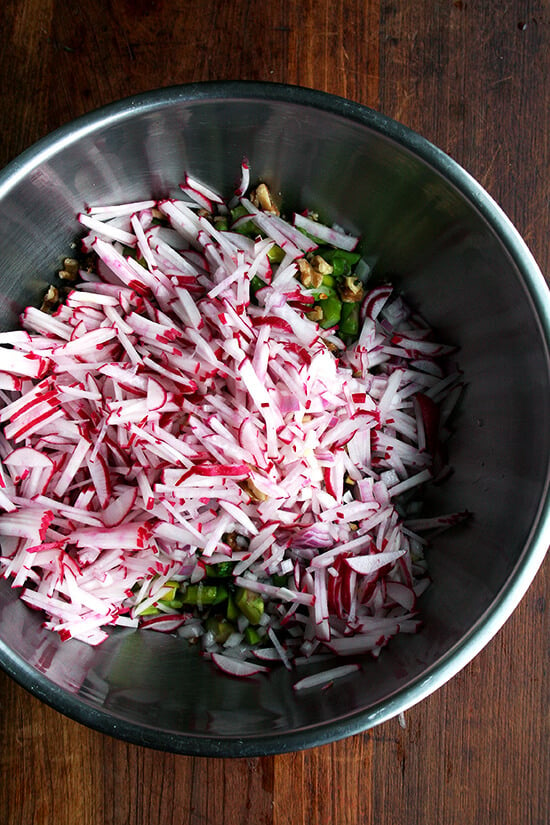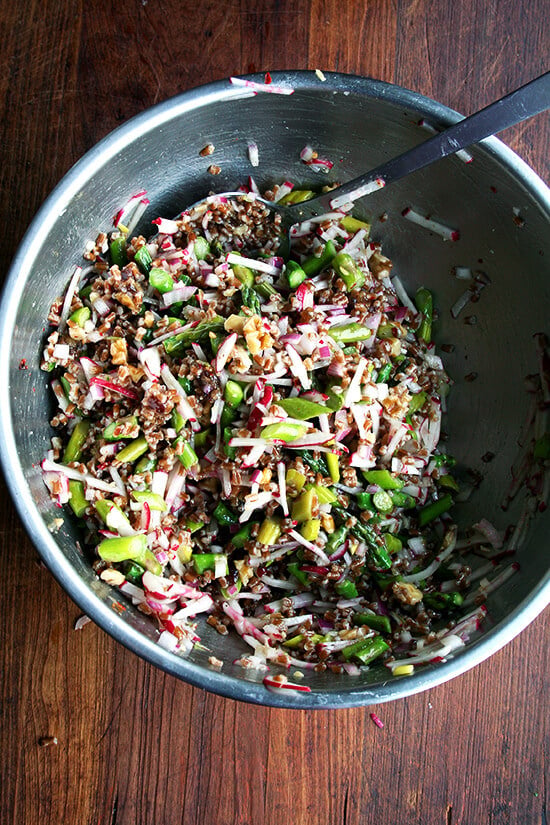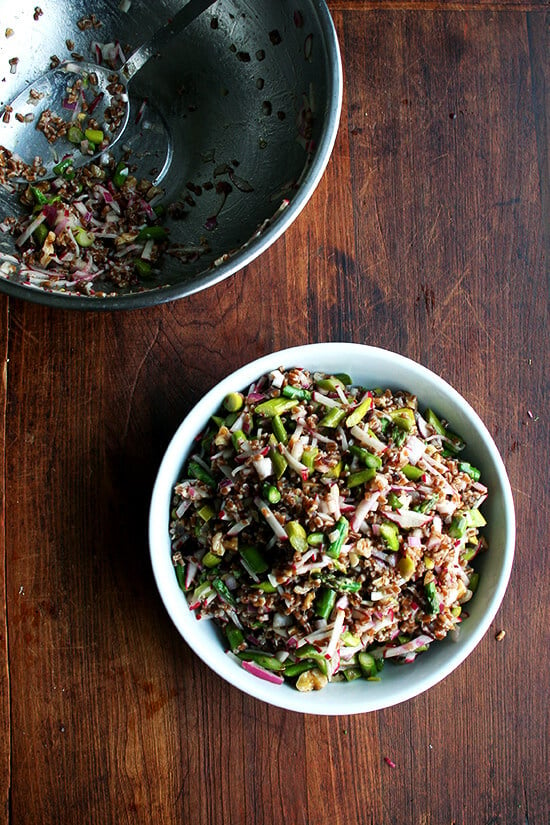 The recipe below can be summed up as follows:
To make a delectable grain salad every time, cook 1 cup grains in heavily salted water; drain and toss with a pinch of kosher salt (as much as a teaspoon depending on the grain/how much you salted the water), 1/3 cup olive oil, 1 minced red onion macerated in 2 tablespoons vinegar, and freshly cracked black pepper to taste; add something crunchy (walnuts, almonds, pistachios, etc.), something sweet (raisins, currants, dates, etc.), something hot (minced chili pepper, crushed red pepper flakes, hot sauce, etc.), and something fresh (radish, asparagus, peas, etc.). Toss. Taste. Adjust with more salt, pepper, vinegar, etc. Toss. Taste. Serve.
A few other salads you might like:
Quinoa with Radishes and Edamame
Summer Farro Salad
Fava Beans with Pecorino
Quinoa with Mango, Lime & Ginger
Tabbouleh
Farro with Mustard Greens and Roasted Onions
Edamame and Radishes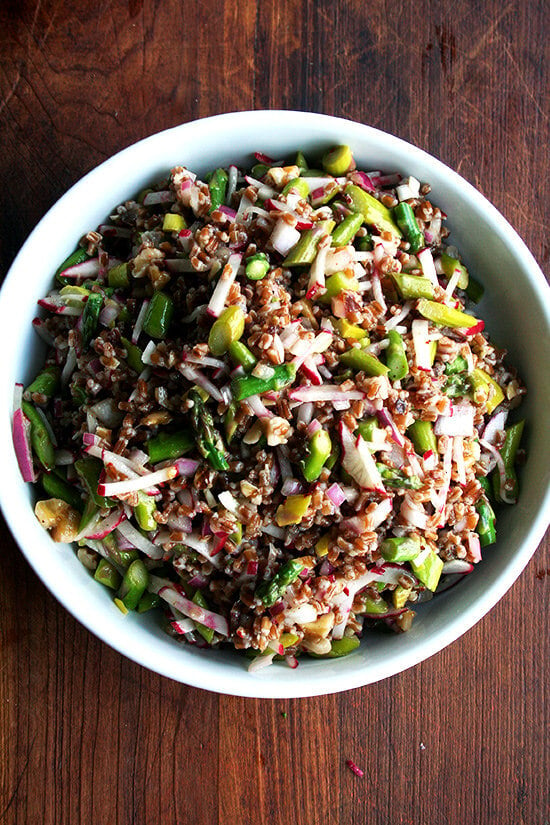 Print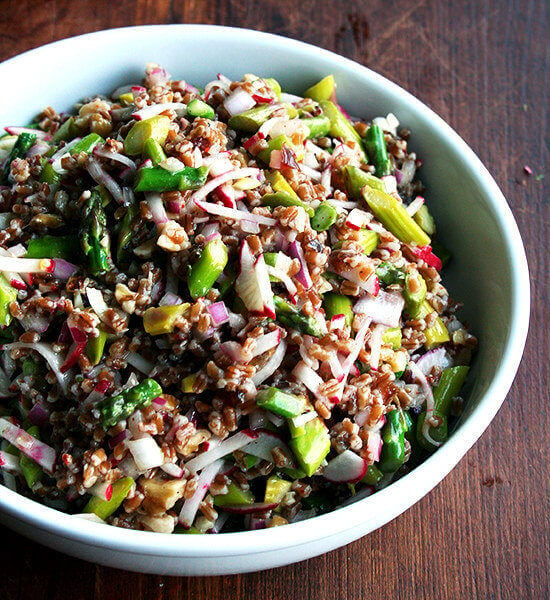 Spring Wheat Berry Salad
---
1 cup

wheat berries (pre-steamed or not — just be sure to check the cooking time on the package)

1

small red onion or a few shallots

1

bunch asparagus

1 cup

walnuts

8

to

10

radishes

3

to

4

medjool dates or other dried fruit

2

to

3

tablespoons white balsamic vinegar

⅓ cup

olive oil
about a teaspoon of kosher salt
freshly cracked black pepper to taste
crushed red pepper flakes to taste or minced hot chili pepper (jalapeno, serrano, etc)
---
Instructions
Bring a large pot of water to a boil. Add a tablespoon of kosher salt.
Meanwhile, finely chop the red onion or shallot and place in a small bowl. Cover with 2 tablespoons of white balsamic vinegar — it's OK if all of the pieces are not submerged.
Chop off the end of the asparagus spears. Cut the asparagus on the bias (just for looks) into small pieces — ½-inch to 1-inch in size.
Cut off the ends of each radish. Slice thinly into rounds — a mandoline is a good tool for this. Stack a few slices at a time, then cut straight down to make slivers.
Cut the dates into small pieces, set aside.
If you feel like toasting the nuts, place walnuts on a sheet pan and cook at 350ºF for 8 to 10 minutes — watch closely to prevent burning. Place the toasted walnuts in a tea towel and rub together to remove papery skin. Transfer walnuts to a sieve and shake again to remove any additional skin. More detailed instructions can be found here. I actually didn't toast the walnuts this time, and I thought they were delicious.
Cook wheat berries according to package instruction. During the last minute of cooking, add the asparagus to the pot and cook one minute further. Note: My package called for 15 minutes of cooking time but it took about 17 minutes or so for the wheat berries to be done. I added the asparagus after the 17 minutes and cooked the wheat berries/asparagus for one minute more — wheat berries are forgiving; they won't turn to mush like pasta if overcooked by a minute.
Drain wheat berries and asparagus, transfer to a bowl and season immediately with 1 teaspoon kosher salt (or a little less if you are wary), the olive oil, pepper and crushed red pepper flakes to taste.
Add the macerated red onions, chopped walnuts, radishes and dates. Toss with a large spoon. Taste. Add another tablespoon of vinegar if necessary and more salt, pepper, and crushed red pepper flakes to taste. Toss. Taste again. Serve.
Prep Time:

25 minutes

Cook Time:

35 minutes
This post may contain affiliate links. Please read my disclosure policy.