Broiled Lamb Chops with Nigella's Mint Sauce & Roasted Asparagus
This post may contain affiliate links. Please read my disclosure policy.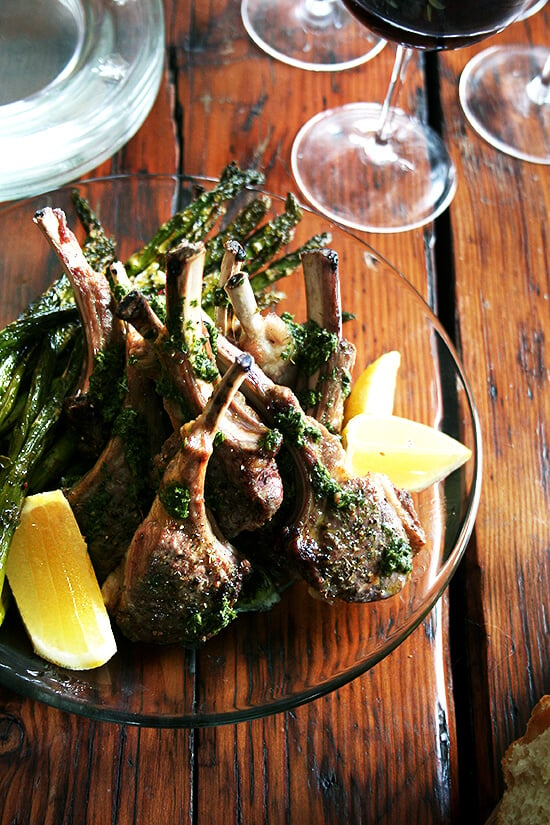 Nigella Lawson's mint sauce first appeared on our Easter table in 2003, the same year the Easter Egg Nest Cake made its debut, both recipes having appeared in the New York Times earlier that week.
Unlike the Easter Egg Nest cake, which we loved — really, we did — the mint sauce returned to the table every following Easter, the fresh combination of mint and parsley, olive oil and vinegar, capers and cornichons the perfect accompaniment to lamb no matter the preparation — roasted racks, braised shanks, broiled meatballs, pan-seared chops.
Bright green and fresh, this sauce bears no resemblance to mint jelly and tastes more like a salsa verde or a nut- and cheese-free pesto. It complements the lamb so well, but it's the kind of sauce you'll end up drizzling all over your plate, dragging your spears of roasted asparagus through, and mopping up with your bread throughout your meal.
When I began planning my Easter menu a few weeks ago, I briefly entertained the idea of borrowing my aunt and uncle's spit, making a vat of this mint sauce, and inviting all of Niskayuna to our backyard for a Greek Easter celebration, whole-roasted lamb, spanakopita, and baklava included.
A number of circumstances namely an upcoming move (just a few blocks away, nbd) led me to scale back. Most likely I will be serving my two guests these lamb chops, seasoned with salt, pepper and oregano, broiled for three minutes a side, a meal that takes minutes to prepare, one my mother often made for my siblings and me as children, something I still love today.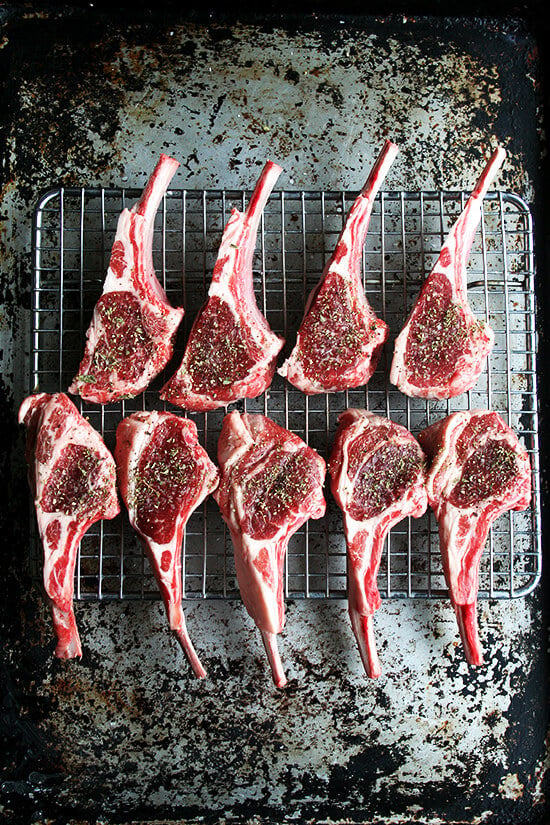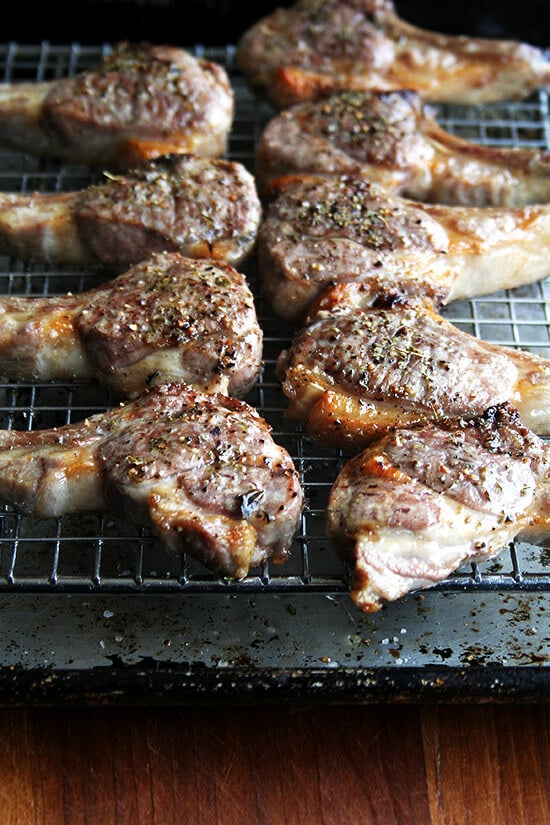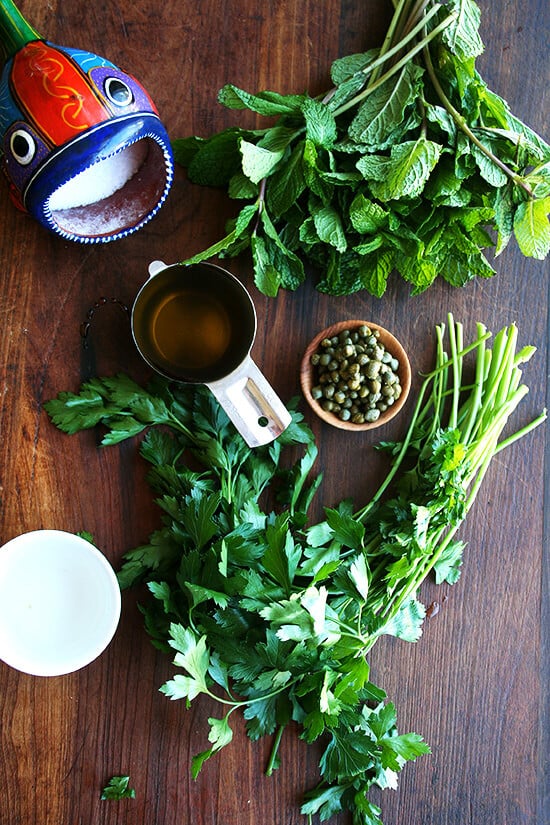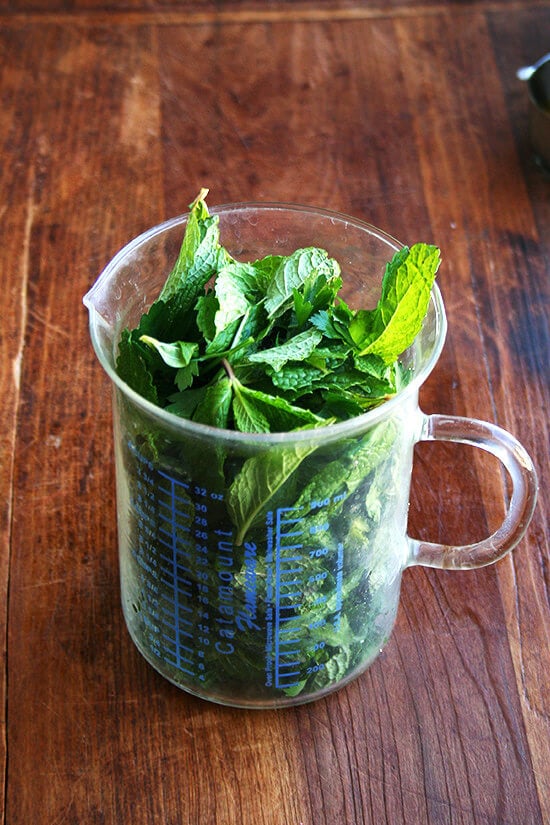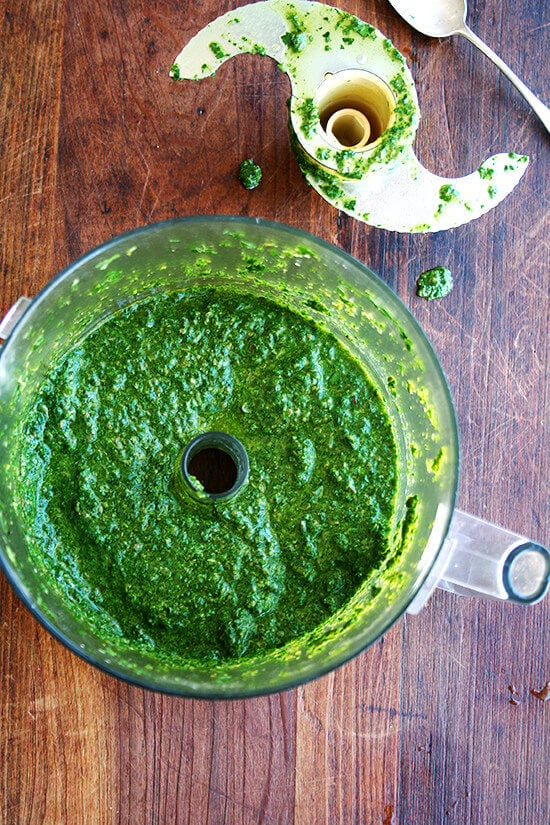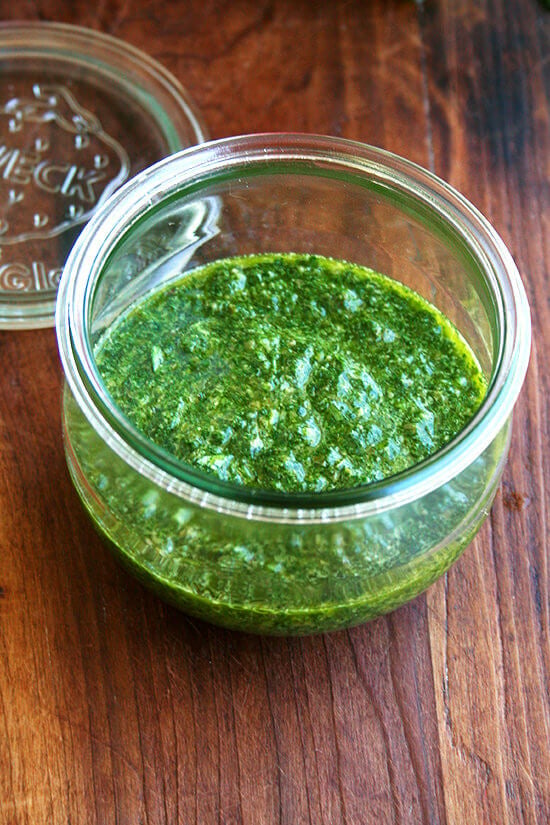 A truly simple Easter dinner: broiled lamb chops with mint sauce; peasant bread; roasted asparagus; lemon-ricotta cheesecake for dessert (coming soon).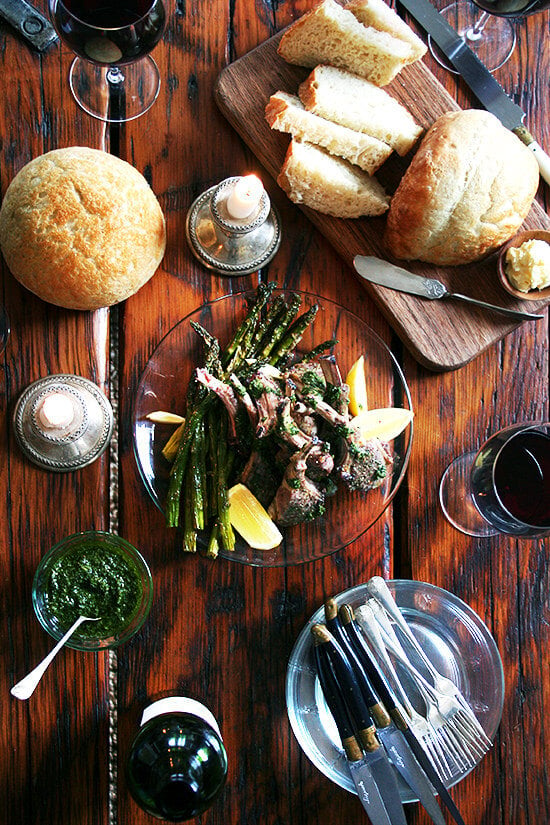 Incidentally, I desperately need new sheet pans and have been browsing around the web for new ones. So far I've purchased one of these quarter sheet pans (this size: 13×9.625×1.375-inch), and I love it. Never thought I would use this size so much, but it has already been so handy: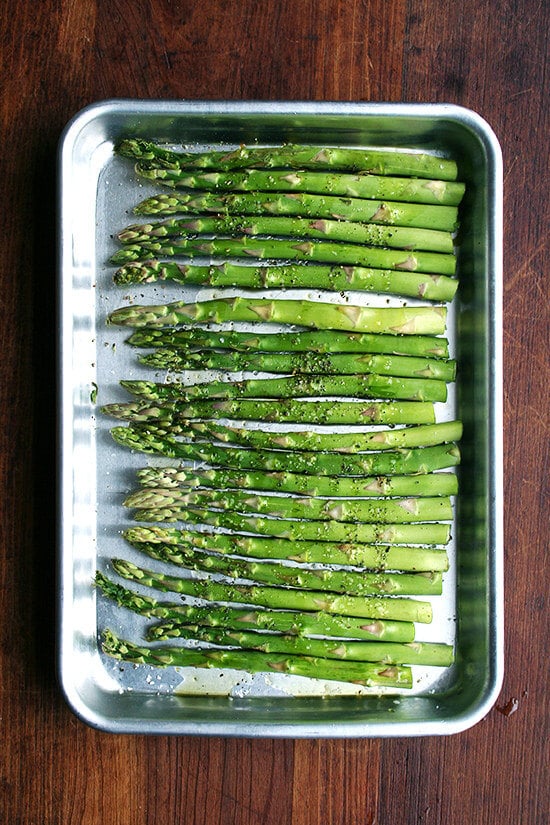 Print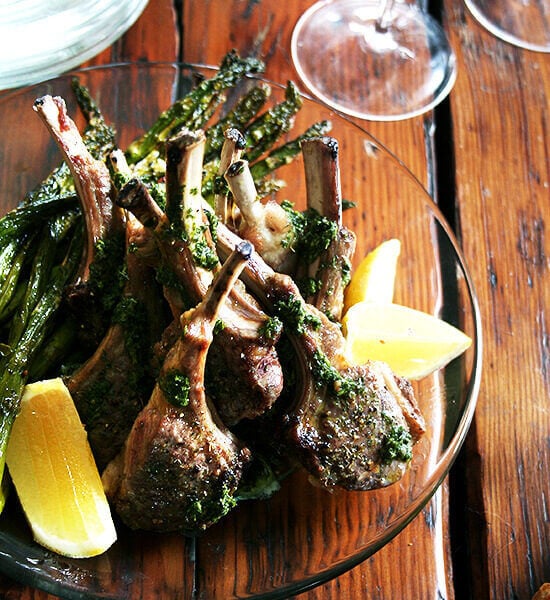 Broiled Lamb Chops
---
lamb chops (rib chops versus loin chops if possible)
kosher salt
freshly cracked pepper
oregano
---
Instructions
Preheat the broiler to high for a good 20 minutes if possible. Meanwhile, bring your lamb chops to room temperature (the 20 minutes while the broiler is preheating is fine).
Season both sides all over with salt, pepper and oregano. Place on a broiling pan.
Broil 3 minutes a side. Pile onto a platter. Let rest for at least five minutes. Drizzle mint sauce lightly over top or pass on the side. Serve lemon wedges on the side, too.
Prep Time:

10 minutes

Cook Time:

5 minutes

Category:

Lamb

Method:

Broiler

Cuisine:

Greek
Keywords: broiled, lamb, chops
---
Print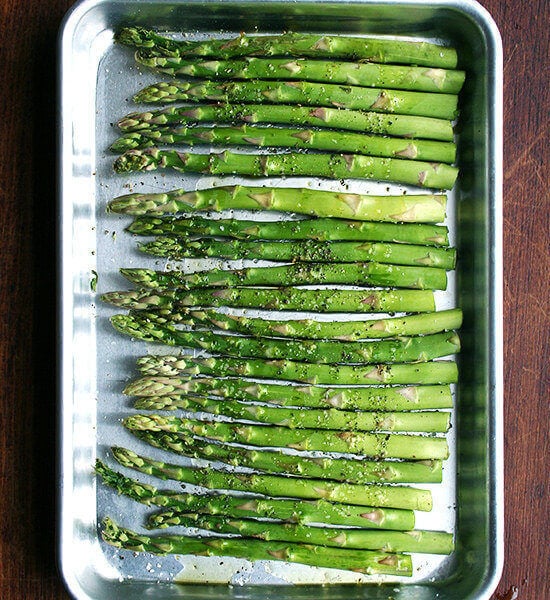 Roasted Asparagus
---
---
Instructions
Preheat oven to 450ºF. Cut ends off asparagus. Arrange on sheet pan. Drizzle with olive oil, kosher salt and pepper to taste. Toss. Arrange in single layer. Roast until edges are crispy, 15 to 20 minutes.
Prep Time:

5 minutes

Cook Time:

20 minutes

Category:

Vegetable

Method:

Oven

Cuisine:

American
Keywords: roasted, asparagus, simple
---
Print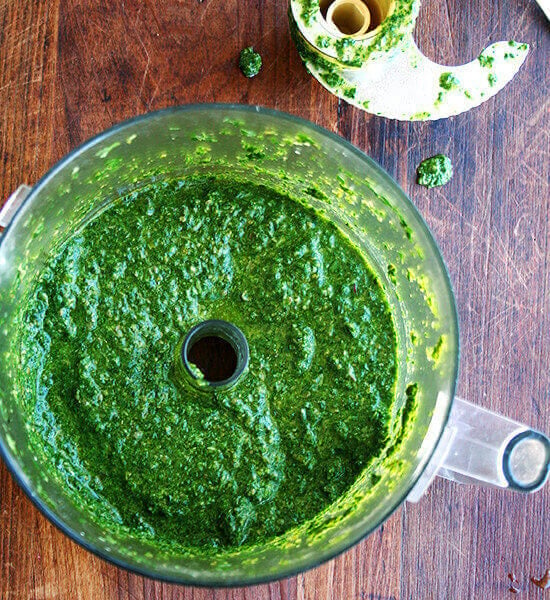 Nigella Lawson's Mint Sauce
---
Description
Adapted from Nigella Lawson, original recipe in NYTimes here.
Note: Original recipe calls for 16 cornichons — sometimes I use them, sometimes I don't. Didn't have them when I made the sauce most recently, and I didn't miss them. It's your call.
---
2 cups

loosely packed mint

2 cups

loosely packed parsley

1

to

2

tablespoons white balsamic vinegar

½ cup

extra-virgin olive oil

4 teaspoons

capers

16

cornichons, optional
pinch salt
freshly cracked black pepper to taste
pinch sugar
---
Instructions
Process mint and parsley leaves in a food processor until finely chopped. Scrape down side of processor. Add 1 tablespoon of vinegar, olive oil, capers, cornichons (if using), pinch each of salt, pepper and sugar, and process to combine. Taste. Add the additional tablespoon of vinegar if necessary (I always do) and more salt, pepper and sugar if necessary. Process again, taste, adjust, etc. Transfer to serving bowl.
Prep Time:

5 minutes

Category:

Sauce

Method:

Food Processor

Cuisine:

Greek
This post may contain affiliate links. Please read my disclosure policy.