Sumac-Spiced Tomato and Chickpea Salad with Yogurt Sauce
This post may contain affiliate links. Please read my disclosure policy.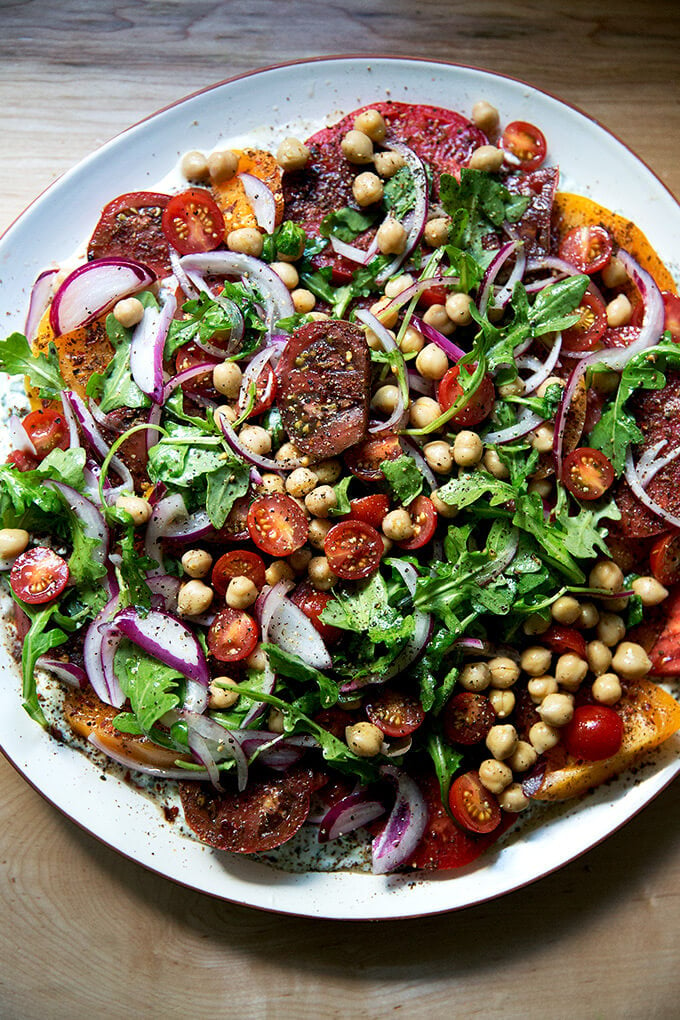 I grew up eating meat with tzatziki, a garlicky, lemony-yogurt sauce. Most often it was aside this chicken souvlaki, a favorite summer meal, but in addition to mint sauce, it often was on the table with lamb, too.
In recent years, I've learned I love yogurt sauce just as much with vegetables — I love how its tang so nicely complements the earthiness of roasted squash, cauliflower, eggplant and others. I love how it turns vegetable side dishes into more substantial entities, meals in their own right. I love how it assumes the flavor and seasonings of whatever vegetables it finds itself with, thinning as it absorbs the excess liquid, ultimately becoming the perfect consistency to mop up with slices of crusty bread.
I find I miss it now when it's not there.
Over the weekend I opened a favorite cookbook, Six Seasons, turned to the "late summer" chapter, and found this recipe: Israeli-spiced tomato and chickpea salad with — wait for it — yogurt sauce!
I made it, loved it, and am here to tell you why you should make it immediately.
First: Summer isn't over. The start of the school year might have us feeling otherwise, but we still have 13 more days, and, more important, we have so many months of roots and gourds ahead of us. Let's try to savor every last beefy tomato we can get our hands on. My garden has nearly stopped producing, but the farmers' market, my CSA, friends' gardens, and our local grocery stores are still delivering. I hope yours are, too.
Second: Yogurt Sauce. If you haven't paired it with vegetables, raw or cook, you're in for a treat. Moreover: cucumber-yogurt sauce! The cucumbers are still abounding, and if you find yourself overwhelmed, grate one or two, stir it into some Greek yogurt, season it with salt, lemon, and any other seasonings or herbs you wish.
Third: Nacho-style assembly: More and more, I love a layered salad — I love how, once served, the layers mingle and jumble, and the bites in which all the elements collide are spectacular, though as a whole it never tastes like a tossed salad, unified by a single dressing. I can't say enough good things about this Israeli-spiced layered salad, but feel free to make it your own. Here's a rough guide:
Nacho-Style Salad Assembly:
Layer 1: Yogurt Sauce Smear
The first layer, a yogurt sauce smear, can be as simple as yogurt + lemon + salt. You can add garlic for a little zing or herbs such as mint or chives or parsley for a little more flavor. You could drizzle the yogurt smear with olive oil + za'atar, as here; you could add toasted, ground spices, such as cumin, as here; or you could grate in cucumber as in the tomato salad featured here. As long as the yogurt is seasoned well with salt and lemon, you can't go wrong.
Note: If you are looking for that creamy, tangy element but are avoiding dairy, you could replace it with a tahini sauce.
Layer 2: Raw or Cooked Vegetables
The vegetables can vary from roasted cauliflower, eggplant, and delicata squash to raw tomatoes, shaved zucchini, and grated beets or carrots — truly whatever you like. Whether the vegetables are raw or cooked, they should be seasoned well with salt, any spices you wish, and, at times, with olive oil and maybe some sort of acid, too.
Layer 3: Something Sharp: Salsa, Sauce, or (Another) Salad
This final layer can be as simple as a squeeze of lemon with a sprinkling of za'atar or a drizzle of olive oil. It can be a spiced, herby sauce, such as skhug (my favorite!). It can be textured and bright, such as this walnut-caper salsa, for these cauliflower steaks. It can be a light tomato-and-arugula salad, as here, or a more substantial chickpea-and-red onion salad as featured in this tomato salad.
Whatever you use, be sure it is on the sharp side — go big with the lemon, lime, or vinegar. Like a salsa for nachos, it should have a nice acidic bite.
Some Layered Salad Inspiration:
Here's the play-by-play: Grate 1 or 2 cucumbers: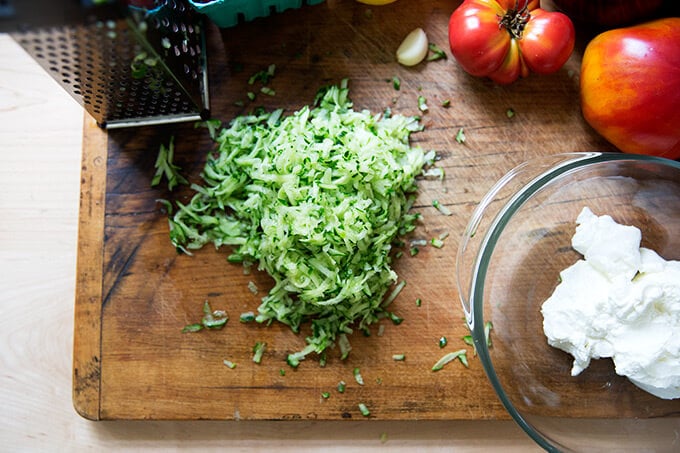 Add them to a bowl of yogurt with garlic, lemon juice, and salt.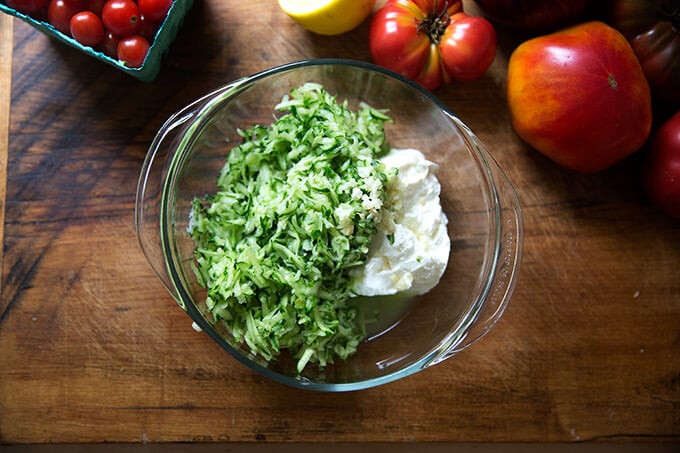 Stir to combine.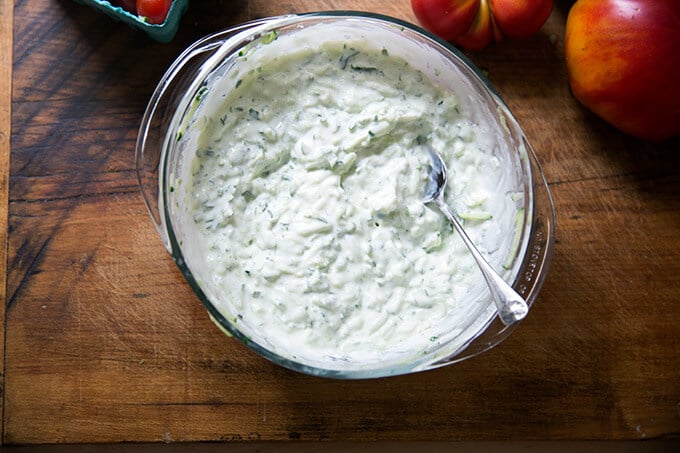 Smear this yogurt sauce on a large platter.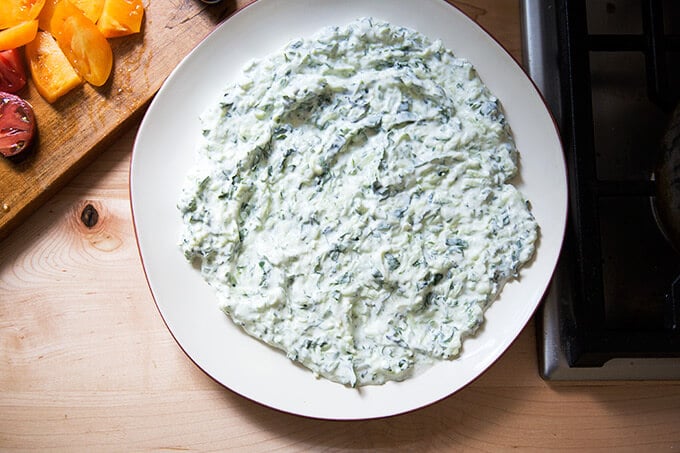 Slice up some tomatoes.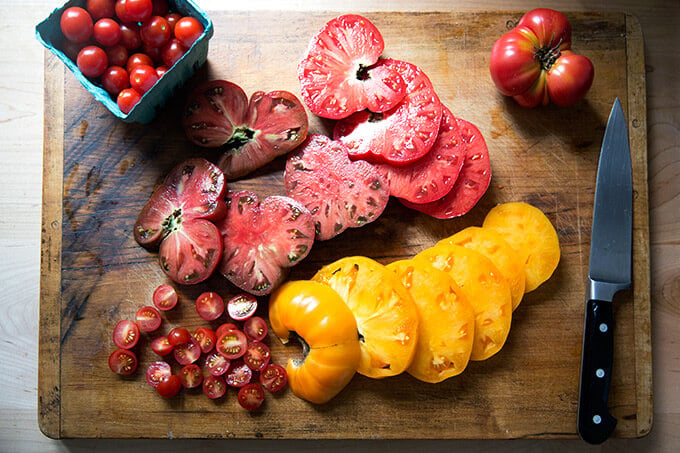 Arrange them on top of the cucumber-yogurt sauce.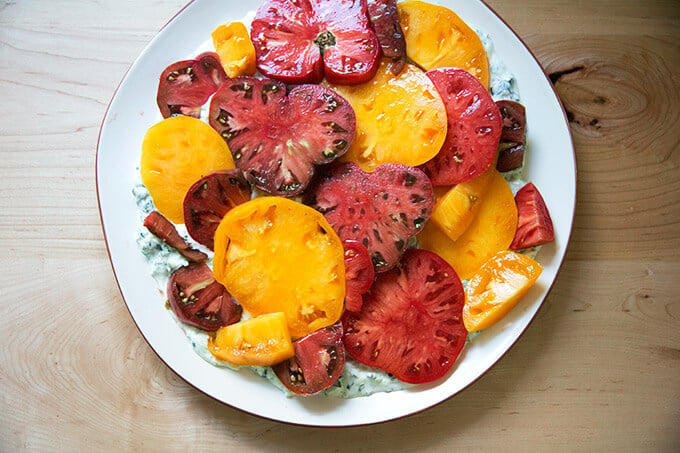 Gather some spices: toasted and ground (if you wish) cumin and coriander, sumac, crushed red pepper flakes.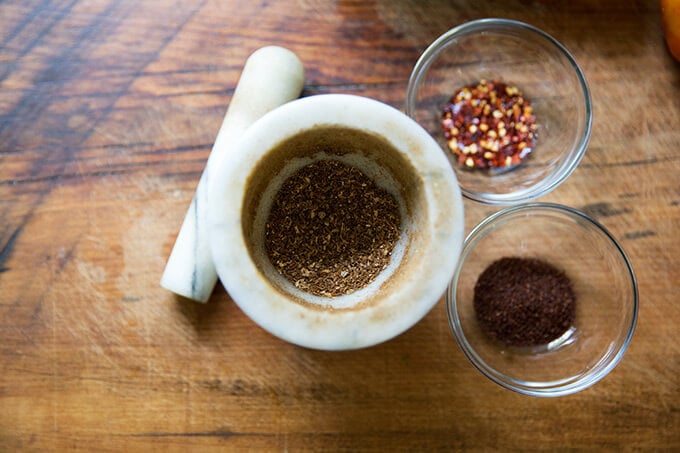 Combine them.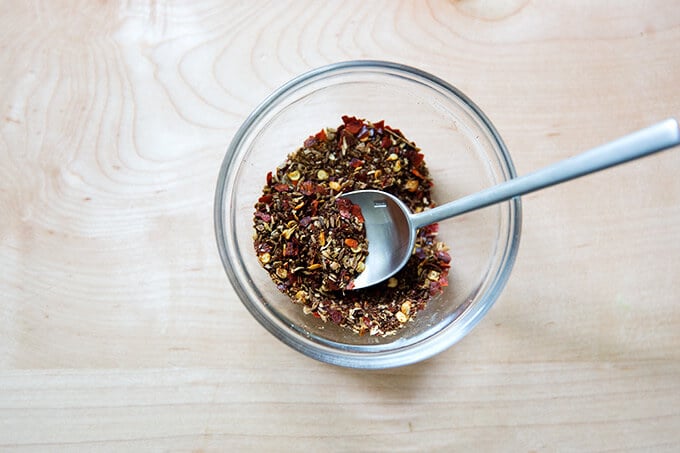 Season the tomatoes with the spice mixture as well as with salt and freshly cracked black pepper.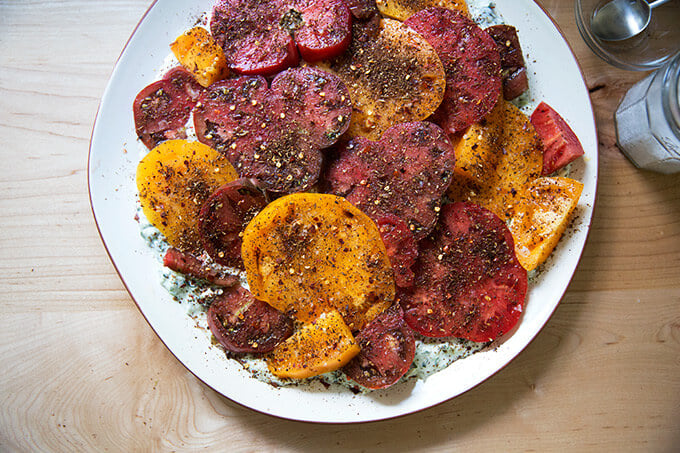 Final step: Combine chickpeas, red onion, and more tomatoes in a bowl.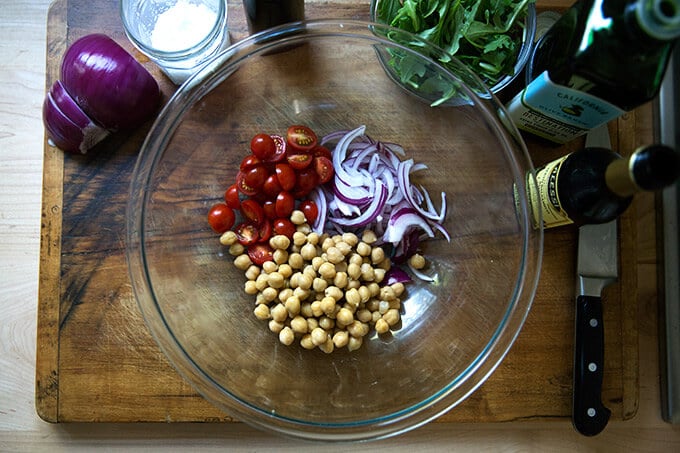 Dress with salt, pepper, olive oil, and vinegar. Gently fold in a handful of arugula.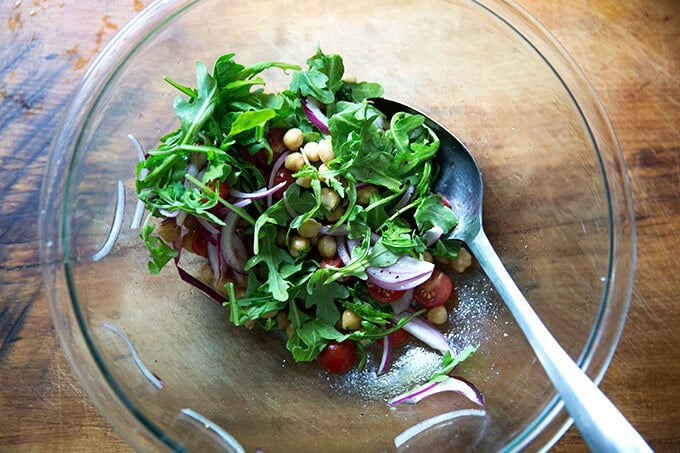 Ready to unite!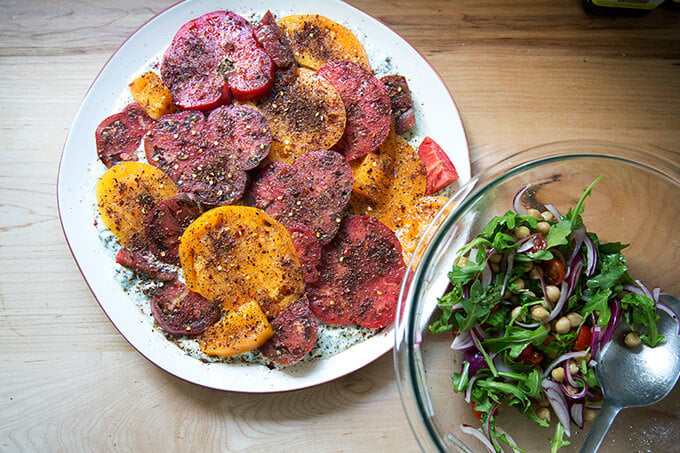 Spread the chickpea salad on top of the tomatoes.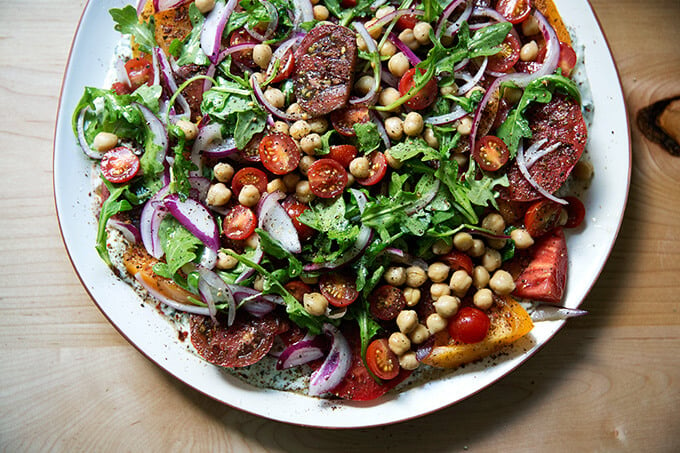 Serve with…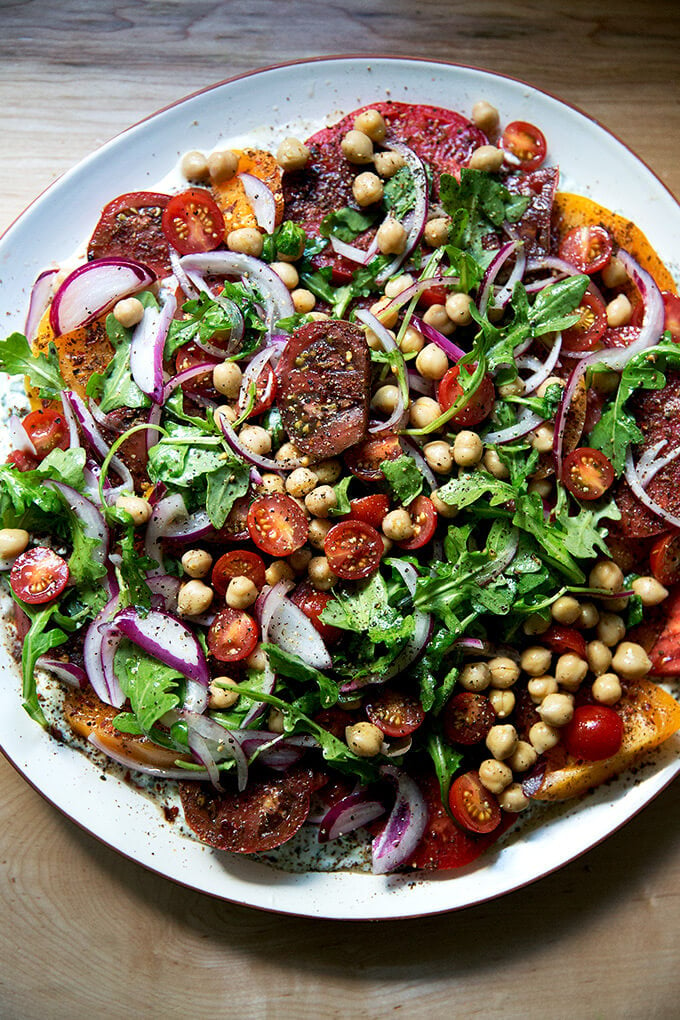 … olive-oil toasted bread, of course.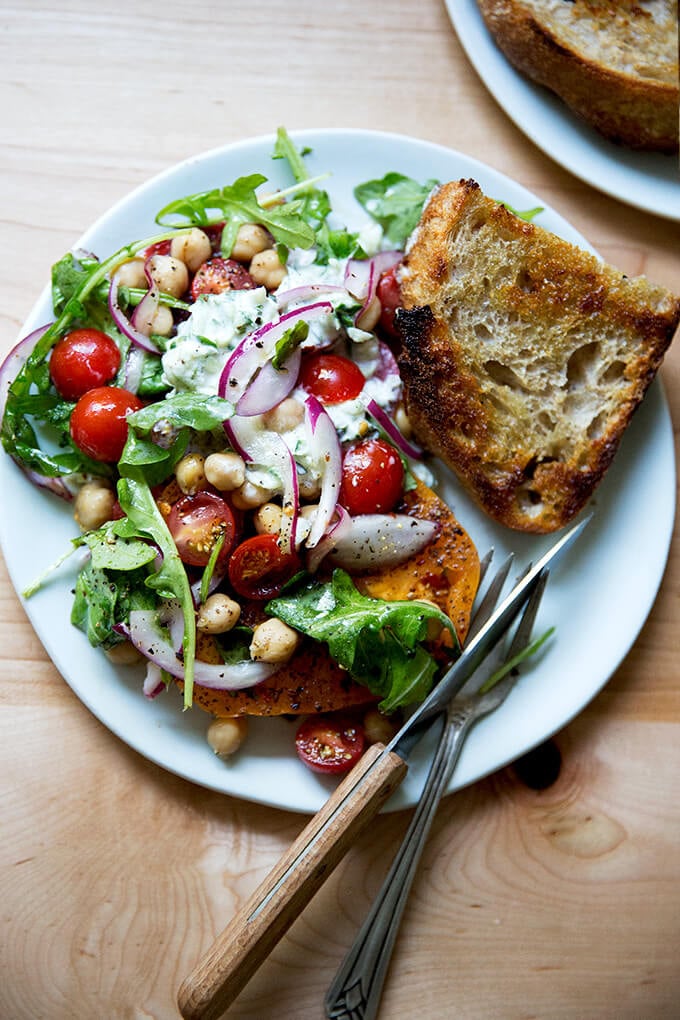 Print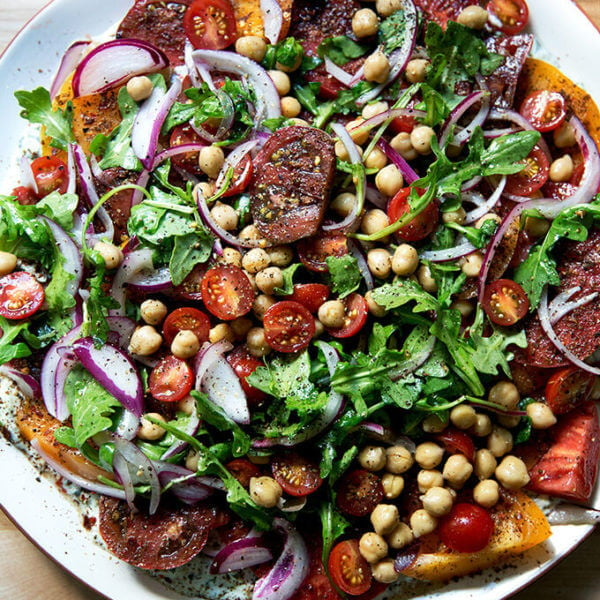 Sumac-Spiced Tomato and Chickpea Salad with Yogurt Sauce
---
Description
Adapted from Joshua McFadden's Six Seasons
A Few Notes:
I love toasting whole cumin and coriander seeds, then grinding them with my mortar and pestle. If you wish to do this, too: toast the seeds in a dry skillet over medium heat until they begin browning and smoking; transfer immediately to your mortar; grind with your pestle till fine.
This may sound odd given the title includes "Israeli-spiced," but consider any or all of the spices optional. This salad would be delicious simply with salt and pepper.
Sumac can be hard to find. I ordered mine online but have since found it at various local markets.
As you know, I prefer to cook beans from scratch. Here's my favorite bean-cooking method: How to Cook Beans or Chickpeas from Scratch: Brining Method
---
For the yogurt sauce:
1 cup

Greek yogurt

1

or

2

small cucumbers
kosher salt

1.5 tablespoons

fresh lemon juice, from about

half a

lemon

1

clove garlic minced
For the salad:
1 teaspoon

sumac (see notes above)

1/2 teaspoon

ground coriander

1/2 teaspoon

ground cumin

1/2 teaspoon

red pepper flakes
flaky sea salt, such as Maldon, and freshly ground black pepper

3

to

4

large beefsteak or heirloom tomatoes

1/2

red onion thinly sliced

1 cup

cooked chickpeas

1 cup

cherry tomatoes, halved

1

handful of arugula

2 tablespoon

vinegar (white balsamic, red wine, white wine, champagne)

2 tablespoons

olive oil
Good bread for serving
---
Instructions
Grate the cucumber coarsely on a box grater. In a medium bowl, stir the cucumber into the yogurt, along with the garlic and the lemon. Season with salt, starting with 1/4 teaspoon kosher salt, adding more by the 1/4 teaspoon to taste. Add more lemon to taste as well — this sauce should taste nicely seasoned. Spread this yogurt sauce onto a large platter.
In a small bowl, stir together the sumac, coriander, cumin, and dried chile flakes.
Slice the tomatoes and arrange over the yogurt sauce in an even layer. Season all over with the spice rub. Season generously with sea salt (kosher salt is fine, too). Season with freshly cracked black pepper to taste.
In a large bowl, toss the cherry tomatoes, onion, and chickpeas with a good pinch of flaky sea salt, pepper to taste, and the olive oil and vinegar. Taste. Adjust seasoning as necessary. Add the arugula and toss gently. Spread this salad atop the tomatoes. Serve, being sure to include each of the elements — the yogurt sauce, the tomatoes, the chickpea salad — with each serving.
Prep Time:

30 minutes

Category:

Salad

Method:

Dress

Cuisine:

Israeli
Keywords: tomato, salad, Israeli, spiced, sumac, cumin, coriander, cucumber, yogurt, arugula, chickpeas
This post may contain affiliate links. Please read my disclosure policy.