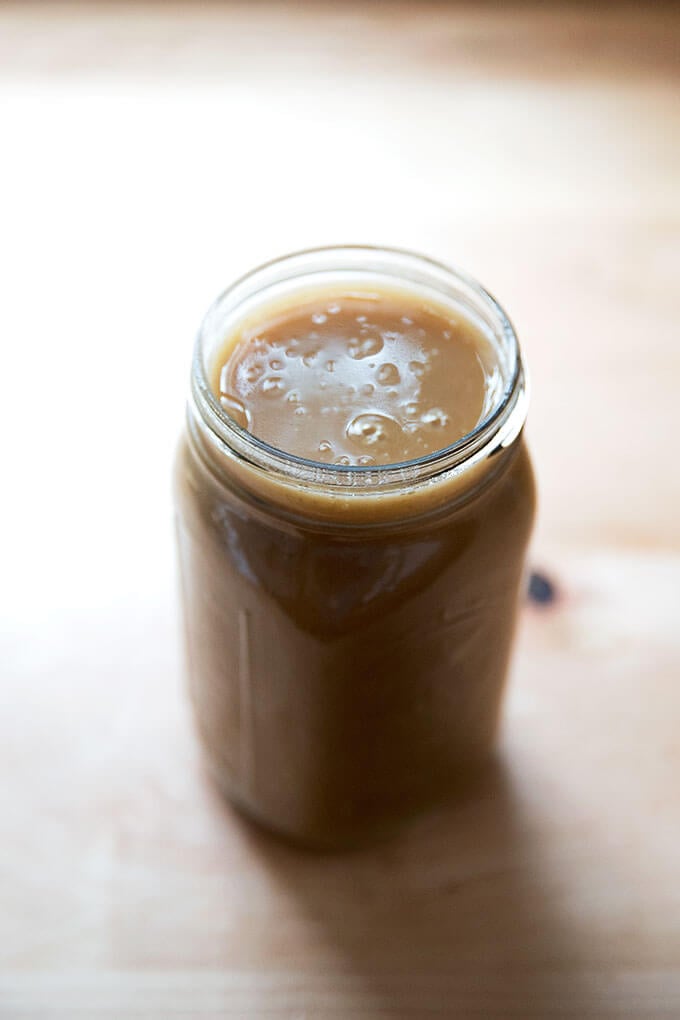 A few weeks ago, when I began thinking about Thanksgiving, I logged in here, to my Alexandra's Kitchen dashboard, hoping to find a Thanksgiving 2018 "After Action Report", a draft I thought — hoped! — I had created with notes from last year's feast.
Incredibly, it existed. Truly a Thanksgiving miracle.
I've included the notes below, and also a recipe for a make-ahead gravy, which I made earlier this week based on this one sentence from my notes:
"Made the gravy: 4 tablespoons butter, 1/4 cup flour, 1/2 cup Sherry, 5-6 cups stock (turkey stock frozen from last year), salt, pepper, simmer."
It was so tasty!
That's truly all the instruction you need to make a simple gravy, but I've included a recipe below. What is especially nice about having a gravy on hand before the bird is even roasted is the mental assurance that as soon as the bird is done, you can (after it rests) serve it without too much of a last-minute scramble.
My after action report did not include this detail, but as I remember, I kept the gravy gently simmering stovetop and added drippings from the turkey roasting pan, fortification from the current year's bird, and called it done.
Thanksgiving 2018 After Action Report
Monday:
Tuesday:
Brined the turkey, Sally Schneider recipe
Double-batch pie dough, rolled each out, covered with parchment, folded into quarters, ziplock in the fridge*
Made double batch of stuffing; froze each
Froze the ice ring (for the punch)
Juiced the lemons (for the punch)
Made the simple syrup (for the punch)
Wednesday:
Made the dough for the thyme dinner rolls, stuck it in the fridge to rise overnight
Made the gravy: 4 tablespoons butter, 1/4 cup flour, 1/2 cup Sherry, 5-6 cups stock (turkey stock frozen from last year), salt, pepper, simmer
Roasted the squash for the butternut squash pie
Measured and mixed fillings for each of the pies (pecan, butternut, salted maple, apple)
Made the potatoes halfway
Thursday morning:
Early rise: baked off the 4 pies
Brought the turkey to room temperature, dried it off, brushed a stick of melted butter over it, cooked it at 425ºF for 30 minutes, then 350ºF till done. It was done in 2 hours.
Made the Brussels sprouts
Finished baking the potatoes
Assembled the punch
Baked off the thyme rolls
Baked the stuffing
Made whipped cream
* After the recent discovery about no-shrink pie crust, this year I'll roll out the pie dough on the Tuesday prior to thanksgiving, fit it into the pans, then freeze until Thursday morning.
Make Ahead Gravy How-To
Gather your ingredients: Homemade chicken (or other) stock is best. If you have turkey stock made from last year's (or other) bird on hand, use that.
Melt 4 tablespoons butter.
Add 1/4 cup flour and whisk to combine. Love this sauce whisk.
Whisk until it begins to turn light brown, 2 – 4 minutes.
Add 1/2 cup Sherry, and whisk to combine…
it will seize up…
Add 5 cups of stock, a teaspoon of kosher salt, pepper to taste, a few sprigs sage or thyme, and …
… bring to a simmer:
Reduce heat, and let simmer for 10-15 minutes or until slightly thickened. Taste. It should taste nicely seasoned. Keep it on the thin side: it thickens up as it rests, and furthermore you'll be simmering it again on Thanksgiving morning, which will reduce it further.
Store in the fridge (or freeze) until Thanksgiving. Warm gently stovetop before serving.
Print
Simple Make-Ahead Gravy
---
Author:

Alexandra Stafford

Prep Time:

5 minutes

Cook Time:

20 minutes

Total Time:

25 minutes

Yield:

1.5 quarts
Ingredients
4 tablespoons

unsalted butter

1/4 cup

all-purpose flour

1/2 cup

Sherry, such as Harvey's Bristol Cream

5

to

6

cups chick stock, preferably homemade, or turkey stock frozen after last year's feast

1 teaspoon

kosher salt, plus more to taste
freshly cracked black pepper to taste
a few sprigs fresh sage or thyme
---
Instructions
In a medium saucepan over medium heat, melt the butter. Add the flour and whisk to combine. Continue whisking for 2 to 4 minutes or until the mixture begins to turn light brown. Add the sherry, and whisk to combine. Add 5 cups of the stock, the 1 teaspoon salt, pepper to taste, and the few springs herbs.
Bring to a simmer, watching closely — it will bubble way up. Adjust the heat so the mixture is just barely simmering. Simmer 10 minutes. Taste. Add the additional cup of stock if you wish to thin the texture if it is too thick. Adjust flavor with more salt or pepper to taste. Simmer to reach desired consistency. Suggestion: Keep sauce on the thin side because you will be simmering it further on Thanksgiving morning. 
Extract or strain out the herbs. Store gravy in fridge or freezer until you are ready to serve. Before serving, gently reheat stovetop until hot. Add drippings from current year's turkey for an even more flavorful gravy.
---
Category:

Sauce

Method:

Stovetop

Cuisine:

American
Keywords: Thanksgiving, turkey, gravy, make-ahead, simple, Sherry