Bread Baking 101
This post may contain affiliate links. Please read my disclosure policy.

Do you fear yeast? Do you dread kneading?
Fear no more. Dread no more. If you can whisk and stir, you can bake bread. It's that simple. I promise. Anyone can make bread. Really good bread.

Ready? First: you need some gear.
First, you need to do one thing. The single most important step you can take to make bread baking a simpler and more enjoyable process is invest in a digital scale. This one, pictured above, costs under $10. Do it. I'll explain why in a minute.
Here's where you'll start your bread baking journey: My Mother's Peasant Bread: The Best Easiest Bread You Will Every Bake. It's a no-knead, no-mess, and nearly foolproof recipe. Over the years, thousands of people have attributed this recipe with conquering their fear of yeast and credited it with giving them the confidence to get bread on the table any day of the week.
Simple as it is though, questions still arise. Often the questions center around the consistency of the dough. Sometimes the dough is too stiff; sometimes it's too loose. This is where the importance of the scale comes in. These variances arise when we use cups to measure flour—we all scoop differently. When we use a scale to measure flour, on the other hand, we all measure the same—512 grams of flour is 512 grams of flour.
If you want consistent results every time, use a scale. And once you start baking by weight, you'll never go back. I use my scale to make granola, muesli, brownies, portioning chocolate chip cookie dough, portioning hamburger patties, portioning hamburger buns, etc. not to mention weighing boxes so I can print mailing labels at home, making trips to the post office a breeze.
A few more things:
Instant yeast is another game changer. It will simplify all of your bread-baking endeavors. No more "proofing" or "blooming" yeast. Just stir the yeast directly into the flour. SAF is my preference.
Two 1-quart Pyrex bowls are recommended for the peasant bread recipe.
King Arthur Flour: It's what my mother used; it's what I use. If you like using bread flour, by all means, use it. If you like using locally milled or stone-milled flours, go for it.
Finally, with a good whisk, a good spatula (my favorite), and a 4-qt mixing bowl on hand, you're good to go. Remember: If you can whisk and stir, you can make bread.
---
The Recipe: No-Knead Peasant Bread
A photo step-by-step of the peasant bread recipe follows; here's where to find the recipe:
My Mother's Peasant Bread: The Best, Easiest Bread You Will Ever Bake
Five Favorite Peasant Bread Variations
Peasant Bread Step by Step:
Whisk together flour, salt, sugar, and yeast.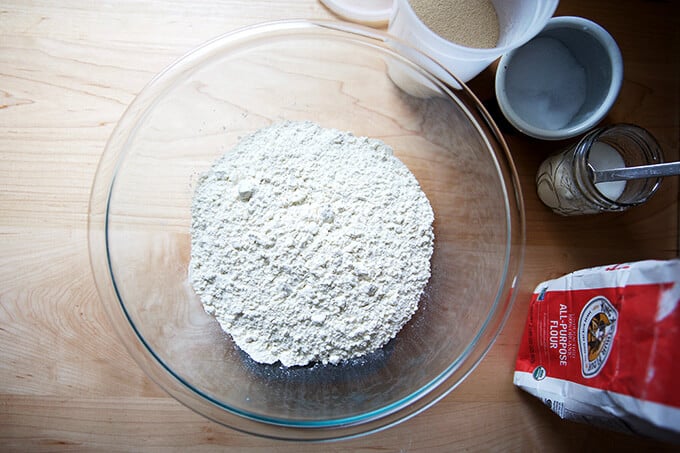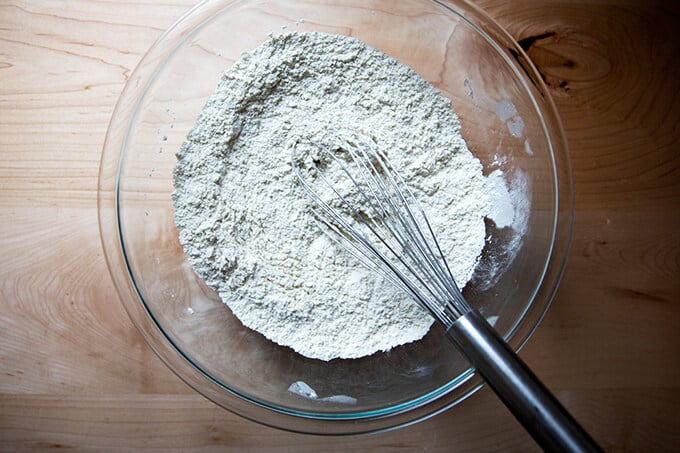 Add water.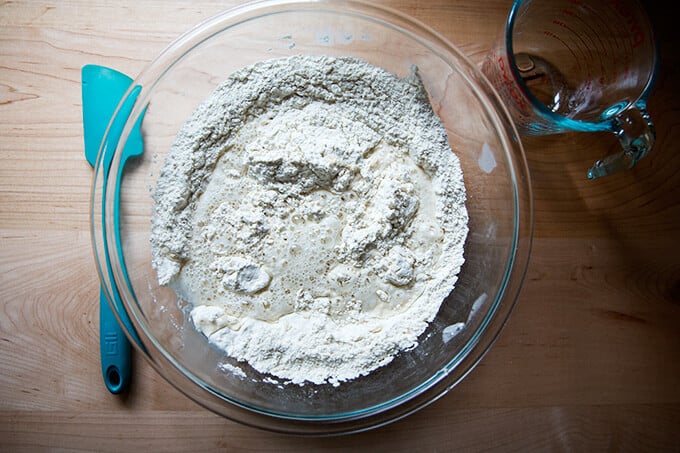 Stir to form a sticky dough ball.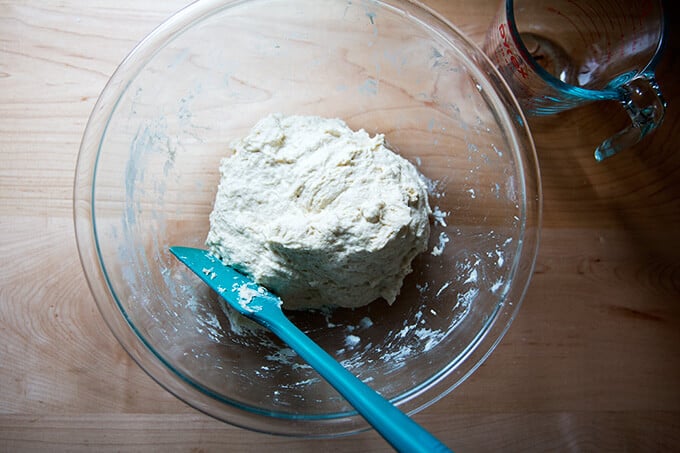 Let rise in a warm spot …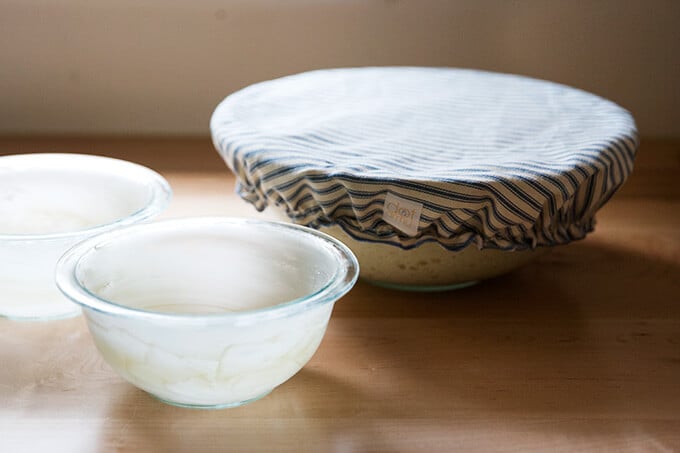 … until doubled in bulk. Butter two 1-qt oven-safe bowls.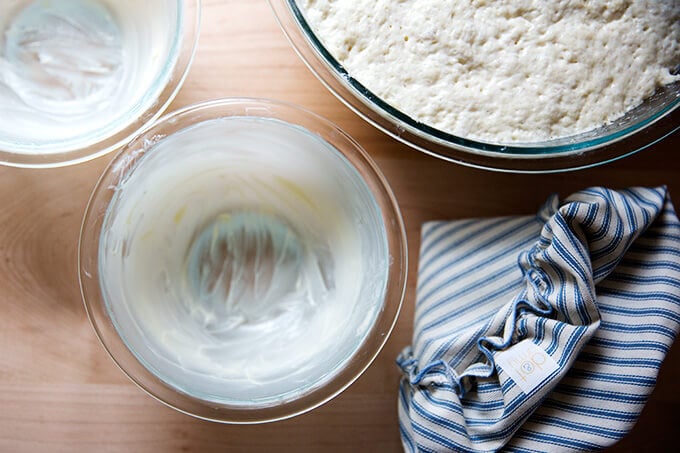 Deflate the dough using forks.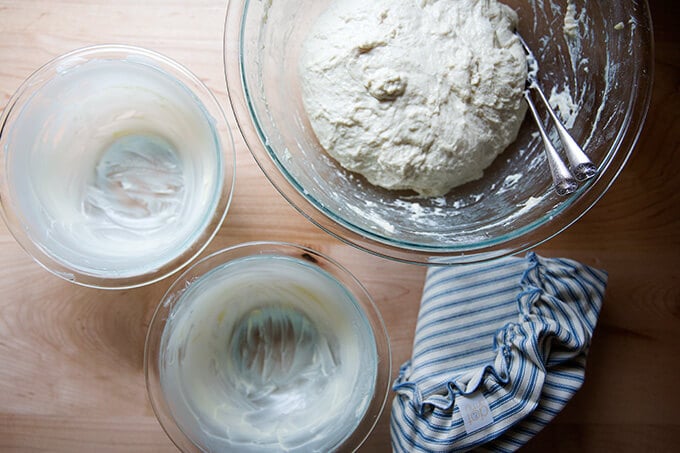 Separate the dough into two equal portions using the forks.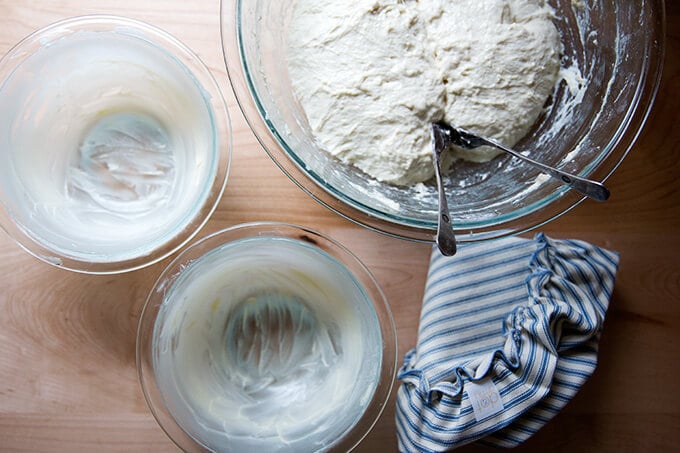 Transfer the dough to the prepared bowls.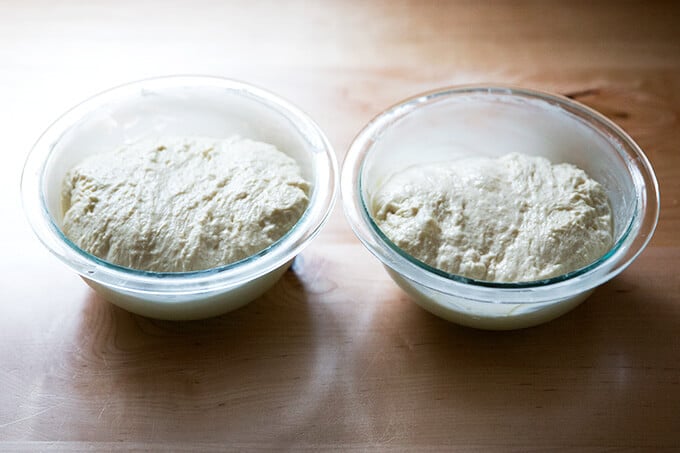 Let rise until dough crowns the rims of the bowls.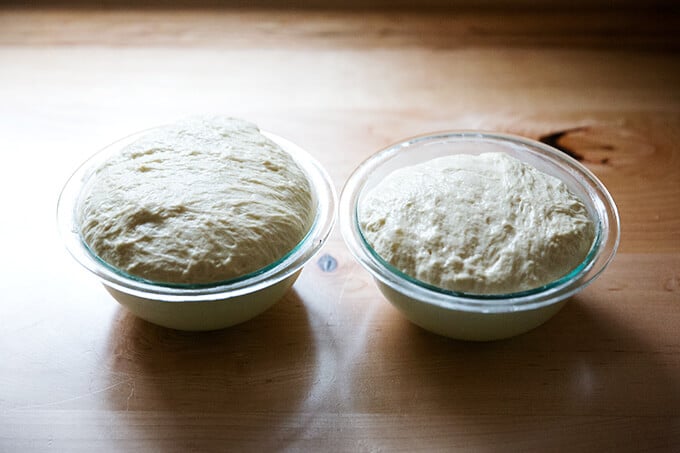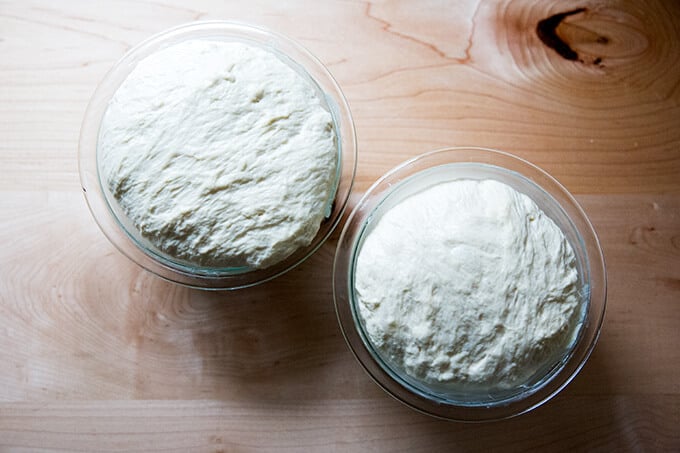 Transfer the oven and bake until golden.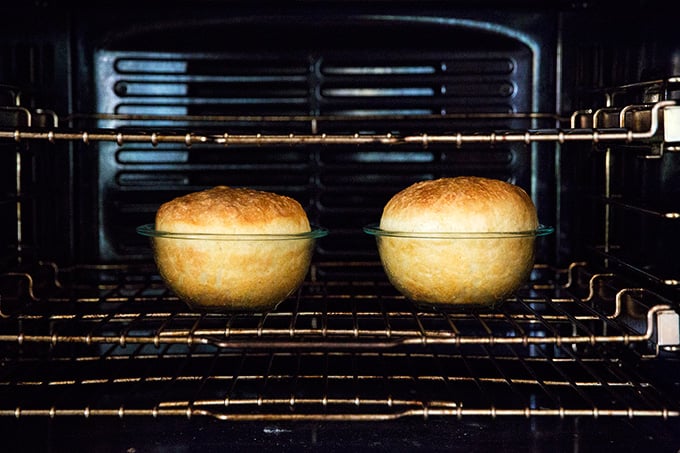 Turn out onto cooling racks. Let cool for at least 15 minutes before slicing.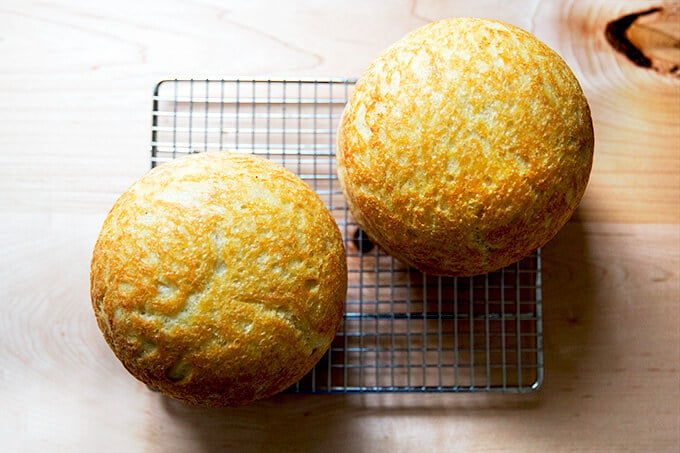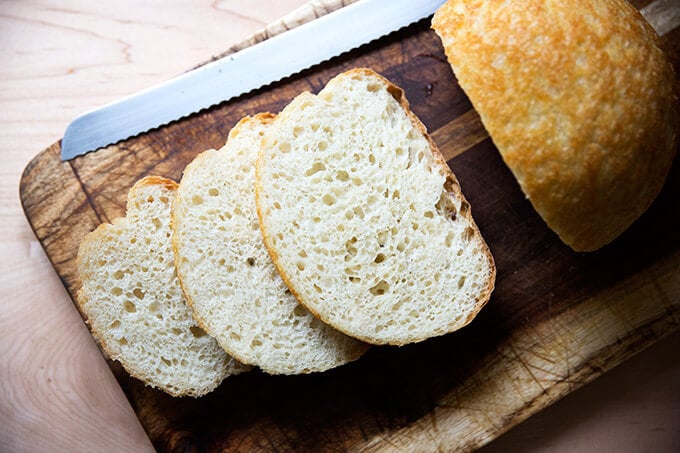 Get the recipe: My Mother's Peasant Bread: The Best, Easiest Bread You Will Ever Bake
---
The Book: Bread Toast Crumbs
Watch the 1-minute video below; feel any bread-making fears you might be harboring dissolve.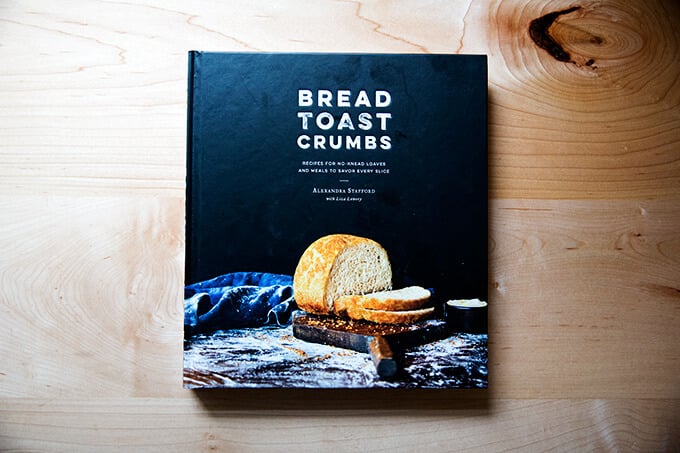 When you have success with the peasant bread recipe, know that you can now adapt it however you wish. In addition to its simplicity, the beauty of the master peasant bread recipe is its adaptability. Want to add herbs, nuts, seeds, spices? Want to use whole grain flours? Want to add cheese? Want to make pizza? Pissaladière? Focaccia? Sandwich bread? Monkey Bread? Brioche? Cinnamon-Swirl Bread? I wrote a cookbook all about the peasant bread, Bread Toast Crumbs, and the first chapter includes 40 variations of the simple recipe.
But Bread Toast Crumbs isn't just about baking bread. Because once you see how easy bread baking can be, you'll be baking bread all the time. The second and third chapters of Bread Toast Crumbs are filled with recipes that will find delicious purpose for the many heels, nubs, and crumbs from the many loaves you bake. See photos, watch more videos, and find recipes from Bread Toast Crumbs here: Cookbook News & Notes
Bread Toast Crumbs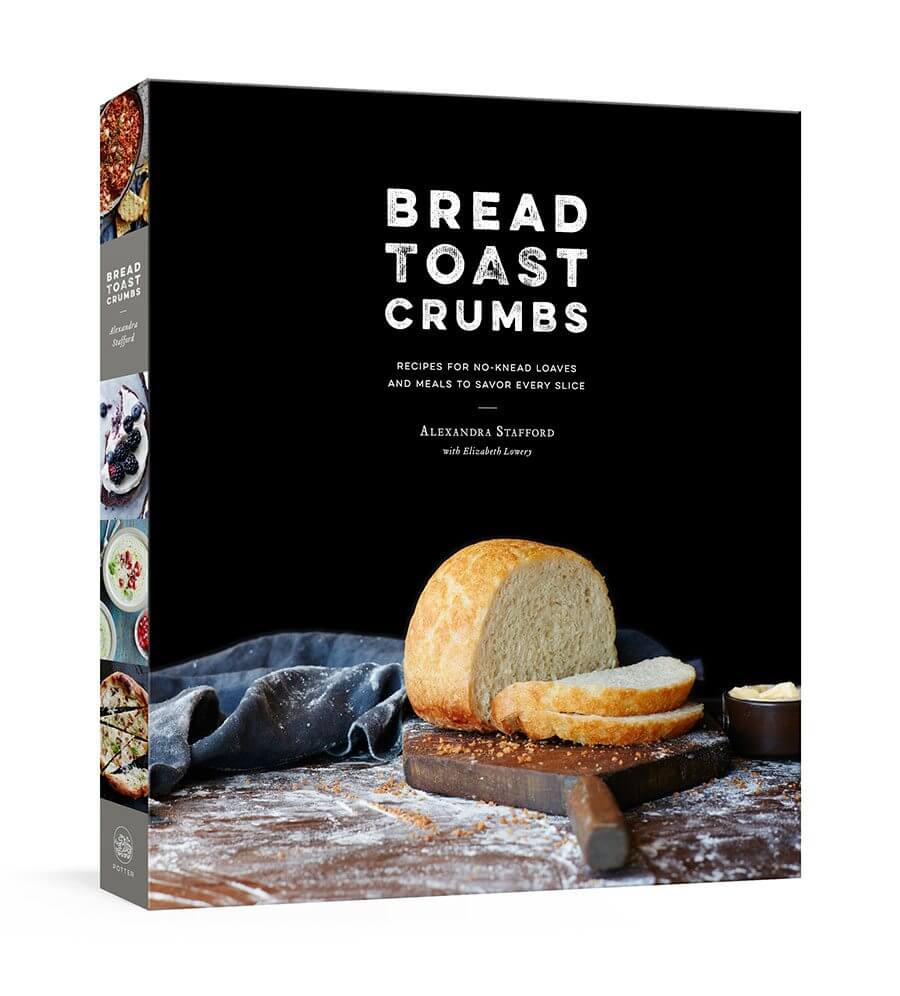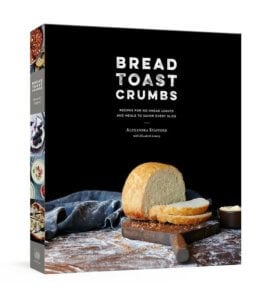 *A 2017 IACP Nominee for the Julia Child First Book Award*
With praise from Dorie Greenspan, Jim Lahey, and David Lebovitz, Bread Toast Crumbs is the definitive bread-baking book for a new generation. But this book isn't just about baking bread—it's about what to do with the slices and heels and nubs from those many loaves you'll bake.
5 Secrets to Foolproof Bread Baking
See how easy bread baking can be in my free ecourse!
This post may contain affiliate links. Please read my disclosure policy.