Easy, No-Knead Dinner Rolls
This post may contain affiliate links. Please read my disclosure policy.
These no-knead dinner rolls are a snap to throw together. Thanks to the help of a muffin tin, you don't have to do any tricky shaping. Buttery and crisp on the exterior and soft and tender on the interior, these rolls are perfect for the holiday table! 🍞🍞🍞🍞🍞🍞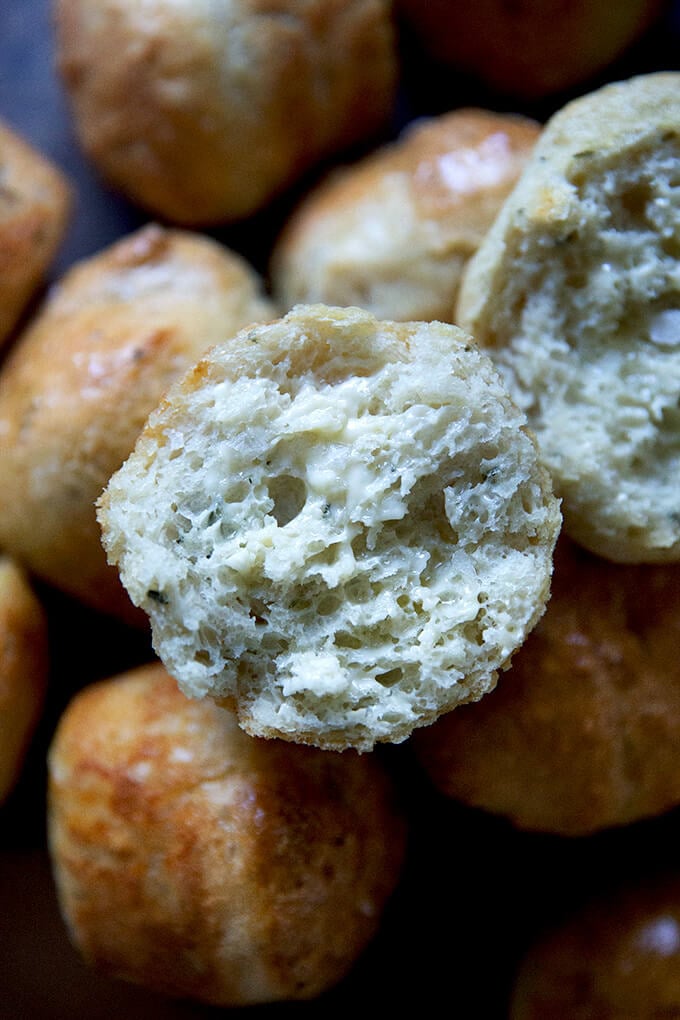 I know you may think there is no possible way you have time to add one more item, let alone homemade dinner rolls, to your Thanksgiving Day timetable, but I'm here on this snowy November morning to encourage — to insist! — that you do. You absolutely have time.
Homemade Dinner Rolls? Yes. You. Can.
Because this is a no-knead dough, it takes five minutes to mix together, especially if you use instant yeast, If you are using active dry yeast, the process takes just a few minutes longer. (See recipe for detailed instructions on how to use active dry yeast.)
Because the dough is such high-hydration — meaning the ratio of water to flour is high — you can mix it by hand — no need to haul out the stand mixer.
Because these rolls bake in a 12-cup muffin tin, there is no need to flour up a workspace or to get your hands dirty shaping individual rolls. Handling this dough requires no skill.
This dough can rise in the corner of your kitchen all morning long. While that turkey roasts away, you can punch the dough down as many times as you need, and when at last you find the oven free of birds and stuffings and gratins, in will go your rolls.
These rolls bake in 25 minutes. If you plan on letting your turkey rest for a good 30 minutes before carving, you'll have plenty of time to let these rolls make their second rise (15 to 20 minutes) and to bake them before your guests are seated around the table, at which point you will pass around a basket of steaming hot, thyme-flecked rolls.
How to Make Dinner Rolls Ahead of Time
If you'd like to cross one to-do off your list, know this: you can mix this dough the day before you plan on baking it and stash it in the fridge. (You can do this with any bread recipe in fact.) In the morning remove the bowl, and let the dough continue to rise at room temperature until it has doubled. If it already has doubled, punch it down, and let it rise again.
About an hour before you plan on serving the rolls, butter your muffin tin, portion the dough among the muffin cups, and let the dough rise for 15-20 minutes; then bake the dinner rolls as directed.
How to Freeze Dinner Rolls
There are two ways to freeze dinner rolls:
After you bake them: Simply transfer to an airtight bag or container and freeze for up to 3 months.
Before you bake them: I like to freeze dough after it makes one rise. For this recipe you could freeze the punched-down dough in an airtight container. Thaw the dough at room temperature for 5 to 6 hours; then proceed with the recipe.
More Recipes for Homemade Dinner Rolls
---
I know that from getting the turkey cooked to keeping the stuffing and the vegetables and the plates warm to keeping your guests entertained Thanksgiving can be a logistical nightmare challenge. And when there truly are so many wonderful take-and-bake options in your supermarket freezer, why not cross one thing off your to-do list?
Well, because if there ever was an occasion to push your domestic stamina to its limits, to display your culinary prowess, it's Thanksgiving. I mean, where is the fun in effortless entertaining?
Pony up, Friends!
Nothing says you care like freshly baked bread (and turkey and stuffing and gravy and pumpkin (squash!) pie and punch). Happy Thanksgiving!
How to Make No-Knead Dinner Rolls
Whisk together flour, salt, sugar, SAF instant yeast, and thyme: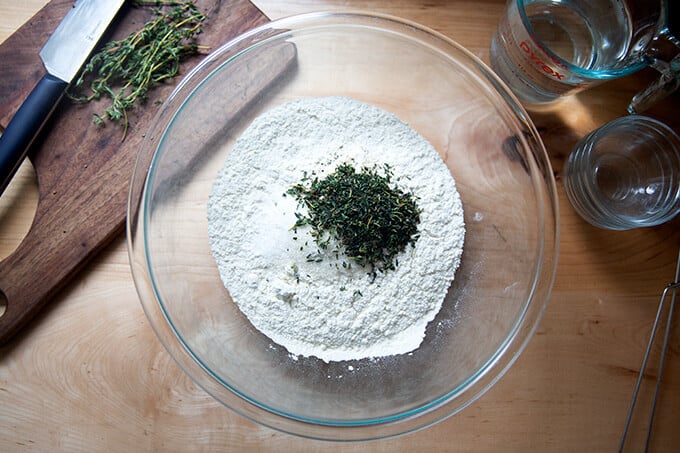 Add water.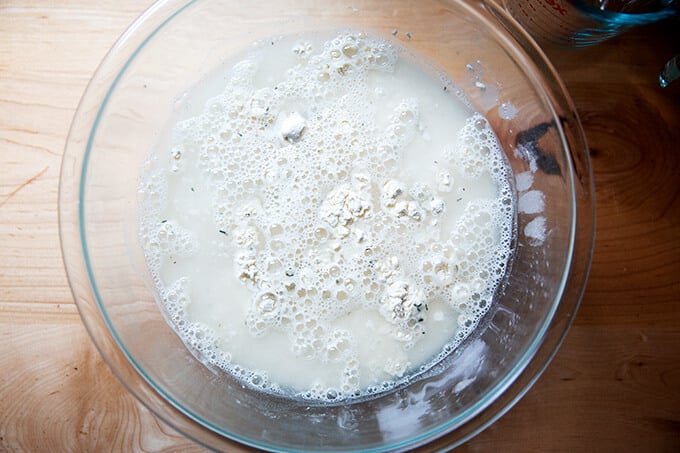 Stir to form a sticky dough ball: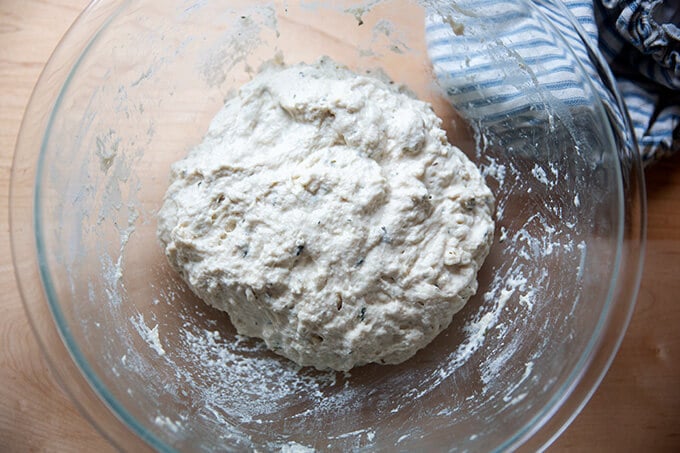 Let rise in a warm spot for 1.5-2 hours or until doubled in volume: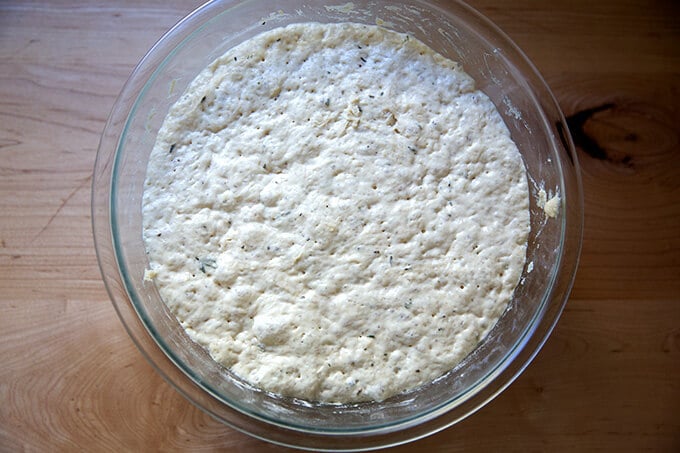 Deflate the dough using two forks. (See video for guidance.)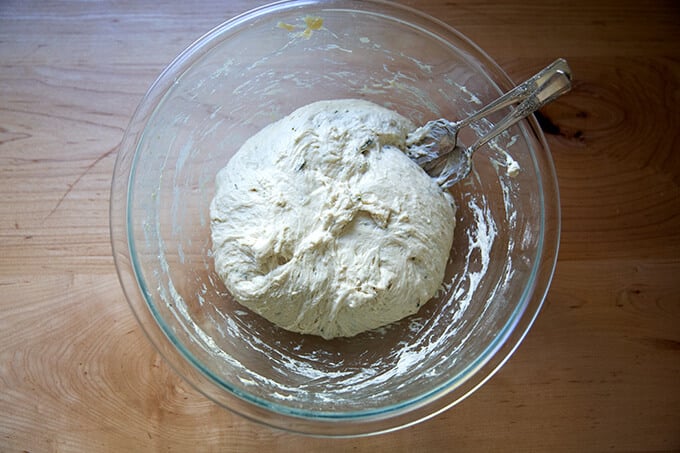 Divide the dough evenly among a 12-cup muffin tin: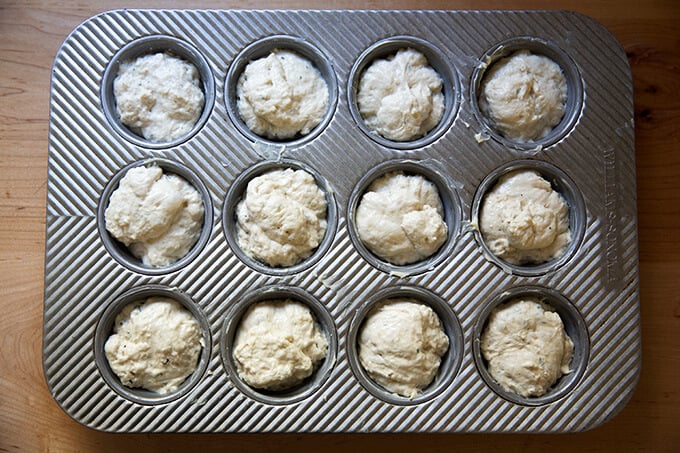 Let rise again for 15-20 minutes or…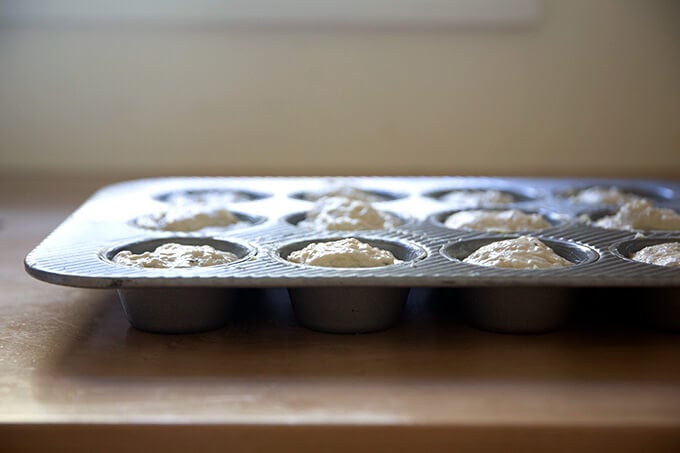 … until dough has puffed above the rim of the pan. Transfer to the oven, and bake until …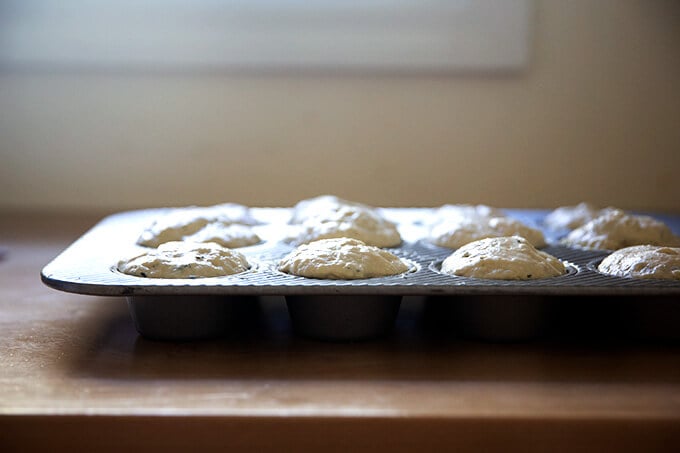 … evenly golden, about 25 minutes.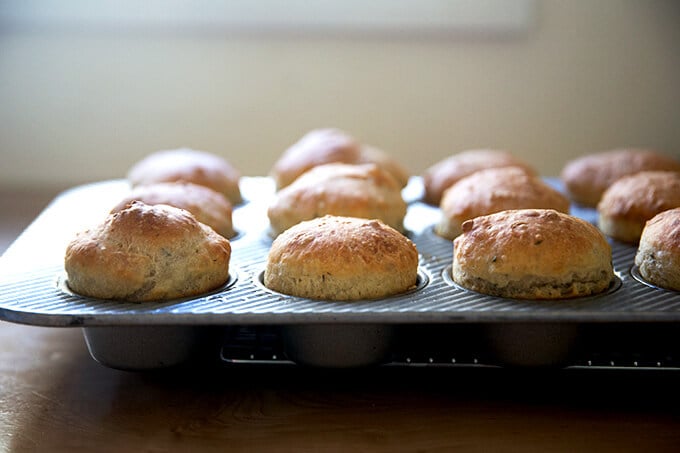 Optional: butter the tops and sprinkle with sea salt.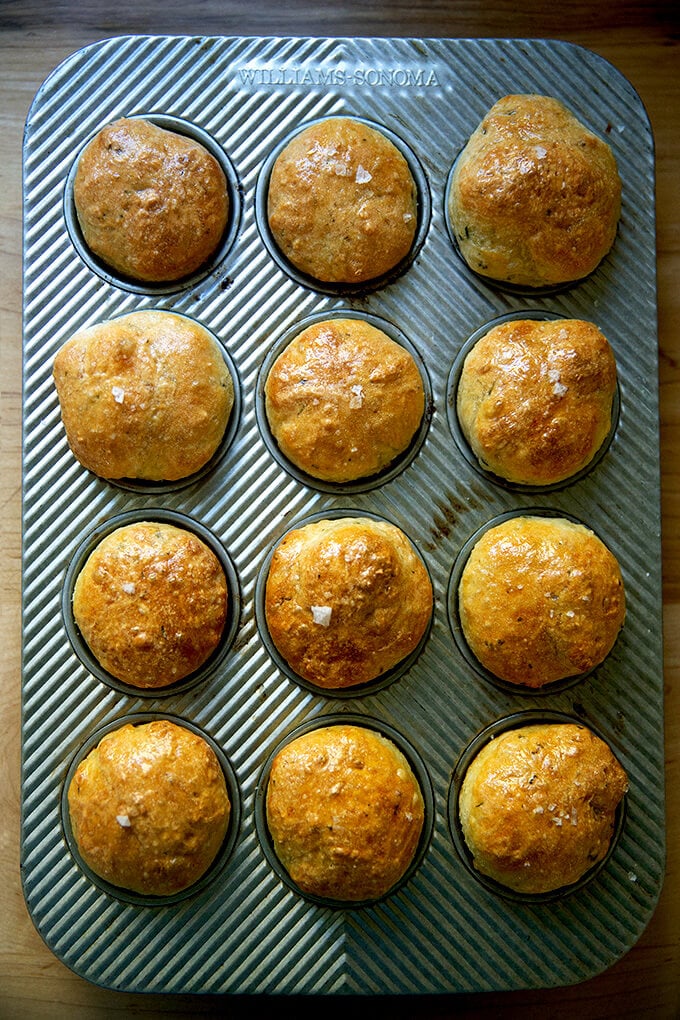 Maybe not optional … the buttery, sea salt crust is irresistible.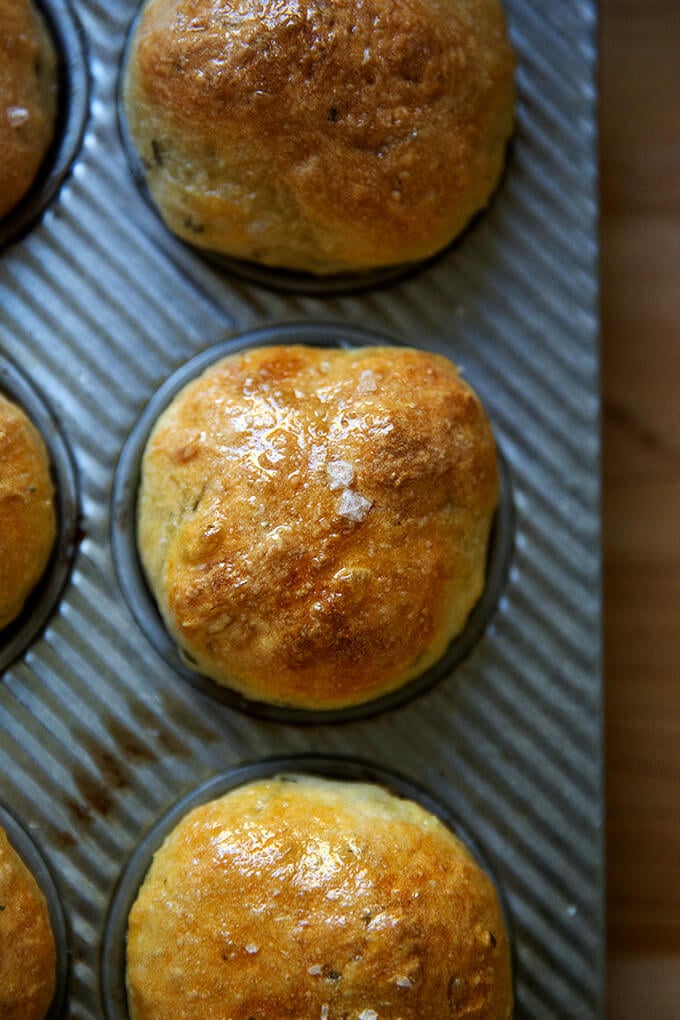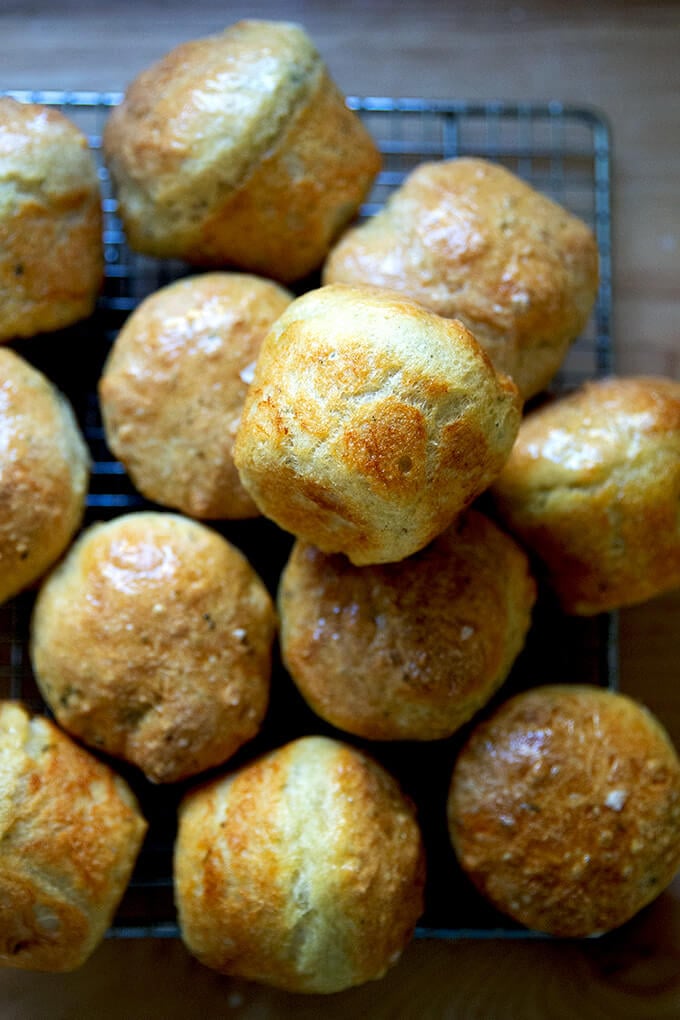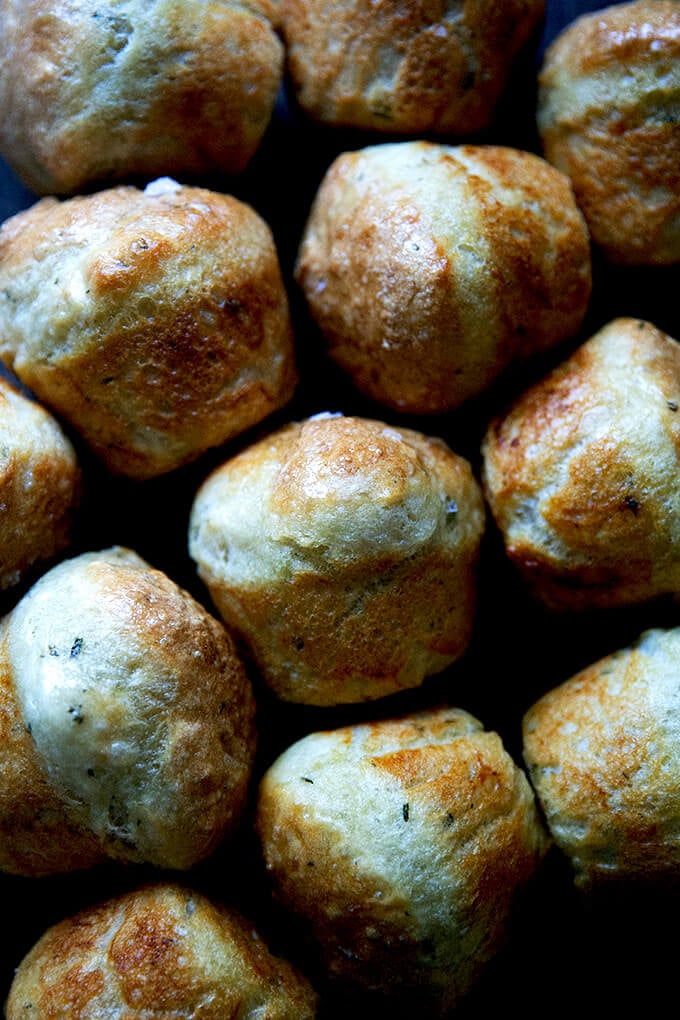 Transfer the rolls to a bread basket, and pass the butter!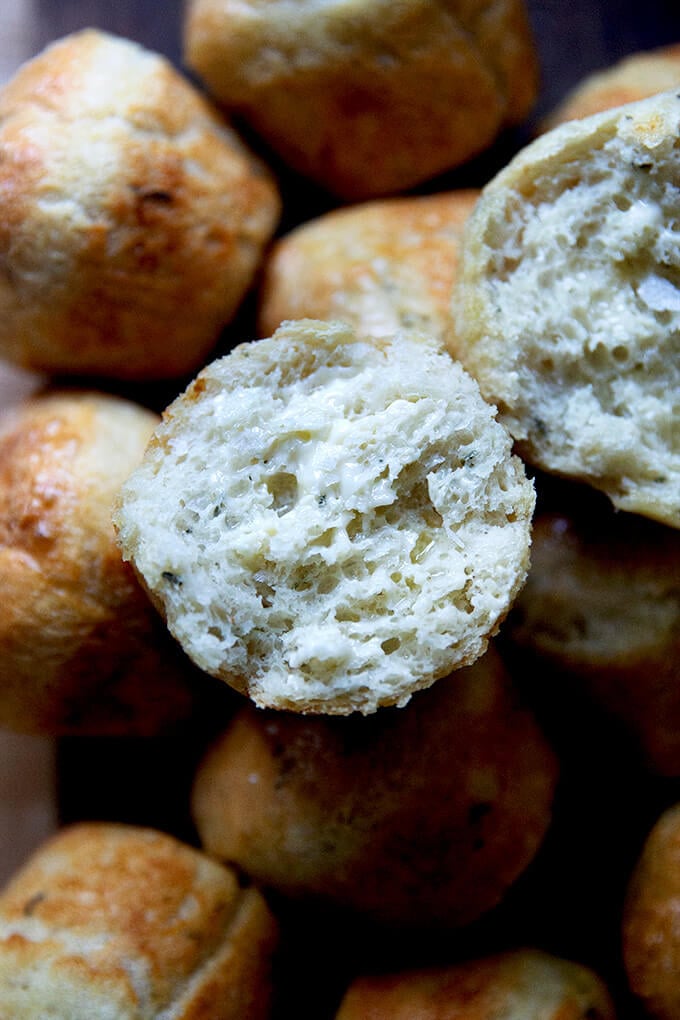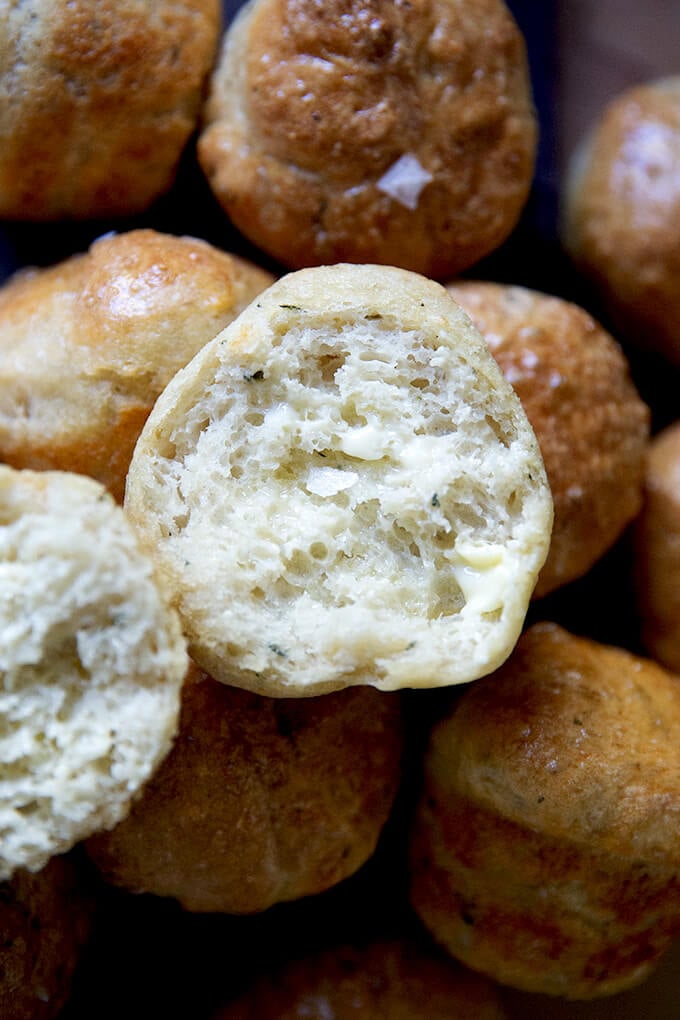 I mean it, I could totally skip the turkey.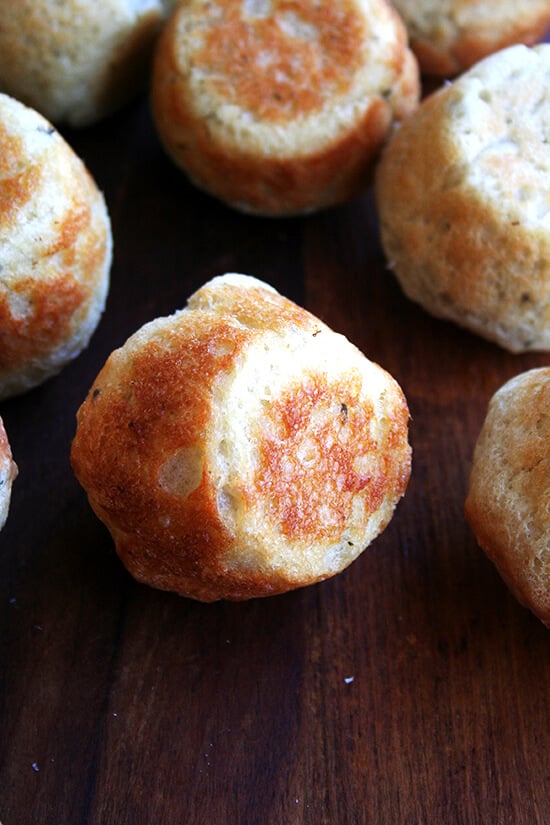 5 Secrets to Foolproof Bread Baking
See how easy bread baking can be in my free ecourse!
Print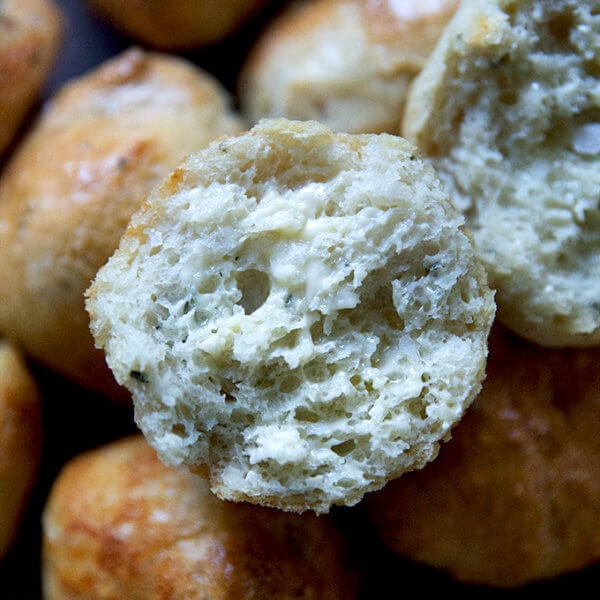 Easy, No-Knead Dinner Rolls
---
Description
Notes:
This is yet another variation of my mother's peasant bread. I love using my muffin tin to make rolls especially around the holidays — there's something truly festive about passing a basket of rolls around the table.
If you love this recipe, you might love my cookbook, Bread Toast Crumbs, which is all about easy bread baking and how to use every last crumb from the many loaves you bake. 
Yeast: You can buy both SAF instant yeast and Red Star active dry yeast in bulk from Amazon. After you open the pouches, transfer the yeast to an airtight container and store in the fridge or freezer, where they will last forever. If you are using the individual packets of yeast, go ahead and use the whole packet — each is 2.25 teaspoons, which is fine for this recipe. 
To make foolproof lukewarm water, boil some water — I use my teapot. Then, mix 1 1/2 cups cold water with 1/2 cup boiling water. This ratio of hot to cold water will be the perfect temperature for the yeast.
To can create a warm spot for your bread to rise: Turn your oven on; then turn it off after 1 minute — this will create just a slightly warm environment to get the bread rising nicely.
Butter: If you wish, you can melt a few tablespoons of butter and brush the tops of the just-baked rolls; then sprinkle with sea salt. 
---
4 cups

(

512 g

) unbleached all-purpose flour

2 teaspoons

(

10 g

) kosher salt

2 teaspoons

(

8 g

) sugar

2 teaspoons

(

8 g

) instant yeast or active dry yeast, see notes above

1

to

2

tablespoons minced fresh thyme leaves or other herbs (a mix of rosemary, sage, and thyme is nice)

2 cups

(

454 g

) lukewarm water, see notes above
room temperature butter, about 2 tablespoons, plus more for brushing, if you wish, see notes above
---
Instructions
If you are using instant yeast: In a large mixing bowl, whisk together the flour, salt, sugar, instant yeast, and fresh thyme leaves. Add the water. Mix until the flour is absorbed. Cover with plastic wrap or a tea towel or cloth bowl cover. Place in a warm spot to rise (see notes above) for 1.5 to 2 hours. 
If you are using active dry yeast: In a small mixing bowl, dissolve the sugar into the water. Sprinkle the yeast over top. There is no need to stir it up. Let it stand for about 10 to 15 minutes or until the mixture is foamy and/or bubbling just a bit — this step will ensure that the yeast is active. Meanwhile, in a large bowl, whisk together the flour, salt, and thyme. When the yeast-water-sugar mixture is foamy, stir it up, and add it to the flour bowl. Mix until the flour is absorbed. Cover with plastic wrap or a tea towel or cloth bowl cover. (At this point, you can cover the bowl and place it in the fridge for 1 to 3 days.)
Place in a warm spot to rise (see notes above) for 1.5 to 2 hours. Meanwhile, generously butter a 12-cup muffin pan, plus a few ramekins (2 to 4) if you wish… recently, for simplicity, I have just been baking 12 large dinner rolls in my muffin tin and not bothering with the ramekins.
Preheat the oven to 425ºF. Using two forks, punch down your dough, by pulling it from the sides — see video for guidance — and to the center. You want to loosen the dough entirely from the sides of the bowl. Take your two forks and divide the dough roughly into 6 portions. Then, using the two forks, scoop up half of each of these portions and plop each into a buttered muffin cup. Repeat with remaining dough. This won't be pretty, but it doesn't matter. Try your best to divide the dough equally, and if you have extra dough, bake it off in the buttered ramekins. Let the dough rise for about 17 to 20 minutes or until it has risen to just above the top of the muffin cups.
Bake for 15 minutes. Reduce the heat to 375º and make for 10 to 15 minutes longer. Remove from the oven and turn the rolls onto a cooling rack or directly into a bread basket. Pass the butter. (Note: If you wish to butter the tops of the rolls, do so in the muffin tin or on the cooling rack. A sprinkling of sea salt over top is a nice touch.)
Prep Time:

3 hours

Cook Time:

30 minutes

Category:

Bread

Method:

Baked

Cuisine:

American
Keywords: no-knead, bread, rolls, dinner, thyme, peasant, thanksgiving, holidays
This post may contain affiliate links. Please read my disclosure policy.