Thanksgiving 2018
This post may contain affiliate links. Please read my disclosure policy.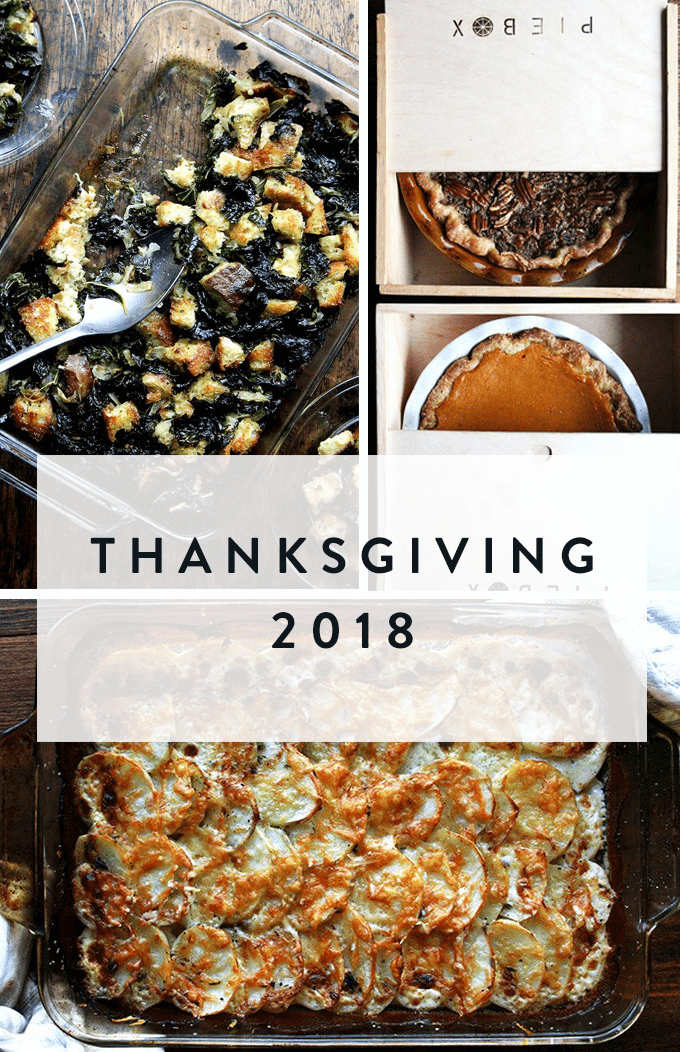 Friends! One week + one day till Thanksgiving. Are you ready? Are you hosting? I'm hosting a smallish gathering of 9 adults and 8 children. I can't wait.
Menu: Thanksgiving 2018
• Philadelphia Fish House Punch (my favorite, what I look forward to most)
• Alice Waters's Potato Gratin (my second favorite… I live for these potatoes (after punch))
• Salad: Greens with Shaved Cabbage, Fennel, Manchego and Candied Pepitas (very festive and seasonal)
• Freezable Stuffing with Caramelized Onion and Kale (adapted from this one)
• Turkey (stay tuned!) + Gravy — going to wet brine my turkey following a Sally Schneider recipe I used years ago
• Sauces: Red Wine Cranberry Sauce | No-Cook Cranberry Sauce | Applesauce
• No-Knead Thyme Dinner Rolls
• Ronnie Hollingsworth's Most Excellent Squash Pie
• Bourbon Pecan Pie (No Corn Syrup) with Salted Whipped Cream
• Apple-Frangipane Galette
To prepare, in the next few days I'll make a double batch of my favorite all-purpose pie dough, which I'll freeze till next week and which I'll use in all three desserts. At some point, I'll juice the lemons, make the simple syrup, and freeze the ice ring for the punch. I'll make bread to use for the stuffing, and I'll make a large-batch shallot vinaigrette for the salad. All of the sauces will be made in the days leading up to Thanksgiving, and I'll assemble and freeze the stuffing early next week as well.
I like to bake my desserts the morning of Thanksgiving, before the turkey goes in the oven. This year I have the luxury of having a second oven, so I'll assemble the gratin while the turkey roasts.
Friends, what do you like to do? How are your preparations going? Are you trying anything new? I feel it's fun to try one new dish every year. Not sure what it's going to be this year…
Hope all of your Thanksgiving preparations are going well.
More: Thanksgiving Ideas Here | Desserts Here | Side Dishes Here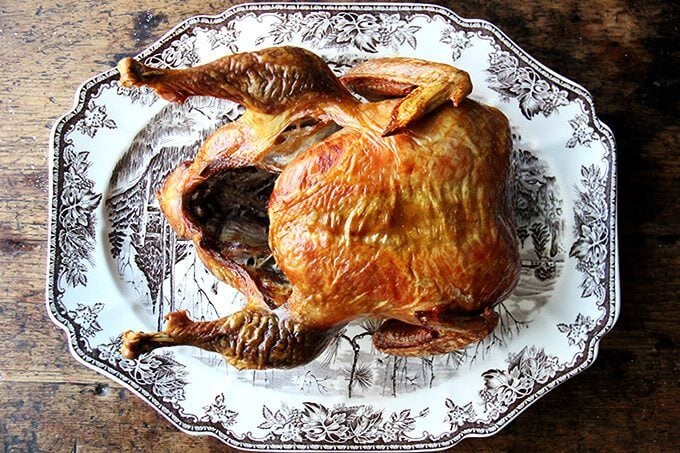 Turkey
As noted above, I'll be wet-brining a turkey using a recipe I used years ago and loved. I will be sure to report back.
Question: Where do you all get your turkey? I recently learned about Farm To Table Online (affiliate link), which is an organization that works with small, family farms who are committed to treating animals humanely and practicing sustainable agriculture. It's not too late to get a turkey from them! But you must order one by tomorrow, November 15th, to guarantee delivery by Thanksgiving.
Drink
Philadelphia Fish House Punch. I highly recommend this Fish House punch if you're looking for something festive. I've made it for every major holiday since discovering it about 4 years ago now. It calls for 1.5 cups of freshly squeezed lemon juice. Lemons can be juiced several days in advance; simple syrup can be made in advance; ice ring must be made in advance. Of course, there will be Prosecco on hand, too.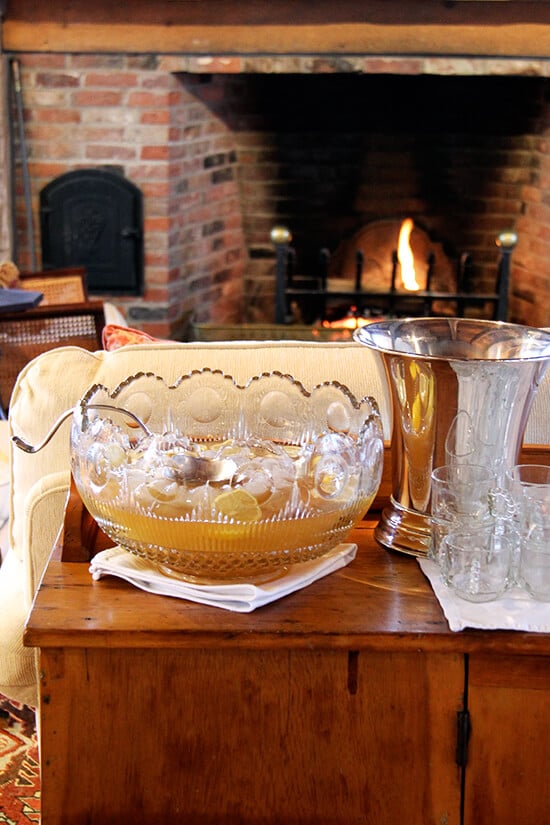 ON THE SIDE
Alice Waters's Potato Gratin: I could totally skip the turkey. Love these potatoes so much:

Ina Garten's Roasted Brussels Sprouts with Balsamic: These Brussels sprouts are not a staple, but I love them. I also recently made them without the pancetta, and they were still completely delicious. If I were to make these for Thanksgiving, I would omit the pancetta:

Stuffing
No matter what stuffing I make, I always follow the same method, the essential steps for me being to remove tough crusts from whatever loaf of bread I am using and to toast (as opposed to stale) the bread with a generous amount of olive oil. Stuffing, I think, is personal, so add what you like. I've bulleted the basic method below, but for more detailed quantities and instructions, see this post: Stuffing Two Ways, which has the two stuffing recipes from Bread Toast Crumbs.
Remove the crusts from loaf of bread (unless using the peasant bread).
Tear into pieces or cut into cubes, toss with a generous amount of olive oil and a good pinch of salt, and toast until golden.
Add mix-ins of choice. Sautéed onions are essential for me, and I love greens, like chard or kale. I also prefer to keep stuffing meatless, but if you like sausage or oyster or whatever (a little bacon or pancetta never hurts), go for it.
Taste and make sure the mixture of bread and mix-ins is well seasoned. Whisk a good amount of stock with 1 egg, which helps bind the stuffing, toss with your stuffing mix, then bake until golden.
Also, you can make stuffing ahead of time, freeze it uncooked, and bake it directly from the freezer. I wrote about this method for Food52. Notes here. Recipe here.

Salad
Do you make a salad for Thanksgiving? I do, and I'm a believer for two reasons: 1. It offers an element of fresh in a sea of cooked and 2. Logistically it's very practical, requiring not an oven to reheat or much prep or forethought in general. Last year, I made this one — Shaved Cabbage, Fennel, and Greens with Citrus Vinaigrette, Manchego and Candied Pepitas — and I'm making it again this year.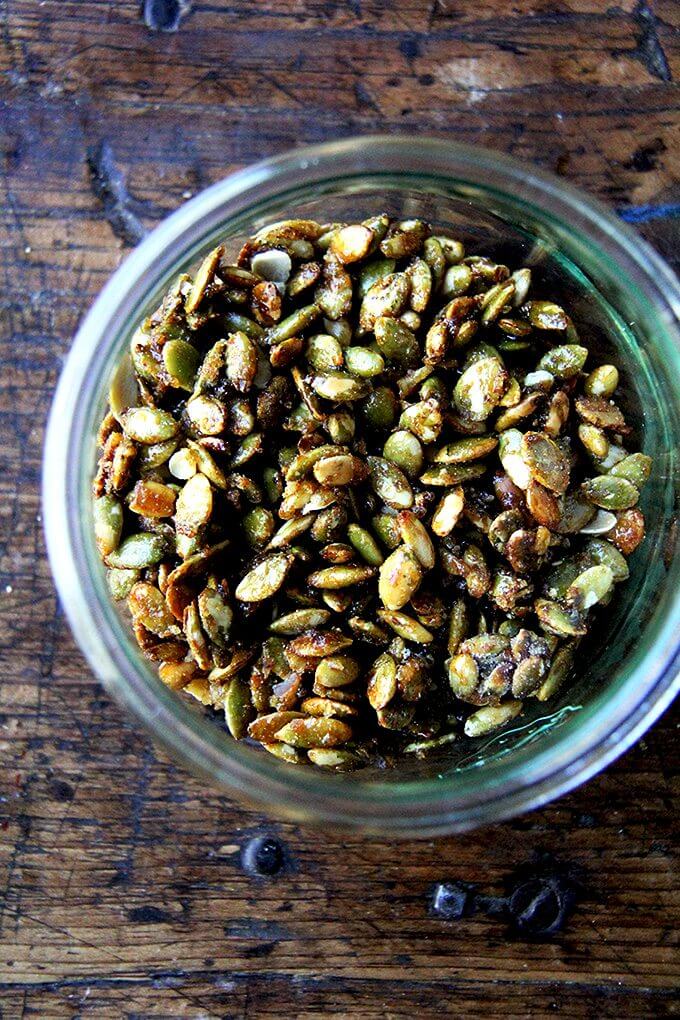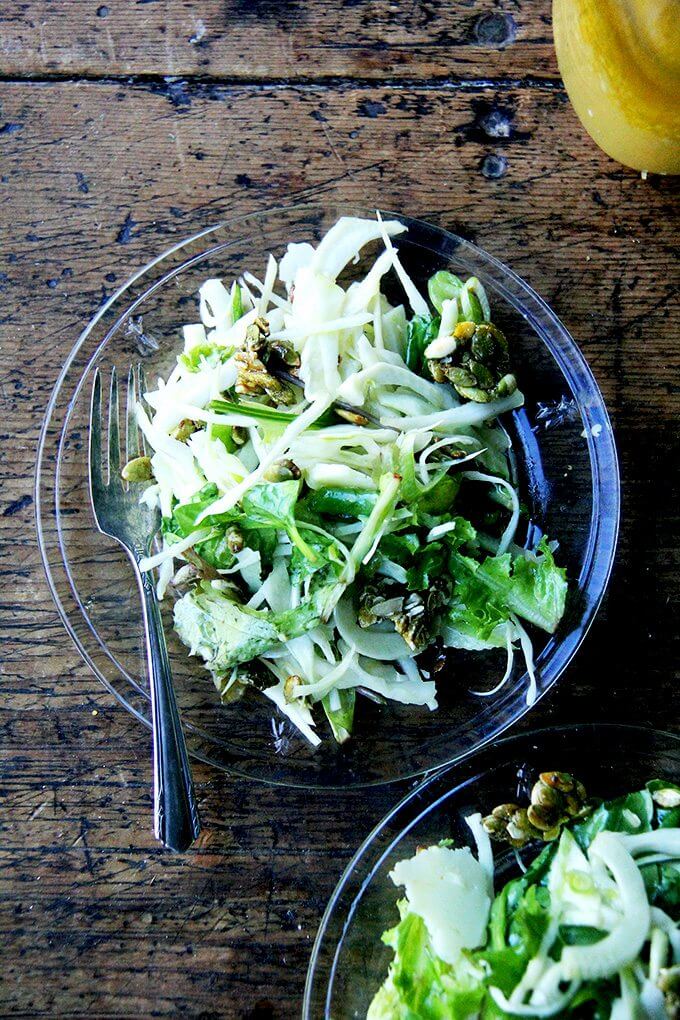 Sauces
Cranberry Sauce Two Ways: On the left: No-Cook Cranberry Relish (this is a new one for me, love it); On the right: Sally Schneider's Red Wine Cranberry Sauce (old favorite; recently made it with Port and loved it)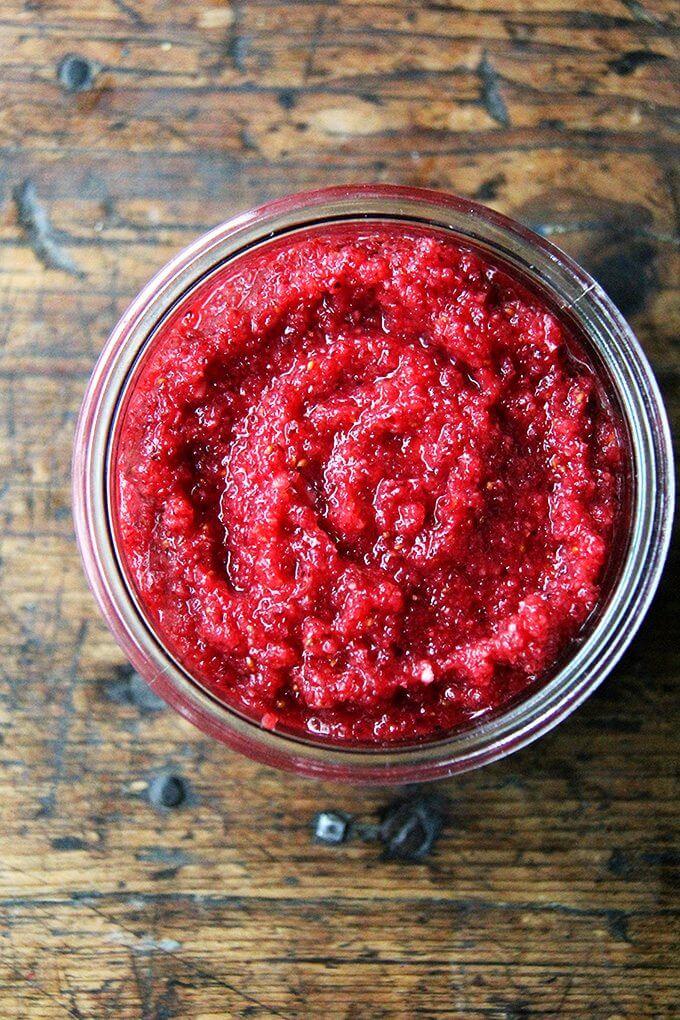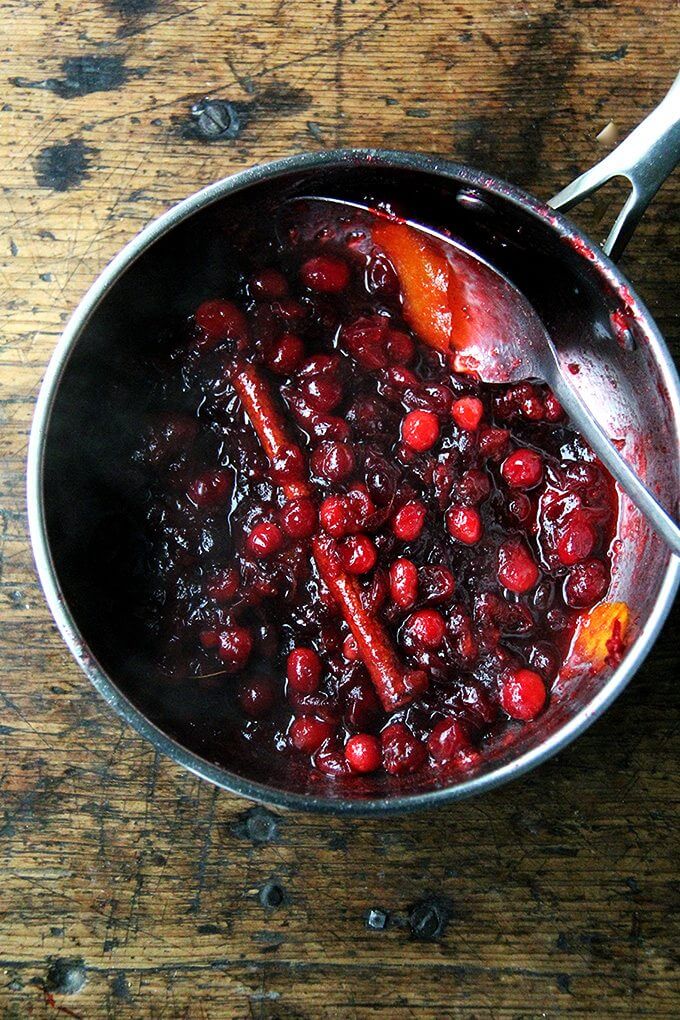 We always have applesauce on the table, too. I forget which apples I used to get the beautiful hue in the photo below (pink lady?), but I make applesauce just as my mother does with unpeeled apples and nothing but water — no cinnamon, sugar, lemon, spices, etc. Here is the recipe: Homemade Applesauce. (Note: The picture below is from this post for Applesauce Yogurt Cake, which is such a good one to have on hand for the holidays.) Applesauce and cake can be made ahead of time.

And if we're making ham, we always make my grandmother's mustard sauce, also known as — wait for it — the ham sauce!

Bread
These No-Knead Thyme Dinner Rolls (left) are a variation of the peasant bread with the addition of thyme and baked in muffin tins instead of bowls. They can be baked ahead, cooled, and frozen, then reheated on Thanksgiving, but another easy thing to do is this: mix* the dough in the morning (because what else will you have to do?), let it rise on the counter all day, punching it down as needed if it gets too high, then, during the last 20 minutes of the turkey's cooking time, transfer the dough to buttered muffin cups, and bake the rolls when the turkey is resting. Easy peasy. You can do it! | You could do the same thing with the peasant bread (right) recipe. Let me know if you have any other bread questions. *To get a jump start on the mixing, you can measure the flour, salt, and sugar the night before, and stick it in a ziplock bag or covered bowl until the morning, at which point you'll just have to add the instant yeast and water.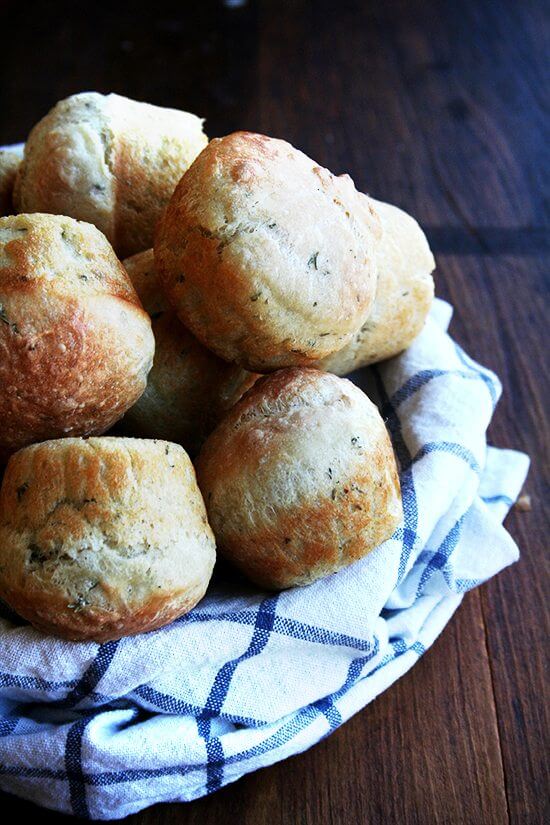 If you are yeast averse — which you should not be! — biscuits are a great option. Here are two: Joanne Chang's Buttermilk Biscuits | Buttermilk Cheddar Biscuits

Dessert
I'm making three desserts: Apple-Frangipane Galette (left), which is super easy (video guidance on that one—dough comes together in seconds with the food processor) and Ronnie Hollingsworth's Most Excellent Squash Pie (right), which I love. This one is also easy (though you do have to roast a butternut squash as opposed to open a can of pumpkin), and I do not blind bake the crust anymore, which helps simplify the process. The third one is a bourbon pecan pie (no corn syrup) from David Lebovitz, which I made recently and really loved. I left out the fresh, dried, and candied ginger. Hoping to post about that one before Thursday. Will keep you posted.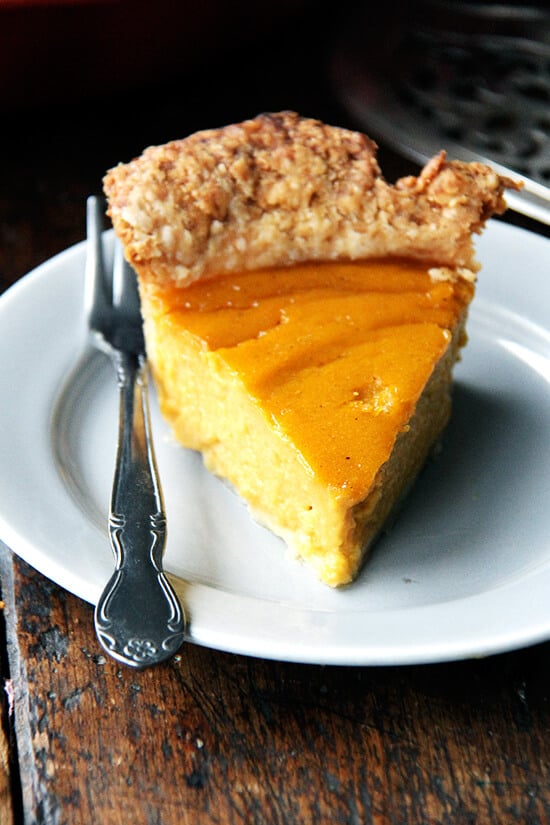 Vegetarian
If you're hosting any vegetarians, I highly recommend this Butternut Squash Lasagna, an old Gourmet recipe that my aunt's friend introduced the family to when she brought it to Thanksgiving in Vermont a few years ago. It's one of my favorites. I repeat: I could skip the turkey.

Four Nice Cakes To Have Around
Each of these four cakes gets better by the day, so don't be afraid to bake them ahead of time.
Teddie's Apple Cake | Orange and Olive Oil Cake | Chez Panisse Almond Torte | Applesauce Yogurt Cake

Bye for now! Good luck! Gobble Gobble!
This post may contain affiliate links. Please read my disclosure policy.